Enloe‌ ‌Chorus‌ ‌Online:‌ ‌Breaking‌ ‌the‌ ‌Sound‌ ‌Barrier‌
In‌ ‌Enloe's‌ ‌performing‌ ‌arts‌ ‌wing,‌ ‌the‌ ‌chorus‌ ‌room‌ ‌is‌ ‌silent;‌ ‌no‌ ‌wailing‌ ‌siren‌ ‌warm-ups‌ ‌or‌ ‌"mi‌ ‌meh‌ ‌mah‌ ‌mo‌ ‌moos".‌ ‌COVID-19‌ ‌has‌ ‌heralded‌ ‌an‌ ‌era‌ ‌of‌ ‌new‌ ‌hardships‌ ‌for‌ ‌all‌ ‌kinds‌ ‌of‌ ‌musicians,‌ ‌but‌ ‌choristers‌ ‌have‌ ‌perhaps‌ ‌been‌ ‌dealt‌ ‌the‌ ‌worst‌ ‌hand.‌ ‌Singing‌ ‌together‌ ‌in‌ ‌person‌ ‌is‌ ‌one‌ ‌of‌ ‌the‌ ‌most‌ ‌dangerous‌ ‌things‌ ‌a‌ ‌person‌ ‌can‌ ‌do‌ ‌in‌ ‌today's‌ ‌world,‌ ‌and‌ ‌singing‌ ‌alone‌ ‌at‌ ‌home‌ ‌is,‌ ‌well,‌ ‌awkward.‌ ‌ ‌
One hurdle almost every Enloe chorister has encountered this year is finding somewhere private to sing when it's time for online rehearsal. "I‌ ‌don't‌ ‌mind‌ ‌singing‌ ‌on‌ ‌a‌ ‌stage‌ ‌for‌ ‌however‌ ‌many‌ ‌people‌ ‌are‌ ‌in‌ ‌the‌ ‌audience,‌ ‌but‌ ‌singing‌ ‌in‌ ‌front‌ ‌of‌ ‌a‌ ‌few‌ ‌people‌ ‌that‌ ‌I'm‌ ‌really‌ ‌close‌ ‌with…‌ ‌I‌ ‌can not ‌do‌ ‌that,"‌ ‌says‌ ‌Ellie‌ ‌Schneider,‌ ‌class‌ ‌representative‌ ‌for‌ ‌the‌ ‌Chamber‌ ‌Choir.‌ ‌"So‌ ‌what‌ ‌I‌ ‌do‌ ‌is‌ ‌I‌ ‌go‌ ‌outside‌ ‌onto‌ ‌my‌ ‌screen‌ ‌porch,‌ ‌with‌ ‌my‌ ‌cat,‌ ‌and‌ ‌I‌ ‌just‌ ‌have‌ ‌a‌ ‌little‌ ‌outdoor‌ ‌singing‌ ‌party."‌ ‌Many‌ ‌less‌ ‌lucky‌ ‌choristers,‌ ‌victims‌ ‌of‌ ‌cruel‌ ‌fate‌ ‌and‌ ‌with‌ ‌nowhere‌ ‌to‌ ‌run,‌ ‌may‌ ‌find‌ ‌themselves‌ ‌faced‌ ‌with‌ ‌the‌ ‌unthinkable:‌ ‌singing‌ ‌alone‌ ‌where‌ ‌their‌ ‌family‌ ‌members‌ ‌can‌ ‌hear‌ ‌them.‌ ‌What‌ ‌can‌ ‌a‌ ‌chorus‌ ‌do‌ ‌to‌ ‌thrive‌ ‌in‌ ‌these‌ ‌dismal‌ ‌circumstances?‌ ‌
"Virtual‌ ‌choirs‌ ‌will‌ ‌never‌ ‌replace‌ ‌that‌ ‌feeling‌ ‌and‌ ‌that‌ ‌experience‌ ‌of‌ ‌singing‌ ‌together,‌ ‌but‌ ‌it's‌ ‌a‌ ‌nice‌ ‌goal‌ ‌to‌ ‌have,‌ ‌and‌ ‌that's‌ ‌something‌ ‌I'm‌ ‌really‌ ‌excited‌ ‌to‌ ‌do‌ ‌this‌ ‌year,"‌ ‌says‌ ‌Ms.‌ ‌Hallihan,‌ ‌director‌ ‌of‌ ‌Enloe's‌ ‌chorus‌ ‌program.‌ ‌To bring her vision to life, she has launched a campaign to‌ ‌raise‌ ‌$5,000‌ ‌for‌ ‌the‌ ‌audio‌ ‌and‌ ‌video‌ ‌editing‌ ‌services‌ ‌required‌ ‌to‌ ‌put‌ ‌together‌ ‌5‌ ‌large-scale‌ ‌virtual‌ ‌chorus‌ ‌performances.‌ ‌The‌ ‌editing‌ ‌process‌ ‌itself‌ ‌is‌ ‌an‌ ‌extensive‌ ‌ordeal‌ ‌even‌ ‌for‌ ‌a‌ ‌professional,‌ ‌taking‌ ‌into‌ ‌account‌ ‌the‌ ‌amount‌ ‌of‌ ‌detail‌ ‌work‌ ‌required‌ ‌to‌ ‌tailor‌ ‌all‌ ‌50‌ ‌voices‌ ‌in‌ ‌a‌ ‌given‌ ‌choir‌ ‌to‌ ‌one‌ ‌another‌ ‌without‌ ‌any‌ ‌misalignment‌ ‌or‌ ‌bumps.‌ ‌"At‌ ‌this‌ ‌moment,‌ ‌I‌ ‌think‌ ‌we're‌ ‌at‌ ‌$3,325,‌ ‌so‌ ‌we're‌ ‌really‌ ‌close,"‌ ‌says‌ ‌Ms.‌ ‌Hallihan.‌ ‌"If‌ ‌we‌ ‌have‌ ‌the‌ ‌ability‌ ‌to‌ ‌have‌ ‌every‌ ‌voice‌ ‌heard,‌ ‌then‌ ‌I‌ ‌want to ‌do‌ ‌it."‌ 
‌But‌ ‌how‌ ‌can‌ ‌you‌ ‌rehearse‌ ‌for‌ ‌a‌ ‌performance,‌ ‌whether‌ ‌it's‌ ‌virtual‌ ‌or‌ ‌not,‌ ‌when‌ the lag of a Google Meet prevents ‌you‌ from ‌sing‌ing ‌together‌?‌ ‌Mateo‌ ‌Vargas,‌ ‌student‌ ‌conductor‌ ‌for‌ ‌the‌ ‌brand-new‌ ‌Tenor-Bass‌ ‌Ensemble‌ ‌and‌ ‌bass‌ ‌singer‌ ‌for‌ ‌the‌ ‌Chamber‌ ‌Choir,‌ ‌has‌ ‌the‌ ‌answer:‌ ‌"We‌ have‌ ‌one‌ ‌person‌ ‌that's‌ ‌unmuted,‌ ‌and‌ ‌they're‌ ‌the‌ ‌leader‌ ‌voice.‌ ‌Then‌ ‌we'll‌ ‌have‌ ‌everyone‌ ‌else‌ ‌muted,‌ ‌but‌ ‌singing‌ ‌along,‌ ‌so‌ ‌we‌ ‌don't‌ ‌have‌ ‌any‌ ‌sort‌ ‌of‌ ‌delay‌ ‌between‌ ‌the‌ ‌voices."‌ ‌It's‌ ‌a‌ ‌new‌ ‌tactic‌ ‌for‌ ‌a‌ ‌new‌ ‌age.‌ ‌"We've‌ ‌implemented‌ ‌section‌ ‌leaders‌ ‌this‌ ‌year,‌ ‌so‌ ‌that‌ ‌they‌ ‌can‌ ‌be‌ ‌those‌ ‌leader‌ ‌voices‌ ‌in‌ ‌the‌ ‌breakout‌ ‌groups,"‌ ‌he‌ ‌adds.‌ ‌ ‌
For‌ ‌some‌ ‌chorus‌ ‌students,‌ ‌there's‌ ‌more‌ ‌to‌ ‌worry‌ ‌about‌ ‌than‌ ‌the‌ ‌way‌ ‌the‌ ‌rehearsals‌ ‌are‌ ‌run‌ ‌or‌ ‌the‌ ‌way‌ ‌performances‌ ‌are‌ ‌handled‌ ‌this‌ ‌year.‌ ‌Ellie‌ ‌is‌ ‌applying‌ ‌to‌ ‌12‌ ‌music‌ ‌and‌ ‌theatre‌  conservatories‌ ‌for‌ ‌the‌ ‌coming‌ ‌year,‌ ‌and‌ ‌describes‌ ‌the‌ virtual ‌application‌ ‌process‌ ‌as‌ ‌"not‌ ‌fun‌ ‌-‌ ‌definitely‌ ‌not‌ fun," as it has added new headaches to an already difficult set of tasks. "Right‌ ‌now,‌ ‌my‌ ‌big‌ ‌thing‌ ‌is‌ ‌that‌ ‌the‌ ‌auditions‌ ‌will‌ ‌be‌ ‌on‌ ‌Zoom," she explains. ‌Because‌ ‌music‌ ‌schools‌ ‌often‌ ‌use‌ ‌auditions‌ ‌to‌ ‌gain‌ ‌not‌ ‌only‌ ‌a‌ ‌sense‌ ‌of‌ ‌an‌ ‌applicant's‌ ‌musical‌ ‌ability,‌ ‌but‌ ‌also‌ ‌their‌ ‌personal‌ ‌attributes‌ ‌and‌ ‌demeanor,‌ ‌she‌ ‌says‌ ‌it's‌ ‌hard‌ ‌to‌ ‌imagine‌ ‌making‌ ‌an‌ ‌effective‌ ‌impression‌ ‌through‌ ‌a‌ ‌webcam.‌ ‌Factor‌ ‌in‌ ‌Zoom's‌ ‌abysmal‌ ‌audio‌ ‌quality,‌ ‌and‌ ‌auditioning‌ ‌online‌ ‌quickly‌ ‌spirals‌ ‌into‌ ‌a‌ ‌nightmare.‌ ‌But‌ ‌Ellie‌ ‌says‌ ‌it's‌ ‌not‌ ‌all‌ ‌bad:‌ ‌"Since‌ ‌it's‌ ‌online,‌ ‌I‌ ‌can‌ ‌do‌ ‌it‌ ‌wherever‌ ‌I‌ ‌want‌ ‌to.‌ ‌So‌ ‌theoretically,‌ ‌I‌ ‌can‌ ‌do‌ ‌them‌ ‌at‌ ‌my‌ ‌voice‌ ‌teacher's‌ ‌house,‌ ‌and‌ ‌she‌ ‌can‌ ‌be‌ ‌my‌ ‌accompanist…‌ ‌It‌ ‌might‌ ‌turn‌ ‌out‌ ‌better."‌ ‌
In‌ ‌the‌ ‌end,‌ ‌it's‌ ‌all‌ ‌about‌ ‌adapting.‌ ‌Mateo,‌ ‌also‌ ‌music-school-bound,‌ ‌says,‌ ‌"I‌ ‌don't‌ ‌think‌ ‌my‌ ‌plan‌ ‌has‌ ‌changed,‌ ‌really,‌ ‌I‌ ‌just‌ ‌think‌ ‌the‌ ‌way‌ ‌I'm‌ ‌gonna‌ ‌be‌ ‌going‌ ‌about‌ ‌it‌ ‌is‌ ‌going‌ ‌to‌ ‌be‌ ‌a‌ ‌bit‌ ‌different‌ ‌than‌ ‌it‌ ‌would‌ ‌have‌ ‌been."‌ ‌Similarly, Ms. Hallihan didn't let the circumstances stop her from initiating a Tenor-Bass Ensemble this year, combining her lowest voices into one powerhouse unit. So‌ ‌far,‌ ‌she‌ ‌says‌ ‌it's‌ ‌been‌ ‌even‌ ‌more‌ ‌successful‌ ‌than‌ ‌she‌ ‌hoped,‌ ‌adding‌ ‌that‌ ‌"their‌ ‌sense‌ ‌of‌ ‌camaraderie‌ ‌is‌ ‌amazing."‌ ‌
Even‌ ‌drowning‌ ‌in‌ ‌her‌ ‌applications,‌ ‌Ellie‌ ‌is‌ ‌optimistic.‌ ‌"If‌ ‌the‌ ‌pandemic‌ ‌continues‌ ‌on‌ ‌for‌ ‌longer‌ ‌than‌ ‌I‌ ‌hope‌ ‌it‌ ‌will,‌ ‌I‌ ‌think‌ ‌that‌ ‌people‌ ‌in‌ ‌the‌ ‌arts‌ ‌will‌ ‌find‌ ‌ways‌ ‌around‌ ‌it,"‌ ‌she‌ ‌says.‌ ‌"There‌ ‌will‌ ‌be‌ ‌opportunities‌ ‌again‌ ‌for‌ ‌everyone."‌
Leave a Comment
Donate to Enloe Eagle's Eye
Your donation will support the student journalists of Enloe Magnet High School, allowing us to cover our annual website costs. We are extremely grateful for any contribution, big or small!
About the Contributor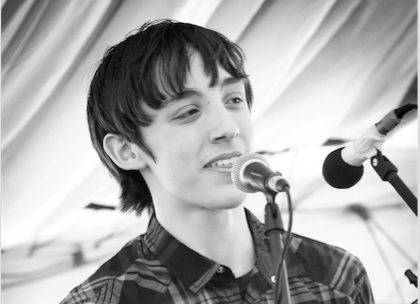 Sam Stage, Editor-in-Chief
Sam is looking forward to another awesome year for the Eagle's Eye, pandemic or not! He loves to go to concerts, festivals, and anyplace there's live...