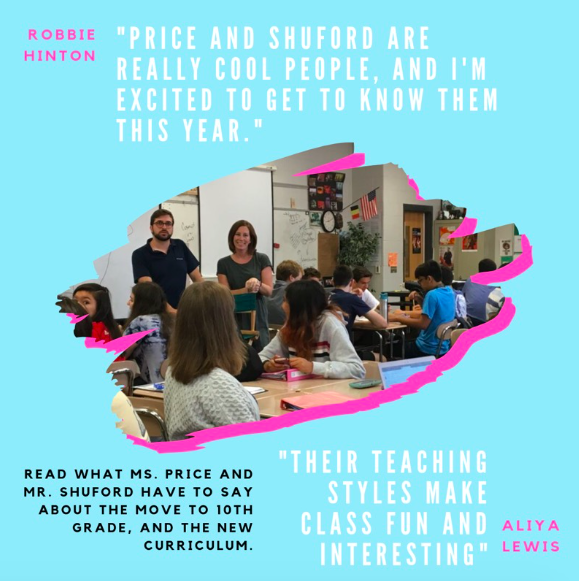 The new school year came with a new C&C curriculum and new teachers. Ms. Price and Mr. Shuford, the duo that had long taught freshman C&C together, have moved up to sophomore C&C this year. 
The all-new curriculum doesn't officially come out until next year, but it is already being implemented this year in Price and Shuford's C&C. Both AP World History and English II have changed and condensed, and it is a brand new start for the teachers and sophomores. 
They feel they have a lot more freedom to make new choices this year and combine some of their new ideas with things that have been done in the past.
Mr. Shuford says that the new curriculum gives teachers more time to teach, and approaching the material slightly differently will allow the focus to be on global interconnectedness, although he wishes there was more ancient history to be taught as well. 
While this is only their first year of sophomore teaching, they already have long-term goals; one of which is the seamless integration from 9th to 10th grade, as Mr. Shuford talked passionately about:
"As you move from 9th grade to 10th grade, you see themes of World History taught from the very beginning, and that Civics is not taught separately from World History," he says. Shuford hopes that civics can be viewed through a global lens in impending years.
One thing that prompted Ms. Price's switch to 10th grade was her profound interest in World Literature: "I have always loved the texts that [sophomore C&C] used, and the width of texts that span the whole world. That's always been something I've wanted to do, and Shuford loves World History as well, so both of us had always wanted to do it." Mr. Shuford confirmed his passion for world history, saying that it was always something he had wanted to teach, and wanted students to love.
"I want them to still feel that excitement from discovering an interesting story, and world history is the best place to do that. Why should it be the thing that makes you hate history? That was my goal, getting other people to care about it too, not just memorization, but discovery and inquiry."