What "Jesus is King" Means for Kanye
It's a pretty fair examination that the eccentricity and controversy surrounding Kanye West has only grown over his career. There has rarely been an attempt to ground himself and dismiss a lot of the controversy around him, and if Kanye does try to attempt it, he undercuts it. 
He did so with the release of Yeezus, where on "I Am A God," he says "Soon as they like you make 'em unlike you". Although West has tried repeatedly over the course of the last decade or so to ground himself and vanquish his ego, he just couldn't do so.
But with the two studio albums he released in 2018, West seemed to be the most upfront he's been about his personal life and issues across his entire discography. Although his solo effort, Ye polarized audiences and critics alike, its raw and intimate sound indicated that West was becoming more stable. 
However, Ye stood very much in contrast with his erratic public appearance and social media presence. During this time he aligned himself with right-wing politics, claiming that the left had not significantly altered the lives of African-Americans for the better, and so instead he chose to side with the Republicans. Kanye West, the man who called out the overwhelming homophobia in hip-hop, the man who said George Bush doesn't care about black people, and the man who criticized the medical industry's preferential treatment of the wealthy, then proceeded to endorse Donald Trump.
As odd as that is, it doesn't define the material on West's new album, Jesus Is King, as much as his "born-again Christian" status. As part of a series of concerts known as "Sunday Service," West's music has moved towards a distinctly gospel-influenced sound. Although West flirted with this style on earlier songs like "Jesus Walks" and "Ultralight Beam," this album is the most religiously focused Kanye West has ever been.
Most of the praise for Jesus Is King has come as a result of its expansive Christian sound, while its criticism has come as a result of a lack of lyrical merit and song structure. After all, Kanye does say "Closed on Sunday, you my Chick-Fil-A // You're my number one, with the lemonade, " and "Hold the selfies, put the 'Gram away,"  on the song "Closed On Sunday," which has a bafflingly short and incomplete song structure which solely consists of a chorus, verse, and one-line outro. 
A look at the lyrics isn't even required to understand the lack of nuance with which West practices and preaches Christianity: the 27 minute length of this album is indicative enough. West was criticized for releasing two 23 minute albums last year, but both those records can be viewed as companion pieces which also fit collectively under the five albums Kanye's label released during the summer of 2018.
Jesus Is King comes across as more of a lonely and confused 27 minute collection of seemingly random and amorphous vignettes rather than a complete project. In some ways, Jesus Is King, along with Sunday Service, feels like an attempt at redemption in the eyes of the public. What Kanye doesn't understand is that his music doesn't influence public opinion of him as much as his politics, beliefs, and persona. And with his right-wing politics, egotistical beliefs (saying to his wife: "It affects my soul when your pictures are too sexy"), and abrasive personality, West likely will never gain that public redemption.
The harsh truth is that most acclaimed musicians have a few great years in the limelight. Although West has been blessed with the talent to release a multitude of modern music's greatest and most influential albums, his time may be up. If he really wants to continue down this gospel route, he will alienate large portions of his fanbase, and it's hard to see improving upon the sound of Jesus Is King to the point of widely impressing the public. And, even worse, if he abandons the sound he put together on Jesus Is King, it'll become apparent to his fanbase and music listeners as a whole that West's Christian affiliation was solely temporary, and not genuine. It may be the beginning of the end of his career.
View Comments (1)
Donate to Enloe Eagle's Eye
Your donation will support the student journalists of Enloe Magnet High School, allowing us to cover our annual website costs. We are extremely grateful for any contribution, big or small!
About the Contributor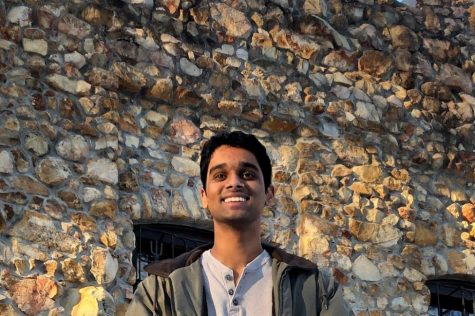 Arul Gundam, News Editor
An avid cricket fan, Arul balances out his schedule between Kanye homages and Kelly K references. According to his co-editor, Joey Marmaud, he is one of...