The Story Behind Enloe Science Olympiad
On the evening of January 18th, a team from Enloe left Duke University loaded with hardware; to be exact, 7 gold, 7 silver, and 5 bronze individual medals. This team had just competed in an invitational against 33 different schools- some even from neighboring states- and had come out on top, winning first overall. It wasn't one of Enloe's sports teams. It couldn't have been basketball, and it wasn't indoor track or even the swim and dive team. No, this was a team that excelled not in physical strength, but in mental acuity: a competition of intellect.
The truth is, this invitational was only the beginning of the tournament season for this team, and they had little time to rest. The upcoming week held in store another invitational- this one at MIT- and the team had big goals to accomplish.
This is the story of EHS Science Olympiad: one of Enloe's least acclaimed yet most dominant competitive teams.
The roots of Enloe's success at the Duke Invitational can be traced all the way back to October of 2019: the very beginning of the season. As is the case in most sports, in order to make it onto the varsity team in Science Olympiad, one must undergo the tryout process; however, it may be surprising to hear that it's harder than many sports to make this team. There were, according to head coach and physics teacher Mr. Martin, between 100 and 150 students taking their shot at becoming a member.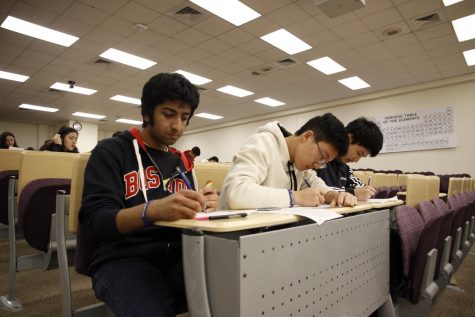 The program is organized into dozens of different events, all of which require near-expertise in a specific scientific field. For example, students who believe themselves to be adept at the study of planets and stars might try out for Astronomy, where they would take a test specific to that event. The highest scoring performers in each event are named to the varsity team, where they'll prepare for months, aiming to perfect their art before the start of championship season.
By the end of tryouts, 45 people have made it through, becoming Enloe's 2019-2020 varsity Science Olympiad team. They're spread out over 23 events, tested on topics ranging from botany to the application of physics. But before they have the opportunity to showcase that knowledge, they're faced with weeks of practice and preparation.
Events in the Science Olympiad program are further subdivided into two categories. Astronomy, as we discussed earlier, is an example of a test-based event, where participants study in order to take a test during the competition. Only about half of the total events involve this aspect, though. While competitors in the testing events research and study their field in preparation for tournaments, competitors in the build events are tasked with creating various contraptions, or machines, that fit the specifications of the event rules.
Tushaar Jain(11) specializes in 4 events, the first of these being Gravity Vehicle. The task in this field is to build a car, which then has to roll down a slope and travel a specified distance. Gravity Vehicle, an application of physics regarding kinetic and potential energy, is an example of a "build" event. In addition, Jain specialized in Machines, Circuit Lab, and Detector Building- all of which involve building components.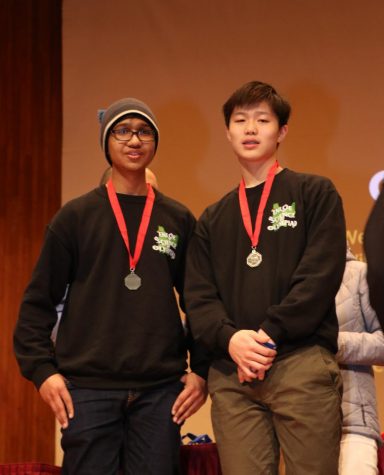 In all, between October and the end of January, Jain was tasked with the building of 4 separate contraptions, in addition to studying for the testing portion of his events: certainly a tall order. Yet the team is more than willing to step up to the challenge. "Science Olympiad is basically the number one priority of every kid on Varsity…it's a very intense focus" says Jain. The team follows a schedule similar to many sports teams, working on their events nearly every day. Towards the end of the season, when the team is weeks away from States or Nationals, the group's practice schedule builds in intensity, culminating in multiple-hour practices every day in the weeks leading up to Nationals. Yet, as Tushaar remarks, the whole process is a team effort. Help and encouragement go a long way in such a competitive (competition), and Mr. Martin proudly notes that the team is- and has been- well known for its cohesiveness.
After its stunning performance at the Duke Invitational, the team turned around with a down time of less than a week to go compete in Cambridge, Massachusetts at the MIT Invitational. Here, the team placed 5th against many of the top teams in the nation- in a result that bodes well for the Enloe varsity crew.
Two years ago, our school's team burst onto the nationwide scene with a 10th place finish at Nationals. During that competition, head coach Mr. Martin had chosen to sit up high in the bleachers, not anticipating a high overall finish. He remembers being shell-shocked as Enloe's name was announced, saying "I just couldn't believe that we had gotten 10th."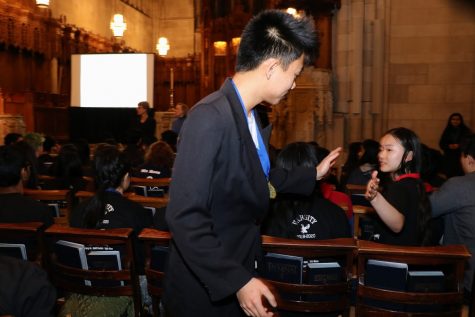 This is only the latest example of our varsity team's distinguished reputation. The talent level in this group is sky-high, and it shows: if you somehow make it past tryouts, the expectation of the team is to win regionals and even states, period. At Regionals, Jain says, the goal is to not only get first overall, but to win every event. It's an ambitious goal but not impossible, given that Enloe's team boasts some of the brightest students in the county and even the state. Mr. Martin cites this as one of the reasons he's worked with the team for 4 years running, saying "Some of these kids are very, very smart, and helping them, being able to guide them everyday is… I get a lot from it."
With two of their five competitions behind them, the Enloe Science Olympiad team looks towards the future with high hopes. After making it past Regionals, the team has to confront their long-time rival at States: the NC School of Science and Math, or NCSSM. The top two schools from the overall results at the state level will advance to the final level of competition.
In May, the team joins together for the final time, in the culmination of a season of tireless practice and preparation: Science Olympiad Nationals. This year, Enloe practically has home field advantage: the tournament will be held right here in Raleigh. Facing off against the best teams- the smartest minds- the nation has to offer, the team will attempt to achieve their biggest goal: making the top 10 at Nationals, once again.
With the accomplishment of this goal, hundreds of hours of effort will be made worthwhile; months of teamwork and dedication will have paid off. And Enloe's Science Olympiad program, already one of the most distinguished in the nation, will have polished its gleaming reputation once more.
Leave a Comment
Donate to Enloe Eagle's Eye
Your donation will support the student journalists of Enloe Magnet High School, allowing us to cover our annual website costs. We are extremely grateful for any contribution, big or small!
About the Contributor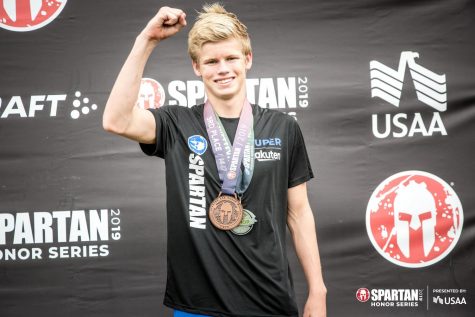 Luke Fortner, Sports & Achievement Editor
Luke is a junior and the current Sports Editor for the Eagle's Eye. He loves writing for opinion- especially when supporting a difficult perspective-...