Dante Mobley: A New Hero Rises
We live in fearsome times, and fearsome times call for fierce heroes. Enter Dante Mobley, student activist extraordinaire and pioneer of a watershed letter campaign. Dante is the founder of Raleigh Freedom Writers, which they describe as "a group of young writers, artists, and community members that are interested in making a difference in local politics and general social justice issues." Together with the local community and their organization, Dante has begun a yearlong letter campaign to send one thousand letters addressing important issues to officials that affect Raleigh. As of September 1st, they've sent between sixty and seventy letters to people like Roy Cooper, MaryAnne Baldwin, Cal Cunningham, and Deaborah Ross. Here is a profile of this young visionary and their movement.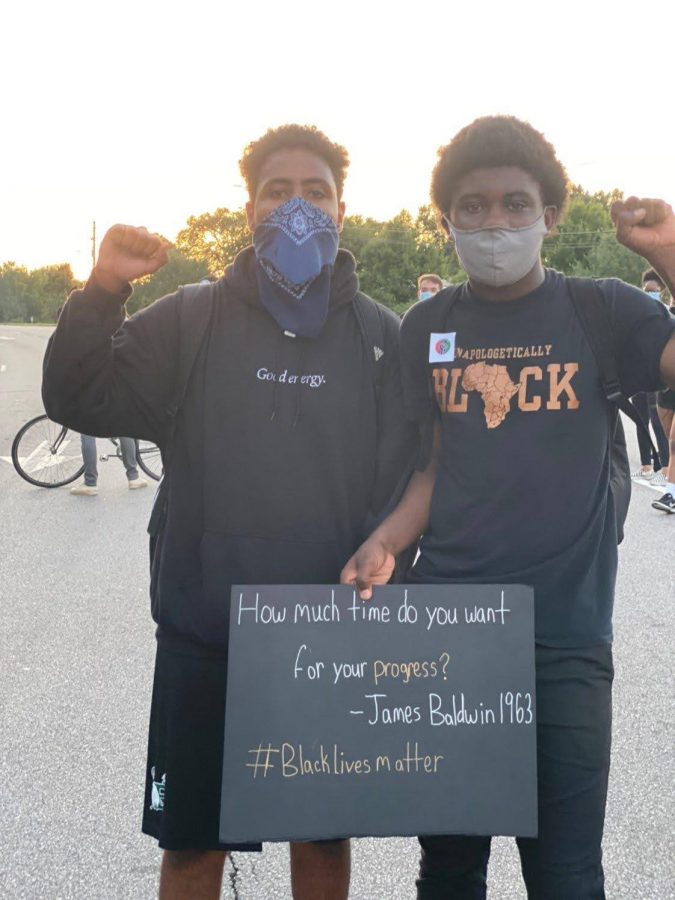 Dante's activism has a heartwarming inspiration: their Grandma. "She was hearing me complain a lot about local politics and electoral politics in general, so she wanted me to start writing letters to these people in power because she said I had good ideas and my voice needs to be heard. Then, I started replying on Twitter to a couple of officials, and of course there was no response because that's usually how it goes. So I said: why don't I get me and a bunch of my friends to all collectively start writing letters to local officials? If we speak in one voice they can't ignore us, because we are the future."
Dante strongly believes in the necessity of youth activism. "[The letter campaign] is important for community politics because so far, our community leaders and political representatives haven't really taken into account the youth voices in the community since we're not of voting age, but in the end, our lives are still being affected by the decisions made at higher levels," Dante said. "My one goal is to let the young people know that they can make a difference in the world," he added. "I want them to know that they have the power to truly bring power back to the people." 
So why did Dante choose physical letters instead of digital communication? "We're coming up on a mail-in election, and so that means there's awareness about how we should support the Post Office and how we should make sure that they can sustain a free and fair election," Dante explains. There is also a sentimental aspect of written letters to officials. "They  make them more open to hearing the voices of the community, to see all these young people flood their mailbox with individual unique letters." As of this article being published, most of the letters have just been sent out, so there have not been any direct responses to them yet. However, some of Dante's fellow activists met with the mayor of Raleigh during a "Shine the Light Vigil" event, and soon after she suspended a curfew they objected to.
Outside of the letter campaign, Dante and the Freedom Writers have other ideas for ways they can build a proactive community while remaining socially distanced. "For September, I am thinking of a pen pal program to also support the Postal Service. We need to keep people connected, especially because now you never know what someone's going though. I'm also planning on people writing spoken word [poetry]… and slam poetry, and I think you can convey such powerful messages just through writing in a way."
You can help Dante and your community! If you want to join the Raleigh Freedom Writers, direct-message Dante on Instagram @dantemalikk to get into their organizational group chat. If you want to send a letter, Dante has useful information and a letter form in their Instagram bio. Also check out the Raleigh Freedom Writers' Instagram, @raleighwriters. Be sure to thank Dante and the Freedom Writers for their great work – they are an example to us all. Youth activism is inspiring to people of every age group, and it is needed now more than ever!
Leave a Comment
Donate to Enloe Eagle's Eye
Your donation will support the student journalists of Enloe Magnet High School, allowing us to cover our annual website costs. We are extremely grateful for any contribution, big or small!