Interested in Joining the Eagle's Eye Staff?
Interested in joining the staff of Enloe Eagle's Eye? We are looking for excited writers and graphic designers to join our student-led publication! This is open to all rising 10th, 11th and 12th graders at Enloe. The link to the application is here (bit.ly/eagleseyeapply), due at 11:59pm on Saturday, March 20th, 2021. (WCPSS email account must be used to access the application form.) Feel free to send any questions to [email protected].
The Eagle's Eye staff will also be holding two interest meetings to give more information about what newspaper class is like, how to apply and to answer any questions you may have! They will be held on Wednesday, March 10th at 12:00pm and Thursday, March 11th at 2:30pm. The Google Meet code is EnloeTPrice-ONeil.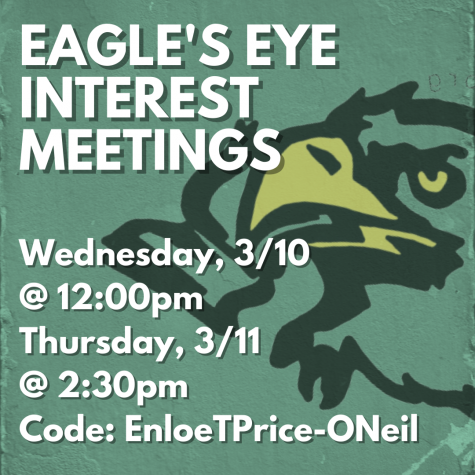 Leave a Comment