Inheriting Millions Just to Play a Very Risky Game
The Inheritance Games – a Book Review
One day you get called into the principal's office. In the office, there is a young man in a suit and your sister. No principal in sight. They tell you that a very rich man, whom you've never heard of, put you in his will. You're immediately flown out to his estate for the reading of the will. While his family gets some specific things, you inherit millions of dollars and his estate with one condition: You have to live in the house for a full year before you have complete access to your inheritance. His children are upset. His grandsons are confused and eager for an answer, so much so that they insist it is all just a game. And you? You are uprooted from all that you've known to live with very rich, very angry strangers, while playing games for your own inheritance. 
In The Inheritance Games by Jennifer Lynn Barnes, Avery Kylie Grambs is faced with the exact situation. Growing up, she had an absent father and lost her mother. Avery lived with her half-sister, but money was still pretty scarce. So when she hears that Tobias Hawthorne has given her the majority of his holdings, her life takes an unexpected turn. This mystery, with a bit of a twist, leaves you asking more questions than the answers you receive while trying to figure out each of the characters and their motives. The four grandsons, Nash, Grayson, Jameson, and Xander, create very different relationships with Avery. Not only is she dealing with the family, but also the press, and how this change affects her past friendships.
Jennifer Lynn Barnes is the author of more than a dozen young adult novels. She wrote her first published novel when she was nineteen-years-old and sold her first five books while still in college. Barnes writes each character with great depth no matter what part they play. As Avery explores different parts of the estate, you feel as if you're there, seeing everything for the first time. Barnes writes each scene descriptively without making it difficult to read, picture, or understand. The plot of the book may be about the games to find out why Avery was chosen, but the characters, setting, relationships, and mystery of it all is never lost. Barnes has you at the edge of your seat, always wondering what will happen next. She sets it up perfectly for the sequel, The Hawthorne Legacy, that came out on September 7th, 2021. 
If you love a good mystery with great character-plot balance, intriguing background stories, a twist you don't see coming, with a bit of romance, The Inheritance Games may be the book for you. Follow Avery on the first part of her journey deciphering the mystery to Avery's presence in Hawthorne House as well as the relationships she develops with and the games she plays for millions. 
Leave a Comment
Donate to Enloe Eagle's Eye
Your donation will support the student journalists of Enloe Magnet High School, allowing us to cover our annual website costs. We are extremely grateful for any contribution, big or small!
About the Contributor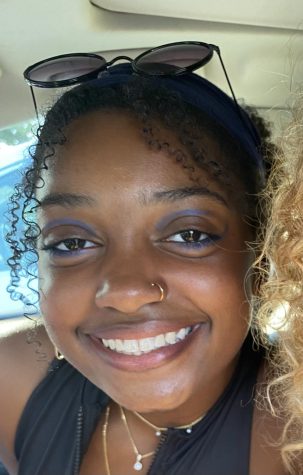 Sophia Stewart, Opinion Editor
(she/her)

Sophia is a senior looking forward to being the Opinion editor for Eagle's Eye. She spends a lot of her time dancing and reading. When she...