'Missing White Woman Syndrome': The Petito Case and MMIW
TW: mention of sexual violence and murder
On September 11th, 2021, the social media travel influencer Gabby Petito was reported missing while she was on a cross-country trip with her fiancé. Since this report, her case has garnered national attention, with #GabbyPetito gaining more than 900 million views on TikTok and making headlines all over the media. Several law enforcement agencies provided resources to find Petito, including the FBI. In light of the tragic death of Gabby Petito, we must not forget the thousands of Indigenous women who have gone missing over the years and have had their cases ignored and overshadowed by those of non-POC. 
Cases that are brought to the media remain overwhelmingly white. In the last decade, 710 Indigenous people–mainly women and girls–went missing in Wyoming, the state where Gabby was found. None of their cases were made viral or published to various news outlets. Moreover, the case is continuing now with the search for Brian Laundrie, Petito's fiancé and person of interest in the homicide. In an interview with Law and Crime Trial Network, Bob Hille, a trial attorney, added that "They're trying to be very careful in the investigation, you know, we've seen other cases where people have argued or they jumped to conclusions and targeted an individual. I think what they're trying to do here is be very methodical." Yet indigenous women have constantly had their stories overlooked, such as the case of Nicole Wagon, a member of the Northern Arapaho Tribe. In the past two years, two of her daughters went missing and were killed, and they never received an investigation surrounding their murders. Their names were Jocelyn Watt (30), and Jade Wagon (23).
 Had Petito been an Indigenous woman, she, without a doubt, would not have had as much care and recognition put into her case, due to the cycle of unwillingness to address the suffering of marginalized groups of people, especially women of color. There is countless evidence that shows that they experience gender violence in numbers out of proportion to white individuals. According to a report by the National Institute of Justice, more than 4 out of 5 (84.3%) Indigenous women have experienced violence and more than half (56.1%) experience sexual violence in their lives. Federal data reveals that homicide is the third-leading cause of death among Native women, who are murdered at rates more than 10 times the national average. This is not something that should be ignored, yet we see almost no attention paid to Indigenous women in mainstream media. The amount of coverage the Petito case had on the news created an explosion of interest in the public, with millions becoming invested in the story of Gabby's disappearance and death, while Indigenous stories are repeatedly overshadowed by such cases. The white privilege that is so evident in the media makes it so that Indigenous stories aren't making a dent in the public's awareness. 
The few stories that are covered in the news about Indigenous women generally paint the victims in a more negative light, using more violent language than those of white victims. If we ask ourselves the reason why this is a problem that seems to never go away, we can trace it back to who is working in the newsrooms and the overall effect white privilege has on society as a whole. How many Indigenous journalists are writing for large media outlets? How many white journalists? There is no comparison. Our society allows white people to remain ignorant of the conflicts that people of color face, and continue to live in bliss, while there are people being murdered and unrecognized right under their feet. 
There is a term that was coined in 2004 by American news anchor, Gwen Ifill, called "Missing White Woman Syndrome," which refers to the disproportionate media coverage of missing-person cases, comparing those of white women to those who are not white. As we can see with examples like the Gabby Petito case, this is a problem that still goes on today and we need people to give the same outrage for missing Indigenous and other POC as they've given to missing white women.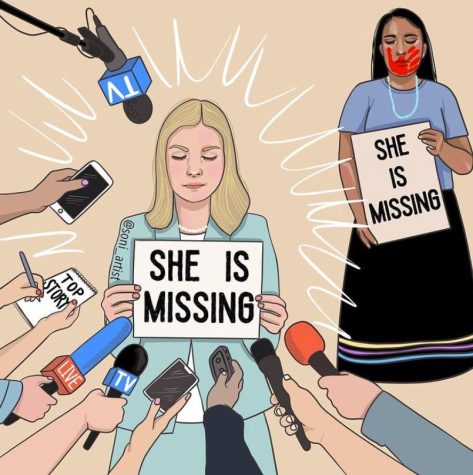 A graphic designed by Soni López-Chávez (@soni_artist on Instagram) has been circulating around social media, displaying a drawing of a blond, white woman surrounded by microphones and behind her an Indigenous woman with a red hand painted across her mouth and no reporters or microphones surrounding her. If you browse #MMIW (Missing and Murdered Indigenous Women) on Instagram, you'll find many posts featuring women with red hands painted over their mouths. This is a symbol that represents Native women throughout the continent who have gone missing or were murdered and a symbol for the MMIW movement, itself. These powerful images often have information in the caption about Indigenous peoples' lives, such as personal experiences with discrimination, historical information about Indigenous communities, or ways that non-Indigenous people can help. Cases like Gabby Petito's are absolutely horrific, but we need to stop picking and choosing who gets to have their stories heard. 
Click here to view an article by Amnesty International, a non-governmental organization that focuses on human rights, about 10 ways to be a genuine ally to Indigenous communities. 
For more information on the MMIW movement, click here. 
Click here to view a helpful linktree by @lilnativeboy (same username on Instagram, as well) to view more resources on Indigenous communities and allyship.
Leave a Comment
Donate to Enloe Eagle's Eye
Your donation will support the student journalists of Enloe Magnet High School, allowing us to cover our annual website costs. We are extremely grateful for any contribution, big or small!
About the Contributor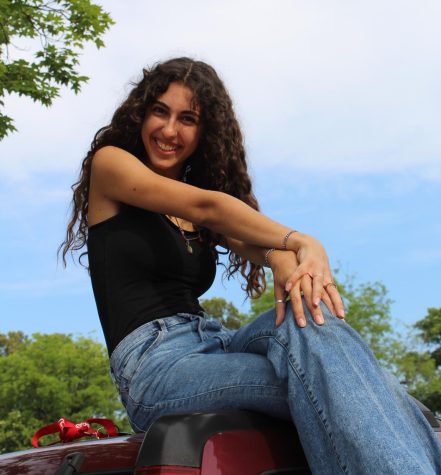 Dae Borg, Executive Editor
(She/her)

Dae Borg is a senior who has a love for the Earth, wildlife, the arts, and meeting new people. She enjoys writing about global environmental...