The Luxury of American Dental Care
The perceptions of teeth have stretched far beyond mere dental hygiene. Teeth are a marker of class. Dental and orthodontic care have become the non-traditional luxury of the middle and high class. Those with 'imperfect' teeth are seen as unintelligent, low income, and low class individuals. Why are Americans so obsessed with having the perfect smile? Having "perfect" teeth does improve self esteem, but why? Why does the part of your body used to chew have such a profound effect on your social perceptions and drastic societal implications? 
Traditional metal braces cost anywhere from 4,000-7,000 dollars, but this high price tag comes with more benefits than aligned teeth. Straight teeth are a status symbol of class, and this symbolism is instilled throughout your childhood. Writer Anne Helen Peterson explains that, "Those braces were for my dental health but they were also for my middle class future[…] and all of it (pressure of dental care) would be less laden with class baggage if 1) dental care were (rightfully) considered part of the medical care; […] But that is not the case – and our teeth become sites of continual middle class maintenance." 
An estimated 4.5 million Americans are currently undergoing orthodontic care, 80% being 6-18 year olds.  Braces have, in a way, become a rite of passage in middle/upper class America, as the amount of people with braces has quadrupled since the 1960s. This steep price, which is often not covered by insurance, has caused teeth to become a class symbol. Teeth are a physical reminder of wealth and a divide between the haves and the have nots, showing everyone your wealth status. Those who can afford this dental care solidify their place in the social hierarchy and strengthen the link between straight teeth, wealth, intellect, and high class nature. 
The luxury of teeth is not a modern issue, struggles of dental care between the rich and poor have been going on for hundreds of years. Many sources report that in colonial/pre-colonial times rich people would rot out their teeth, as they had access to sugar, and this practice popularized tooth transplants. These transplants consisted of poor people selling their teeth and often enslaved people's teeth removed against their will and implanted in the mouths of the rich. George Washington's teeth were not wood. Though not present in modern America, it highlights the commodity that is teeth among the rich. 
 "The Hollywood Smile", Hollywood stardom is often contingent on straight teeth; and those who don't have them "fix" their teeth as soon as they make enough money to do so. In Cardi B's song "Bodak Yellow, " she raps about all of the expensive things she bought once she got rich including, "I got a bag and fixed my teeth".  However, not all celebrities have "perfect" teeth and those who don't are noted. Madonna, for example, was famous for the gap between her teeth as it was a stark contrast to the Hollywood smile that surrounded her. This beauty standard smile is not only prevalent with A-list celebrities but becoming increasingly popular with young  influencers. Veneers, a dental procedure to improve the aesthetics of teeth, are on the rise with influencers and celebrities. Veneers cost anywhere from 400-2,500 dollars per tooth, furthering the notion that good teeth and smiles are a luxury. This process also often requires you to shave down your teeth making this a permanent decision and causing you to pay for a replacement set every 10-20 years. These veneers, often subtle yet expensive dental care, add to the link between good teeth and high class people. This search for the perfect smile is a uniquely American ideal. Other countries, such as the UK, have a different culture surrounding dental care, along with  a more comprehensive dental insurance plan. 
Dental care is not exclusive to braces,  routine cleanings and dental hygiene come with financial and logistical barriers. Technically, routine dental maintenance is covered by Medicaid but classism and stigmas against poor and impoverished people prevent many from such care. In Mary Otto's Teeth:The Story of Beauty, Inequality, and the Struggle for Oral Health in America she describes these barriers from within the dental industry. "The participants (Medicaid users) reported that the dentists seemed reluctant to see or touch their children because 'they are dirty'. Members complained even more about the office staff, reporting that, "dental receptionists made negative comments about their Medicaid status, handling their cards with disdain".  A dentist also described in the book explains how he treats Medicaid patients, "They take over your entire reception room. They take things home. […] We are very nice to them but have to manage them differently. We use words with them we would never use with our other patients." Mary Otto's book showcases that many face more than just financial barriers, and the classism rooted in the dental industry becomes a psychological  barrier itself. 
The pressures that come along with dental care are not only for the elite. Enloe Junior Kristin Nagy, a braces wearer, has thoughts on the issue. "I didn't get braces for the longest time because I had no medical need for them, but I decided to get them in high school because of a small gap in my teeth. I definitely could have done without them, and I know it's a privilege for me to have them, reflective of my middle-class status. Honestly, I wish that it was more accepted for people to have all kinds of teeth, but I guess I'm glad that I don't have a gap anymore. Everyone at my orthodontist's office definitely reflects a certain social status or class." Kristin is a case where braces were used to improve self esteem and outward appearance rather than a medical jaw issue, this is the case for many Americans. Teeth are an important factor in attractiveness/aesthetics of a person.  Enloe Junior Jordan Martin also has thoughts on the issue, "I never had braces on my teeth, they have always been pretty straight. But never perfect so I want to get an Invisalign. I think teeth are important to how someone looks. I think teeth reflect someone's personal hygiene."  
For those in the middle and high class their teeth are a physical remainder of their social and economic status. Those deemed low class experience physical, logistical, and financial barriers preventing them from achieving these high class teeth. Does the way your teeth look truly matter? 
Sources
Otto , Mary. Eeth:The Story of Beauty, Inequality, and the Struggle for Oral Health in America . 1 ed., 1 , The New Press, 2017. 
Oral B. "How Much Do Braces Cost?" Oral, Oral-B.com,       https://oralb.com/en-us/oral-health/life-stages/braces/how-much-do-braces-cost/. 
Lee, Dan P. "Why Is America Obsessed with Perfecting Its Teeth?" The Cut, The Cut, 9 June 2015, https://www.thecut.com/2015/06/why-is-america-obsessed-perfect-teeth.html. 
Jaffe, Sarah. "The Tooth Divide: Beauty, Class and the Story of Dentistry." The New York Times, The New York Times, 23 Mar. 2017, https://www.nytimes.com/2017/03/23/books/review/teeth-oral-health-mary-otto.html. 
Dental , Aspen. "Dental Veneers." Aspen Dental, https://www.aspendental.com/dental-services/cosmetic-dentistry/dental-veneers. 
Petersen, Anne Helen. "No One Told Me Being Middle Class Meant Wearing My Retainer Forever." Culture Study, Culture Study, 19 Apr. 2021, https://annehelen.substack.com/p/no-one-told-me-being-middle-class-846. 
Leave a Comment
Donate to Enloe Eagle's Eye
Your donation will support the student journalists of Enloe Magnet High School, allowing us to cover our annual website costs. We are extremely grateful for any contribution, big or small!
About the Contributor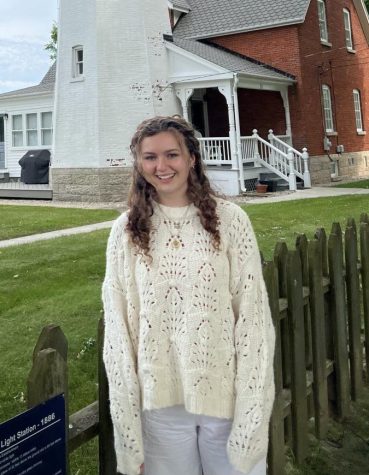 Malinn Welch, Arts and Entertainment Editor
(She/her)

Malinn is a senior and excited to return to the Eagle's Eye as an A&E editor! She is passionate about fashion, sewing, and clothes in...