Theranos and the Trial of Elizabeth Holmes
On January 3, the founder of fraudulent medical company Theranos, Elizabeth Holmes, was found guilty on 4 of 11 proposed charges. After a multi-year trial, Holmes faces a maximum of 20 years in federal prison for fraud committed by her company, Theranos, which had the goal of revolutionizing medical blood testing. 
What is Theranos? 
Theranos was founded with a facade of the technology claiming to allow a few drops of blood, pricked from a person's finger, to be able to have countless tests run on; thus, streamlining the medical testing format. Currently, a person must travel to a doctor's office for an order for the tests to be done, often travel to an off site testing facility to give the blood, and then give a vial of blood for each test being run. Theranos promised to change all of that. Using the proposed Theranos machine, known as the Edison, a patient would merely give a few drops of blood; the volume was often unknown as it varied from patent to patent. This test could be conducted at a local pharmacy — Theranos even secured a short-lived partnership with Walgreens. This partnership, along with all of the ethos surrounding the company tumbled to the ground after it was revealed that the technology produced inaccurate results. The fraudulent technology provided hundreds of people with inaccurate results of HIV, diabetes, cancer, miscarriages, and a multitute of other lies. The bottom line is that the technology Theranos was peddling does not exist. 
Who is Elizabeth Holmes? 
At the age of nineteen, Elizabeth Holmes founded Theranos, making this company her claim to fame, but who is Elizabeth Holmes? Stanford drop-out, named one of Forbes richest self-made billionaires in 2015, and currently destitute by comparison to her former life. 
Holmes was born into a relatively wealthy family in Washington D.C with high hopes for her future. As a young child, Holmes informed her father through a letter that what she  "really want[ed] out of life is to discover something new, something that mankind didn't know was possible to do." This dream of profoundness came closer to grasp upon her acceptance into Stanford University to study chemical engineering. While at Stanford, she constructed an idea for an antibiotic infusion patch. This idea was innovative to the medical field; nevertheless, the patch did not function. Upon presenting this idea to an advisor, he replied with "She just stared through me. And she just seemed absolutely confident of her own brilliance. She wasn't interested in my expertise and it was upsetting." This was the moment Holmes' dream of profoundness transcended the bounds of truth. 
The Trial of Elizabeth Holmes 
Upon skepticism of the technology and after rounds of scientific peer review on Theranos, it was concluded that the machines were producing inaccurate results. The nanotechnology machines known as the Edison, Nanotainer, and MiniLab were developed by Holmes and partner Ramesh Balwani along with the funds of venture capitalists. Holmes was indicted on charges of fraud in June 2018. The trial began September 8 of 2018, and has endured numerous delays since its inception. The case of the prosecutors came from Holmes's deception about the technology's abilities. Prosecutors called upon 29 witnesses testifying to their personal misdiagnoses, fraudulent business practices, and Theranos's military partnership. Former employees of the company testified to the fact that machines which regularly failed inspections were still promoted to the customer as functioning technology. In November 2021, Holmes took the stand herself, described by the New York Times as "paint[ing] herself as a well-meaning entrepreneur who was naïve and relied too much on those around her. She said she had been emotionally and physically abused by Ramesh Balwani, Theranos's former chief operating officer and her former boyfriend." Holmes explained the abusive relationship between herself and Balwani, who is also indicted for fraud and will go on trial later this year. On the stand Holmes relayed the timeline of Theranos, speaking about conversations with investors and employees. The lawyer of Elizabeth Holmes, Kevin Dowey, explained his defense with, "If someone is acting in good faith, you have no reason to find them guilty." 
The trial of Elizabeth Holmes has illuminated years of lies. Lies to patients seeking accurate blood tests, lies to investors banking on a near fortune 500 company, and lies to those at the Theranos company, possibly including Holmes herself.
Leave a Comment
Donate to Enloe Eagle's Eye
Your donation will support the student journalists of Enloe Magnet High School, allowing us to cover our annual website costs. We are extremely grateful for any contribution, big or small!
About the Contributor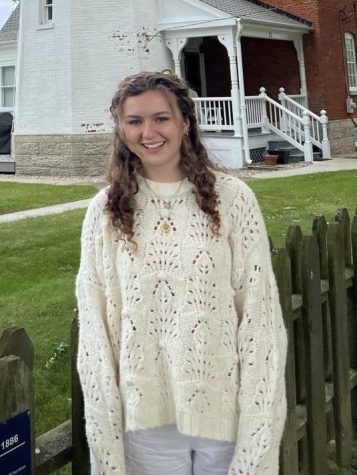 Malinn Welch, Arts and Entertainment Editor
(She/her)

Malinn is a senior and excited to return to the Eagle's Eye as an A&E editor! She is passionate about fashion, sewing, and clothes in...