Athlete Spotlight: Ava Sharon
What defines a great athlete can take the form of many different things. Work ethic, talent, athleticism, motivation, and teamwork. Applying these traits to athletics as well as academics is an extremely hard task which takes great effort and time management skills. For junior Ava Sharon: third year member of Enloe Swim Team, swimmer for club team Marlins of Raleigh, member of Enloe Student Council as junior advisor, and member of the Enloe Medical Bioscience Academy (MBSA), the definition of a student athlete doesn't come much closer. 
Ava began swimming at the age of five and then progressed to swimming at the club level at the age of nine. From there, she continued swimming and joined the Enloe swim team her freshman year. Just months after her introduction to Enloe swim, the Covid-19 pandemic disrupted all semblances of daily life, including swim. Covid has impacted two school swim seasons and greatly altered team protocols and gatherings. With recent practices having to be canceled, there is a big difference in rules and daily norms for the team than there was 2 years ago. 
For 6th ranked Enloe swim, Ava swims 100m backstroke and 200m freestyle. With personal bests as 1:12.99 for 100m backstroke and 2:23.04 for 200m freestyle Ava is able to compete at a very high level (for those who don't know much about swim the average time is about 1:30 for backstroke and a little under 3 minutes for 200m freestyle). As one of the more experienced members on the Enloe team, she is happy to see a lot of underclassmen and new people joining the program: "So far the season has been really fun because there are a lot of new underclassmen on the team… my goals for the season are to have perfect attendance for practices, continue improving my times, and make friends with everyone on the Enloe team". With a great start to the season that has continued into the later stages of it, Enloe is representing themselves extremely well on a statewide level. In addition to finishing the year off strong, Ava hopes to become a captain as a senior and to continue to work on improving her times. 
Waking up on a cold Monday morning is one of the hardest things about starting a new week.  Practices for Marlins of Raleigh begin at 5 A.M. on Mondays, Wednesdays, and Fridays every week which requires Ava to wake up around 4:30 A.M. Combine that with after school practices for the school team, homework, student council responsibilities, and the normal social life of a teenager and you have an extremely busy and strenuous schedule. Given the energy and dedication Ava brings to both athletics and academics, you would never be able to tell the amount of things going on in her life at once. Simply put by sophomore and fellow member of the team Sadie Mange: "She is always fun to be around, she's really understanding, she's funny… she's always someone you can go to and a really good friend overall." 
A true student athlete is someone that puts all they have into both academics, athletics and is able to still thrive despite that workload. Ava is an incredible example of how someone can be successful in both. With everything going on in the world right now, the challenging task of navigating her junior year, balancing two swim teams, serving her community as a member of Enloe's student council, and additional academic work in the form of MBSA, Ava is a true example of a student athlete. 
View Comments (5)
Donate to Enloe Eagle's Eye
Your donation will support the student journalists of Enloe Magnet High School, allowing us to cover our annual website costs. We are extremely grateful for any contribution, big or small!
About the Contributor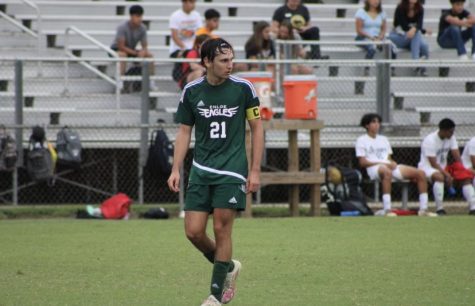 Greene Rand, Sports Editor
(He/him)

Greene Rand is sports editor and a senior. He is captain of the school soccer team and enjoys spending time with his friends and three dogs.