What Makes Encanto Such a Great Movie?
The 2021 film Encanto is a groundbreaking piece that allows viewers, young and old, to ponder several questions, such as: "How can we define perfection?" "What makes a person special?" and "How can generational trauma affect future generations?" Encanto explores these themes and many more while bringing representation to the Latine community, featuring different skin tones and hair types, and breaking barriers for how the community is traditionally portrayed.
Even though many may not be fans of musicals, they have nothing to worry about as Lin-Manuel Miranda's songwriting truly enhanced the story with songs such as "We Don't Talk About Bruno," and "Surface Pressure," which conveyed messages that could not have been told in dialogue. Specifically, "Surface Pressure" shows the restrictions and pressures Luisa feels from being in the Madrigal family. Much of the family appears to be content with the family, but "Surface Pressure" displays the toll that being dependent on your gift can have and offers a deeper look into the characters.  Not only do songs like this one and many more have deep lyrical content, but their performances are marvelous, particularly Diane Guerrero and Carolina Gaitán's parts as Isabella and Tia Pepe within "We Don't Talk about Bruno." 
Diversity and representation have been present within Disney's slate of movies in all of its franchises from releases of titles like "Shang Chi and the Legend of the 10 Rings," "Raya and the Last Dragon," and future releases to truly represent the global audience that the corporation serves. Encanto continues Disney's efforts and brings additional themes of generational trauma and fitting into a large family. While the movie focused on the dynamics of a family in Colombia, people of all ages and places can relate to their own cultural dynamics by seeing themselves in Mirabel, who is attempting to fit in as well. Encanto delivers in terms of its most prominent theme: generational trauma. It places Abuela as a character who had to go through a lot to establish the family and house they have, losing her husband (during the reference to the Colombian armed conflict) and having to raise three children on her own. Her connection with the house saved her. She wants everything related to the powers gifted to the family to remain perfect and pushes her family to the maximum, but this comes at the cost of the family's emotions, especially Mirabel's.  
Encanto is beautiful as it does not have a physical villain. Instead, the trauma she had from her husband being murdered affects everyone, whether directly through the words of Alma or indirectly through the toxic nature of the family. For example, Isabella is seemingly perfect; she is seen as the "Disney princess" of the movie because she does not want to risk losing the approval of her Abuela, and she will go to the furthest extent to save it, whether it means pushing her sister away or marrying a man she does not want to marry. Another character's story that many find to be underrated was Pepa. Pepa's emotions were connected to the weather, and throughout the movie, she is told to remain happy and forced to be peaceful. Although her husband, Tío Felix, attempted to calm her down, there were not many instances of anyone sitting down and listening to her. Most of the family was focused on her power instead of her mental health, a common theme within the movie. Despite the number of characters, the film surprisingly succeeded in developing them, while also keeping the focus on Mirabel.
Although Encanto shows the effect of toxicity and negativity on a family, it ends on a peaceful note. The villain here was the generational trauma caused by the Colombian armed conflict and miscommunication that the family defeated when Abuela recognized how harsh she had been on the victims of the family (Mirabel and Bruno), and finally embraced them as part of the family. Encanto sets itself apart from traditional Disney movies as it has no single antagonist or entity causing trouble. It provides the viewer with a magical story that makes itself relatable while maintaining cinematic animation and storytelling that can be understood by a wide audience, young and old alike. 
Leave a Comment
Donate to Enloe Eagle's Eye
Your donation will support the student journalists of Enloe Magnet High School, allowing us to cover our annual website costs. We are extremely grateful for any contribution, big or small!
About the Contributor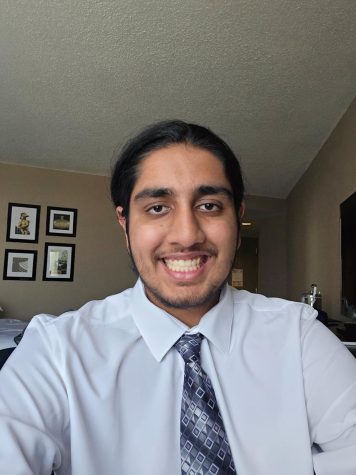 Akshat Yadav, Staff Writer
(He/him)

Akshat is a junior at Enloe! He is passionate about international relations, politics, Kendrick Lamar, and Marvel. Fun fact: He gains a massive...