The Importance of Black History Month with Ava Wharton
As we enter February, another Black History Month is upon us. During this month, it is absolutely crucial to uplift and listen to Black voices. Enloe, being one of the most diverse schools in the county, has some of the most powerful ethnic and equity-based student organizations in the county, with strong, passionate students leading them. Ava Wharton, a junior, is the co-president of Enloe's Black Student Union and the leader of the Student Council's Equity Team. As the first fully in-person school year after the Black Lives Matter demonstrations of 2020, Wharton is helping to facilitate a new chapter in Enloe's organization, and has proven to be a born leader who is absolutely dedicated to uplifting Black and underrepresented voices in our community.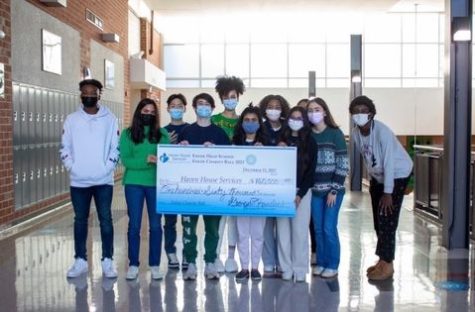 Wharton describes her duties in Student Council as "thinking about [how] to improve the equity around the school in different ways." They recently hosted a panel open to anyone willing to come to address their concerns and make suggestions for improving equity at Enloe.
As a co-president of Enloe's Black Student Union, Wharton's main responsibilities include organizing meetings, events, and facilitating communication along with running the Union's Instagram account. With most members being new to the organization in their first year back in person, Wharton is essential to leading the next chapter of Enloe's BSU, "It's kind of a revival period, we're trying to bring back the club after Covid because we didn't have the show last year. This year, a lot of my role has been making people feel comfortable and just trying to bring things back." Being a leader of Enloe's BSU, Wharton wants to reach out and assist other Black student organizations after Enloe's BSU fully adjusts back to holding in-person events, "That is something that we would like to work on, reaching out and connecting with other BSUs on a community level. A lot of that comes with solidifying ourselves as an organization first, which we have done in the past. We have a long history, but really coming back this year after Covid, we need to solidify ourselves first. Then, getting to outreach, and what we can do to really build that network of BSUs because it is a new thing."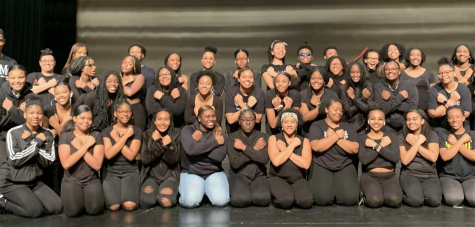 "I don't think that there's any BSU that's quite like Enloe," said Wharton. Although many schools have Black Student Unions and other Black student organizations, Enloe definitely has one of the most active ones in the county. "I definitely think it's important [that Enloe has a Black Student Union] because as a school where we are so diverse, I think that it's important for us to be heard. We play a big role in this community and the surrounding Raleigh area, and there's so many spaces where Black people don't feel comfortable and where we aren't really given a voice or place to express ourselves or feel at home, so I think it is very special and a privilege that we are able to organize in this way and connect, doing it in a way that's beautiful, that's fun, something that everyone can be a part of."
In regards to Black History Month, Wharton finds it extremely important for Enloe's Black community, "our people have made so many different contributions to this country and so much of our history goes unknown and unrecognized. Even as a Black person, I'm still learning my history. A lot of it has to do with not just learning Black history, but unlearning some of the toxic notions that people adopted about stereotypes… A lot of barriers are being broken through teaching… critical race theory. I feel like those are the kinds of things that we need in our school."
Wharton advises non-Black people to help celebrate Black History Month by "amplifying Black voices, as opposed to trying to have a voice for Black people. I think that's a common mistake, people say, 'What can I do?' They grab the mic and say what they've got to say, but I think that a lot of it is about just listening and taking the time to learn from Black people because half the time, if you take the time to really listen, we will tell you what we need. If you listen and observe as a person, not even a Black person, just a human… I would say, definitely as an ally, working to amplify our voices, just seeing ways that you can not only respect the greater figures, like Martin Luther King, and having respect for Black Lives Matter and George Floyd, but also the Black person that you see every day in your class, who you're sitting next to. Your Black teacher, how can you show them respect? I think that's a very important thing."
In the future, Wharton wants to expand on what she's already doing in high school, "A lot of my interest is in the realm of social justice and education, definitely working with the community and my people." At a school as diverse as Enloe, students like her are vital to the school's wellbeing. It's clear that wherever she goes, Ava Wharton will always be a leader and a shining voice for issues that need addressing.
Leave a Comment
Donate to Enloe Eagle's Eye
Your donation will support the student journalists of Enloe Magnet High School, allowing us to cover our annual website costs. We are extremely grateful for any contribution, big or small!
About the Contributor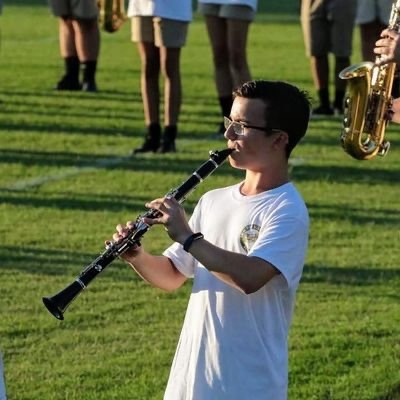 Matthew Burkhart, News Editor
(He/him)

Matthew is a senior and is very excited to be the news editor this year! He loves writing about political issues and local news. Outside of...