The Importance of Music in Black History with Aliya Lewis
For centuries, music has taken the form of something powerful in Black culture, whether it be jazz, gospel, the blues, hip hop, rap, or one of the other many genres, each form of expression evokes emotion, change and unity. In the recent Black Student Union performance, we were graced by the breathtaking voices of the BSU's Gospel Choir. Aliya Lewis, a senior, was one of the many singers pouring their hearts out on the stage. For as long as she can remember, music and the arts have always been close to her as something celebrated and done by her whole family, she grew up surrounded by it. To Lewis, both music and art hold so much importance to her, "especially during my struggles in life these are ways that I can release pent up emotions and they help me to express myself in ways that I wouldn't be able to on a regular day basis," she says. For those reasons, she chose to focus her efforts into singing for the BSU Showcase, saying, "Music is one of my biggest passions: it's my main focus and I enjoy the people we are associated with. It's really fun to learn the songs and sing with people who have the same interest as me. But just being a part of something that stands for something really amazing is great!"  
The Black Student Union brings talented students together to shine a light on the community's rich culture and spread awareness alongside promoting unity and change. Through their voices and actions, the BSU and their performance convey the history of the community. To Lewis, "it plays a big part because it gives awareness for BSU, the show itself is really informational. It's nice to have something where my community as a Black student can come together and make something really special." With the cancellation of last year's performance due to COVID, Lewis commented, "It created a disconnect with the amount of people who know about BSU this year because of how long we were online for and we weren't really able to connect with people in person and that was a struggle. " However, even with the obstacles that stemmed from the pandemic, the BSU continued to strive forward working through these limitations. "COVID set back a lot but I'm thankful we did have a show this year, I'm thankful we were able to come back to school and perform and it ended up being an amazing show. "   
Enloe is considered one of the most diverse schools in the county, and we take pride in that, however, we just leave it at that. Inclusivity is a word so often mixed up with diversity, and while both are positive, only inclusivity can continue a pattern of growth for ourselves and society. To promote inclusivity Lewis believes, "Just talking about it, and appreciating it and giving awareness to our daily struggles helps. It doesn't have to be a big gesture, if everyone does their small part it can make a big difference."
 In one of the songs that Lewis performed, "Man in the Mirror" by Michael Jackson, the words reflect the duty that each of us hold. Starting with ourselves first and understanding what we need to do differently, to do better helps to bring about a greater spread of positive change. For Lewis, Michael Jackson played a big role in her singing, "Because of how involved and significant his entire career is in black history, and how he created his own everything, he changed the entire music industry and opened the door for future black artists. That to me is very inspiring because I want to have a really big impact on people's lives and that's another reason why I'm so passionate about the arts and singing. If you have a gift for something and are able to connect with people you should use it. That's what Michael Jackson did, and that's why he is such a big mentor to me."  
For the years to come, Lewis plans to pursue art school and build her own business."I don't want to limit myself. [Time] to explore, learn, and enjoy my own passions is important to me." 
Leave a Comment
Donate to Enloe Eagle's Eye
Your donation will support the student journalists of Enloe Magnet High School, allowing us to cover our annual website costs. We are extremely grateful for any contribution, big or small!
About the Contributor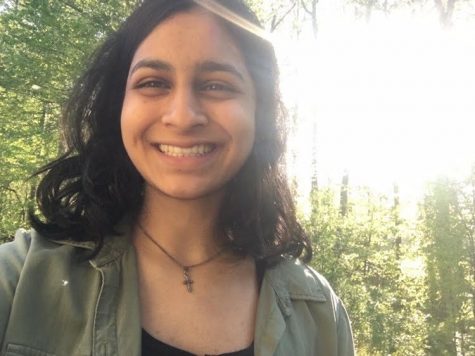 Nicole Pinto, Staff Writer
Nicole Pinto (bean) loves daydreaming. In her free time she likes to do art, run, watch anime, and learn ASL. The most important thing she lives by is:...