Senior Spotlight: Josepher Nedib
Disclaimer: Tread lightly with my boy, Joe, here, for he is very susceptible to slander and the Eagle's Eye will not stand for it. Especially since Joe does not in fact exist and this is absolutely, without even a hair of a slimmer of doubt, satire.
There's no one that quite emanates the spirit of Enloe's determined and competitive nature like Josepher Nedib, also known as Joe. At a whopping 6'4, Joe is hard to miss. His height was especially hard to miss on the vast football field every Friday afternoon on the Junior Varsity team. "I feel like I get a birds-eye view of the field. When it's just me and my guys up there, there's nothing that can stop us from taking that W," Joe says.
Aside from being everyone's second-favorite quarterback, he is also the co-founder and President of the prestigious Snorkeling Club. "I always thought that Enloe needed a snorkeling club," he says. "I mean, it's kind of hard to find a place to snorkel. But sometimes, my mom steals the kiddie pool from the neighbors and helps us fill it up on the baseball field. And then, she'll put in those rings that sink to the bottom of the pool so we can search for them. So, you know, same difference." Joe claims occasionally those same rings find their way in the pool on the roof of the East Building "coincidentally." Joe and other co-founder Sernie Banders fought over the spot of President, and Joe says that Sernie still will not return his calls, and has yet to make an appearance at their club since. "I miss you, Sernie. Come back to me, baby."
When asked about his favorite class this year, Joe claims that he is taking 8 free periods this year and has decided not to graduate to keep being quarterback and President of his favorite club. "School's been so stressful these last three years, and I didn't want all that stress to change my appearance too much. I see these people with bags under their eyes or even forehead wrinkles already and I'm worried that'll happen to me. I'm also just hoping that one day, I'll make the Varsity team," he says. We're rooting for you, Joe! 
Outside of Enloe, Joe is currently Assistant Manager at the Family Fare on New Bern Ave and gave us his insight to the rising gas prices. "I love it, to be honest. I thought making a couple bucks off my friends by changing the sign would be a good little joke, but now it seems like everyone's doing the same thing." Though the Eagle's Eye wanted more questions from Joe, he had to depart early when his mom came to pick him up from his shift. 
At the time of our interview, Joe plans next year to continue doing the exact same thing he is doing right now, just one year older. "I never want to leave the Family Fare. It's just such a…family environment, you know? No pun intended, of course." Alas, as of March 33rd, Joe is currently no longer an employee of the Family Fare due to his side hustle. So expect your gas prices to go down soon, fingers crossed. 
With a heart of gold, a passion for the unordinary, and an athletic side, Joe's got everything that Enloe has to offer. It seems he would be someone everyone knows. But alas, when asked for comments from other seniors, no one stepped up to respond and the tag #sernieshouldvbenprez was trending on TikTok following word of Joe's spotlight. "I know myself better than anyone else, anyway. I'm just too good for the rest of them. Hey, maybe one day I'll become the President of the United States. Then, they'll wanna talk to me. Right?"
Leave a Comment
Donate to Enloe Eagle's Eye
Your donation will support the student journalists of Enloe Magnet High School, allowing us to cover our annual website costs. We are extremely grateful for any contribution, big or small!
About the Contributor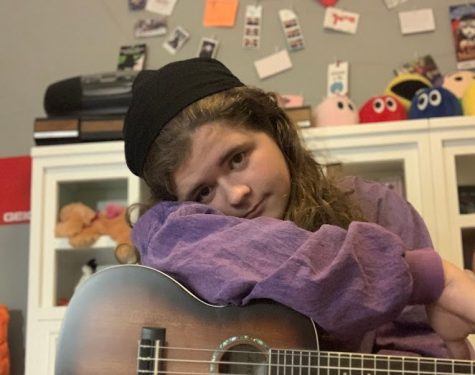 Gwen O'Connor, Co-Editor in Chief
(She/her)

Gwen is over-the-moon to be back in school for her senior year, and to be Co-Editor in Chief of the Eagle's Eye! Her favorite topics to write...