One-on-one with Cary Mayor Harold Weinbrecht on the Future of the Town
The Research Triangle Park metro area is constantly advancing with massive residential, workplace, and commercial developments like never before. For example, the information technology industry has seen massive growth within Wake County with corporations such as Apple, Google, Fuji, and Nike moving into the area. Similarly, shopping and recreation is expanding rapidly as well, with marketplaces such as Parkwest, Parkside, White Oak, Brier Creek, and Beaver Creek emerging as major commercial developments. In Akshat's discussion with Cary Mayor Harold Weinbrecht, he learned about the perspective and role the town of Cary has in the ever-growing Research Triangle Park. 
As various corporations are coming to the triangle area, how will the town of Cary handle, due to workers of these corporations moving in, the increasing price of rent and housing?
"Well, the short answer is that we have a housing plan and part of that plan is affordable housing. It's online— I ask you to take a look at it. It uses all kinds of initiatives such as a smaller footprint, more multi-unit dwellings, and those types of things. What's important to understand is that affordable housing is a nationwide problem and in my opinion, it will not be solved anytime soon. Then you have the fact that Cary and other municipalities are trying their very best to create a community that is the best by far, among many communities around, and if you're successful, the demand to live, work, and play in your community goes up. If demand goes up, then the price goes up. So now we're battling ourselves as we're creating a demand to live, work, and play here, which drives the price up, and now we got to find a way to keep workforce housing available. […] So there's a lot of things but to give you an example of something that could happen, take a typical neighborhood in Cary that has 3000 square foot homes on the corner. You can make a duplex look like a 3000 square foot home and have a garage on each approach of that corner and make the home more affordable because it's really a 1500 square foot home but it looks like a 3000 square foot home. Now there are so many ideas like that rather than just building a million apartments for people to live in."
Where do you see Cary in the future of the Research Triangle Park? Many view Cary as a key for housing workers who are moving into the area, but is there another direction that you think Cary will move towards?
"So when I became Mayor, most people left Cary to go to work and that's now flip-flopped. Now, most people that work in Cary, also live in Cary, and more people are coming to Cary to work than are leaving to work-so that's a big change and we hope to keep that trend going. […] Most companies are talking about a hybrid scenario where you work in the office a couple of days a week and you work at home the rest of the time. I don't know how they can justify an office and buildings doing that. Or does that mean people will share offices or shared spaces? So it'd be very interesting in the next few years to see how that plays out."
With the purchase of Cary Town Center Mall from Epic Games, where do you see the future of shopping, recreation, and entertainment going for Cary? Will it be advancing with plans to open more market villages, sort of like Parkside Commons or Parkwest Commons? Or are there alternatives considering the decline of traditional shopping malls? 
"So there are several things involved there. First of all, I know that IKEA left because they changed their modeling. They decided not to be big box anymore. Epic Games bought the mall from Turnbridge equities, which was going to do a Parkside Commons type of development. Across the street from Epic Games, and the mall is the Fenton. This is the largest development in Cary's history and is a mixed-use development; in my opinion, it is a level above Parkside Commons. The idea is to put a main street and have retail/office mixed in and occupying the bottom floor with residential above; the key is to put all the parking on the outside of the development and have everything more walkable on the inside. Therefore you will have more ability to walk and be involved in the development and it'll be something that you'll live and experience through, rather than just visit. It will be a lot different than any development we've seen in the area and that's going to open up very soon. Also, we have the South Hills Mall, which is right next to US-1, which has recently been sold and they will have a mixed-use development as well. They haven't submitted anything yet, but we've been in conversation with them. Also, that's probably where our sportsplex is going to go. That's the two to three-hundred-million-dollar entertainment venue that will also have a community center component built into it. Getting back to the Fenton there's going to be a greenway; we're actually looking into that now. These greenways will take you from Fenton all the way into downtown Cary, and if you haven't been to downtown Cary, that area is really starting to take off. They're doing a lot of redevelopment there and I think you'll see that whole area merge together over the next five years. So there's going to be a lot of opportunities for the development of retail and residential, in that area coming up in the next five years."
Leave a Comment
Donate to Enloe Eagle's Eye
Your donation will support the student journalists of Enloe Magnet High School, allowing us to cover our annual website costs. We are extremely grateful for any contribution, big or small!
About the Contributor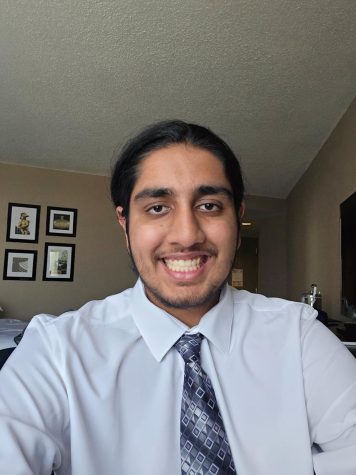 Akshat Yadav, Staff Writer
(He/him)

Akshat is a junior at Enloe! He is passionate about international relations, politics, Kendrick Lamar, and Marvel. Fun fact: He gains a massive...