The Truth Behind Cross Country
Overview
After an incredible performance in the Friday Night Lights Festival in Kernersville, NC, the Enloe women's cross country team finished second out of 16 schools. Emily Jong finished 10th out of 137 runners, in a standout performance. Later, in the WakeMed Soccer Park "Adidas Challenge," the varsity girls finished third, the varsity boys finished second, and Steffen Osteen finished 23rd. The team's outstanding performances in these events require a great deal of mental and physical strength, as well as a positive attitude. Enloe's cross-country runners find joy in the chaos, whether they're running up and down hills, through the rain, or through the mud. As this was my first year of cross country, I joined to train for other sports seasons and come out with higher learning of self-discipline. 
What is cross country?
Many still ask, why cross country? Before we can get into that, what exactly is cross country? Cross country is a sport that consists of long-distance running from 1 to 10 miles over natural terrain. XC is the commonly used acronym to represent cross country along with an arrow put through the word. According to Andrew Hutchinson's book, The Complete History of Cross Country Running, these arrows represent "A symbol of strength and a reminder of the connection between these twin disciplines of athletes" which our runners display on a daily basis.
Tradition, Tradition, Tradition
I spoke to some of our 2022 runners to hear their thoughts on our cross-country team. CJ Agwu, one of the team's captains for this season, says that the most challenging part of cross country is the mental strength it takes to keep going and not give up, "My love for this community and team is what keeps me going". CJ's brother and former Enloe athlete, David Agwu, believes that staying consistent with working out will help runners reach their full potential. After speaking with Reese Culbreth, a junior going into her third year of running says "My dad wanted me to start running and once I did I came to love our team, I know I'm being pushed to be the best runner I can be and I love it".
Sophia Briddell, a sophomore and second-year runner for XC, describes the cross-country environment as both supportive and motivating, saying, "No matter what, we all push each other to be the best we can be." After running for three years, Culbreth says, "Other runners along with myself tend to see that some other schools cheer on only their top runners, but the fact that we make sure all of the runners, even the newest runners get the same love and enjoyment as everyone else is just awesome". 
The Enloe XC coaches, Stocke and Culbreth, have been coaching together for 2 years and believe one of the best parts of coaching is seeing the progress that players make. "Some of the runners that I've had since freshman year have been a joy to see the progress they make and how far they've come since they first started," Stocke adds.
Future goals
Cross Country is nothing without its supportive and selfless teammates and hard-working coaches. With many more grand performances, the team goals stand — which are to always keep improving, keep a positive attitude, and cheer on your teammates.  
Leave a Comment
Donate to Enloe Eagle's Eye
Your donation will support the student journalists of Enloe Magnet High School, allowing us to cover our annual website costs. We are extremely grateful for any contribution, big or small!
About the Contributor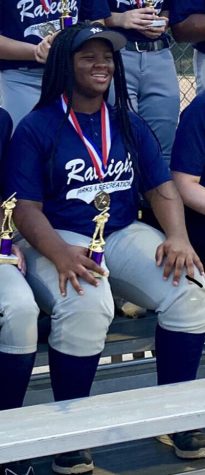 Angel Mitchell-Morris, Staff Writer
(she/her)

Angel is a sophomore and a first-year writer for the Eagles Eye. This student-athlete also has a passion for writing with a love for politics....