Mahsa Amini Protests in Iran Explained
Iran is facing massive social unrest throughout much of the nation's cities and towns due to the death of Masha Amini in police custody in the nation's capital of Tehran. Amini, a 22-year-old Iranian woman, was traveling to Tehran in order to visit her brother. She was arrested and detained by the Guidance Patrol, Iran's religious police, on entry into the city as she did not have a "proper" hijab on. Her brother was later informed that she suffered a heart attack under their custody and that she was being transferred to a hospital. Amini's cousin told SkyNews that she was "tortured and insulted" and that she lost consciousness. After being in a coma for a few days, Mahsa Amini passed away in Kasra Hospital in Tehran on September 16th. 
The circumstances surrounding the death have sparked previously boiling tensions against the Iranian Government. After the 1979 Iranian Revolution, which saw the rise of a conservative Islamic republic of Iran under Ayatollah Ruhollah Khomeini's leadership, women have been required to wear the hijab in public. Other issues such as corruption, unemployment rates, and a poor economy have been cited as reasons for, in addition to the arrest of Amini, protestors to take to the streets. 
The Iranian Government has claimed that Amini had previous heart problems: however, Iran International reported that cardiologists allied with Iran's Supreme Leader were attempting to "certify that Mahsa Amini […] had heart problems before her arrest." Additionally, leaked medical scans indicate bone fracture "through trauma" and several medical officials have repudiated the Iranian Government's claim that Amini had previous heart problems. 
Protests began in Amini's hometown of Saqqez and spread throughout the nation. As of October 11th, more than 185 people have been killed and more than 1,500 protestors have been arrested. 
The Iranian Government has responded by cutting access to social media platforms like Instagram, WhatsApp, and TikTok, in addition to violently cracking down on protestors. The Government has also reevaluated Iran's global presence. For example, to have a better domestic appearance, Journalist Christiane Amanpour was required by President Ebrahim Raisi's office to wear a head covering during a planned interview. Amanpour canceled, saying that "either inside or outside of Iran, [she] never been asked to wear a head scarf". Additionally, an Iranian foreign ministry spokesperson stated that "Iran is a safe country… We expect foreigners who visit Iran for tourism and business … purposes to respect our laws," as a response to criticism from the international community."
How can you help?
Linked below are several human rights organizations working to cover the protests in Iran. Iranian activists have recommended assisting in increasing visibility about the situation in Iran (educating yourself and others) and petitioning members of your local government to take action on the issue. 
Center for Human Rights in Iran (iranhumanrights.org)
Abdorrahman Boroumand Center :: Home (iranrights.org)
Works Cited
ABC News, ABC News Network, abcnews.go.com/International/wireStory/irans-president-assuage-anger-protests-continue-90964503.
Darcy, Oliver. "A Young Woman's Death in Iran Has Sparked an Uprising. News Organizations Are Grappling with How to Cover It | CNN Business." CNN, Cable News Network, 7 Oct. 2022, www.cnn.com/2022/10/06/media/iran-uprising-reliable-sources/index.html.
"Iran Protests: at Least 185 Killed/19 Children Amongst Dead." Iran Human Rights | Article: Iran Protests: at Least 185 Killed/19 Children Amongst Dead |, iranhr.net/en/articles/5515/.
Rothwell, James. "Iranian Woman Dies after Beating by 'Morality Police' for Not Wearing Headscarf." The Telegraph, Telegraph Media Group, 16 Sept. 2022, www.telegraph.co.uk/world-news/2022/09/16/iranian-woman-dies-beating-morality-police-not-wearing-headscarf/.
"The Stolen Revolution: Iranian Women of 1979 | CBC Radio." CBCnews, CBC/Radio Canada, 9 Dec. 2019, www.cbc.ca/radio/ideas/the-stolen-revolution-iranian-women-of-1979-1.5048382.
The New Arab Staff & Agencies. "Iran: Woman in Coma after Arrest by Tehran's Morality Police." The New Arab, The New Arab, english.alaraby.co.uk/news/iran-woman-coma-after-arrest-tehrans-morality-police.
Leave a Comment
Donate to Enloe Eagle's Eye
Your donation will support the student journalists of Enloe Magnet High School, allowing us to cover our annual website costs. We are extremely grateful for any contribution, big or small!
About the Contributor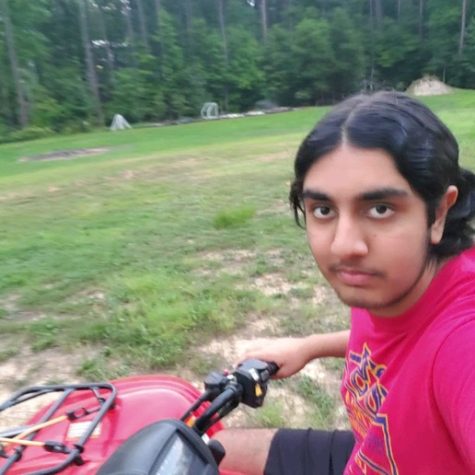 Akshat Yadav, Staff Writer
(He/him)

Akshat is a junior at Enloe! He is passionate about international relations, politics, Kendrick Lamar, and Marvel. Fun fact: He gains a massive...