The Heart of Enloe Chorus
Many high school choirs have very similar concerts consisting of stands filled with formally dressed students and the average choral singing; however on October 6th, Enloe students cover the floor in front of the stage and the sides, flocking the audience and repping their Enloe memorabilia. Although the fanaticism may lead to the assumption that this was a formal choir performance, the event was in fact an informal presentation that showcased the growth of chorus classes within their first weeks of school.
As the first choir performance of the year, Ms. Hallihan annually follows the same routine. Instead of jumping into the accustomed singing, Ms. Hallihan has a technique lesson, in which she explains the strategies and approach she has been teaching her students since the start of the school year. It's very easy to look at singers onstage and think, 'Wow, this doesn't look too complicated," but with Ms. Hallihan's demonstrations, she makes it clear how advanced the art of singing is and how much work is put into creating the best quality sound. 
Julia Clayton, a sophomore in the Chamber Choir said, "[Ms. Hallihan] has taught me to always try something new, even if there's a chance of failure, because 'if we crash and burn, that's okay.'" This phrase was something Clayton said she heard Ms. Hallihan say often in class and always found uplifting. Ms. Hallihan's ability to explain and teach live in front of an audience felt like a magician showing us their secret. For those with little singing experience, Ms. Hallihan provided a great way for the audience to understand how advanced Enloe's choir is, and how talented Ms. Hallihan is at crafting it. Watching Ms. Hallihan unable to not teach her students, even onstage in front of a crowd, was heartwarming and goes to show the tenacious and loving attitude she exudes to her students each and every day. Hannah Fredlin, a junior in Advanced Treble Chorus noted how much Ms. Hallihan's teaching has improved her singing: "Ms. Hallihan has taught me highly important skills to improve my sight reading. Learning the 'ta-ka-di-mi' system over the years has really helped me."
Anyone who has ever spoken to Ms. Hallihan knows she is easily one of the sweetest, most energetic people you'll ever meet. She never fails to let her personality shine through as she conducts her students and runs the concert, talking and engaging with the audience the entire time. It is very clear not just how excellent she is at her job, but how much she loves it, and that love is clearly reciprocated through her students: "She's always there to support you and make sure you're okay, she brings so much energy, even at 7:30 in the morning," explained Fredlin.
The concert showed a beautiful performance, as well as the hard work put in by both the teacher and students. Thursday night was just a glimpse into the talent that Ms. Hallihan and the Enloe Chorus are capable of. The following day, Enloe's most advanced choir headed to Duke Chapel for a performance, invited to perform alongside two other choirs from across the state. Ms. Hallihan noted their performance at the chapel as one of the best moments of her teaching career. Clayton said performing at Duke Chapel was "unlike anything [she'd] ever experienced. Duke Chapel has a beautiful interior and exterior, the detail is insane, and the acoustics are incredible." Luckily, the Chamber Choir performed their setlist Thursday night as well, so other choirs and families could hear what they had prepared. Ms. Hallihan revealed to the audience the chamber choir's theme of 'Illuminate' and how they have worked to apply that theme in their five songs. "Not just illuminating the love of life, but taking us through a journey," Ms. Hallihan perfectly describes Chamber Choir's melody of songs. Not only did they spend class time preparing, but also spent countless rehearsals after school to rehearse. This time was not only to work on singing, but for the choir to grow together as a cohesive group.  
As Clayton put it, "It is hard to find a teacher who works so hard to create a special bond with their students, and who cares so much about their job. Singing in chorus is so exciting in itself, but knowing that I get to see Ms. Hallihan and some of my closest friends never fails to make my day."
Leave a Comment
Donate to Enloe Eagle's Eye
Your donation will support the student journalists of Enloe Magnet High School, allowing us to cover our annual website costs. We are extremely grateful for any contribution, big or small!
About the Contributor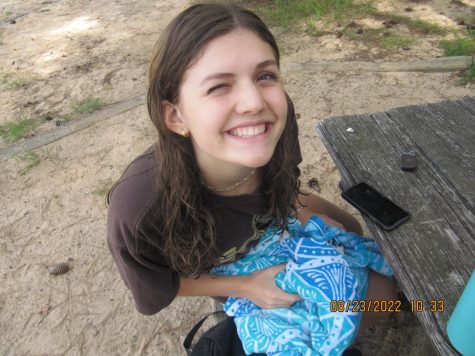 Ellie Maguire, Staff Writer
(She/her)

Ellie is a junior and is thrilled to be a part of the Enloe Eagle's Eye staff this year! When not testing how long she can hold a handstand,...