What They Don't See: Enloe's Football Team
Hard work, commitment, and dedication are some of the words we can use to describe our Enloe football team, the ones who bring the hype and the show to our student body. But behind the scenes, these young men bring a light to their community along with their brothers on the field. Never giving up and showing their commitment to the team along with the dedication to show up and show out every game despite the circumstances is what every team strives to achieve and shows the true meaning of being an Enloe Eagle. 
Coach Ryan Clark, Head Coach of the varsity team, prides himself in the change that is happening for the football program at Enloe. Coach Clark described the obstacles players had to overcome in the past years, "These past four years haven't been easy, especially for our seniors with having four head coaches and having to constantly adapt to it is hard, but they show how resilient they are and how strong their character is by never giving up on their team." Coach Clark, who is the son of the previous head coach Ron Clark speaks on how special Enloe is to him, along with being an Enloe alum: "I like getting to know my players, not just speaking about football but their everyday lives." Building that solid bond with players instilled trust within their team and has helped the start for a new beginning: "I hope that once my coaching days are over, my players can look back and see how much I valued their lives and wanted to set them up for success in their future." One thing the team has started doing is community service around Raleigh, whether it is volunteering at local elementary schools, washing cars in the summer, or getting involved with the school faculty, the football team has made a lasting impact on its players.
RJ "Reginal" Artis, senior and one of the varsity team's 2022 season captains, reflects back on this year's football team: "Being a captain was a bit stressful at first but I think I did a good job. For the past four years, RJ has been a football team member, and throughout his time on the team, he learned many valuable lessons: "Confidence and never giving up is something that we stand by on a daily basis, and to always trust in your boys." Over the summer the football team holds a get-together for a couple of hours without phones and the players use it as a time to bond, play football, and just have a good time. Even when their quarterback was injured during the first game, RJ is proud of the effort that the team put in this season, as a captain he believes the team's biggest goal next season is to make it to the playoffs and most importantly beat southeast.
With a bright future for the JV and future varsity team, I spoke with a familiar name to the Enloe football team: Coach Nick Knight. Going on his fourth year as a coach for the Enloe football team as the Offensive Coordinator for JV and Wide Receiver Coach for varsity for the 2022 season, one thing that sets the JV team apart from many is the heart they have for the game: "The fight that the kids have in their hearts, there were times, when we felt like we were down and out, but they kept their heads up and kept fighting." With varsity being the big brother to the JV team, JV picks up a lot of varsity's work ethic by watching and putting their work into action. Coach Knight explained, "Each season our goal is to become better teammates, leaders, and followers." With many former players coming back to coach, it shows how big of an impact the coaches had on their players. 
Zach Williams, sophomore JV captain for the 2022 season mentioned how the brotherhood the players have off the field translates on the field: "It all starts in the locker room, joking around, talking about life, and just how things have been." Despite the lively personalities on the team, the team's work ethic showed its potential after their wins against South Garner and Sanderson: "We will laugh and joke around, but when it's time to work we work."
Enloe's football team brings the hype and the crowd to every game along with their heart to play. With a strong coaching staff and players, the goal for the varsity team is to create a "championship-caliber program" in the near future. 
As Coach Ryan puts it, "It may be a big goal but it's something that's attainable if we keep coming out and working hard while keeping a strong heart for the sport and the team."
Leave a Comment
Donate to Enloe Eagle's Eye
Your donation will support the student journalists of Enloe Magnet High School, allowing us to cover our annual website costs. We are extremely grateful for any contribution, big or small!
About the Contributor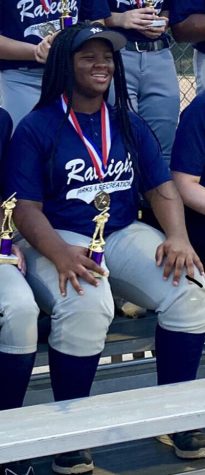 Angel Mitchell-Morris, Staff Writer
(she/her)

Angel is a sophomore and a first-year writer for the Eagles Eye. This student-athlete also has a passion for writing with a love for politics....