Native American Heritage Month: The Importance of Land Acknowledgments
November is Native American Heritage Month. This month, and all other months, we honor and celebrate the beautiful cultures and contributions of the Indigenous peoples of the land we call home today. Indigenous people have faced unimaginable discrimination, oppression, violence, and persecution but have remained devoted to their beliefs and traditions. There are many ways one can be an ally to Indigenous individuals; however, a good start is by recognizing that we are on stolen land through the practice of land acknowledgments. This can take place before presentations, club meetings, on websites, etc., and can be as simple as saying, "I want to acknowledge that we are on the traditional territory of [nation names]…" Statements like this recognize that Indigenous peoples are the original stewards of the land we occupy today and acknowledge the relationship Indigenous peoples have with their land. These statements can also address the discrimination associated with the nations mentioned to spread further awareness of the issues surrounding Indigenous peoples.
Looking back into history, land acknowledgments have gained momentum as a key tool for Indigenous activists and allies to bring awareness to the original people of an area. They first gained prominence in New Zealand and Canada, countries with significant Indigenous activist efforts. Indigenous institutions such as the National Museum of the American Indian have worked to provide information on the importance of land acknowledgments and how to implement them, and countless Wake County organizations such as UNC-Chapel Hill and Dorothea Dix Park have added them to their websites, addressing the original overseers of the land they were built on and their organization's faults in degrading Indigenous land rights. A popular website has been created to assist in acknowledging ancestral territories — Native Land Digital is an Indigenous-led project which maps the ancestral lands of hundreds of people groups, allowing us to discover what land we are on throughout what we know today as the United States, Canada, and Latin America. As young people who strive to move closer towards an equitable and just society, recognizing the history of the land upon which we learn is a crucial goal for Enloe students.
Enloe High School lies on the ancestral land of the Lumbee Tribe, Uhnawiyúʔkye Skarù·ręʔ (Tuscarora Nation), Waccamaw Siouan Tribe, and Ye Iswąˀ (Catawba) Nation. The people groups of Wake County formed a cultural mosaic, coexisting on the lands we call home today and expressing their intangible cultural heritage through their own towns, organizations, and practices of living. However, after European settlers expanded into the North Carolina area, disease and genocide killed many of Wake County's indigenous inhabitants and forced the rest to migrate west, where they would eventually face further horrors during the period of Westward Expansion. The indigenous communities who chose to remain in Wake County persevered against the establishment of a racist, settler colony society, broken treaties, and attempts to decimate their way of life, and have preserved their cultural traditions up to this day through the organization of tribal communities. All four of these tribes still maintain a presence in Wake County and across North Carolina, and the only way to ensure their well-being and longevity in our communities is to ally with them and recognize their role in protecting and preserving our lands.
As an educational facility, issues like Indigenous rights should be at the forefront of the Enloe curriculum, especially in History classes. If we fail to recognize that our country has historically swept the treatment of Indigenous peoples under the rug, then we are missing a crucial part of America's history; furthermore, we are allowing ourselves the privilege of ignorance of the problems Native Americans have had to face. There are also so many amazing aspects of Indigenous cultures, such as the wisdom that has been passed down for centuries. Much of this wisdom has been forgotten as a result of colonialism and many people are unaware that it can have a wonderful impact on our planet if we take the time to listen. For example, the issues regarding the climate crisis could be heavily improved using the ancestral knowledge of Indigenous peoples. Because of their sacred connection to the environment, they have a better understanding of how we can sustainably preserve our land. 
Land acknowledgments are a great start; however, there are several more steps we need to take as a society to interrogate the injustices of the past. We must do more to amplify Indigenous voices and recognize all they have contributed to our society, as well as all they have endured as a result of our narcissism and close-mindedness. Amnesty International, a non-governmental organization that focuses on human rights wrote a great article about 10 ways to be a genuine ally to Indigenous communities. There is also a helpful linktree by @lilnativeboy (same username on Instagram) to view more resources on Indigenous communities and allyship. By going beyond the land acknowledgment and taking time to research the peoples they mention, the problems which face their communities, and the stories and wisdom they are willing to share, we can truly work towards spaces where Indigenous people feel empowered to embrace their ancestral heritage.
In recognition of the importance of showing solidarity with Indigenous peoples and their stewardship over our land, the Enloe Eagle's Eye has added an official territorial acknowledgment to our website. We implore other student organizations to follow our actions to make the Enloe community a welcoming space for those who have been oppressed for generations by the racist, anti-Indigenous structures of our society.
View Comments (1)
Donate to Enloe Eagle's Eye
Your donation will support the student journalists of Enloe Magnet High School, allowing us to cover our annual website costs. We are extremely grateful for any contribution, big or small!
About the Contributor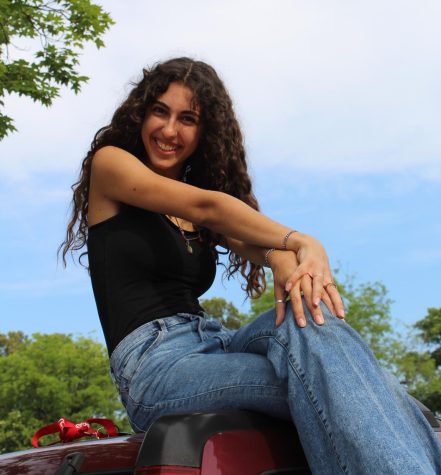 Dae Borg, Executive Editor
(She/her)

Dae Borg is a senior who has a love for the Earth, wildlife, the arts, and meeting new people. She enjoys writing about global environmental...