Senior Spotlight: Aahana Mukherjee
Anyone who knows anyone at Enloe knows Aahana Mukherjee. She's a dynamic, selfless, kind hearted, and incredibly talented person. Over her four years at Enloe, she's been a part of MBSA, Chorus, Tri-M, and the International Young Artists Project. Aahana is one of those people who you just know is going to go on to do incredible things and be an absolute blessing to any community she's a part of. We're all lucky to have the experience of going to school with this incredible senior. 
FAMILY AND FRIENDS
When I spoke to Aahana, she made it clear that to her, family and friends matter most. She loves being an older sister, spending time with her two Siberian Huskies, and staying close to her family and Bengali culture. 
"I prefer quality over quantity, in terms of friends. The people who I love, I love, and they know that. I treasure them a lot," she says. Aahana spoke very highly of her peers and friends, thanking them for being a source of comfort as she navigated the confusing world that is high school. She advised me and other students to cherish the time you have with your loved ones, especially your siblings. She choreographs and teaches her sister and her friends Indian Classical dances, which has preserved their connection to the arts and each other. Within Enloe, classes like Chorus have provided Aahana with that connection. According to Aahana, "The energy that comes out of the room is something I cherish. It's not even about the technicality and musicality of singing. It's just how vibrant everyone is around each other. It feels like home to me." 
The love that Aahana has for her peers, especially within classes such as Chorus, is heartwarming to see. With Aahana's encouraging personality and endless enthusiasm, it's clear why she's so loved in the choral community and beyond.
MUSIC AS MEDICINE
Aahana is heavily involved in choir at Enloe. She's a proud member of our Tri-M musical service organization, Enloe Chamber Choir, and a select group of students who were chosen to take part in North Carolina Honors Chorus this year. North Carolina Honors Chorus is one of the highest distinctions for a high school performer. Aahana writes her own songs and plays four different instruments: piano, violin, guitar, and harmonium. She's a musical powerhouse!
Aahana is also a member of the International Young Artists Project, a small nonprofit organization that uses music to transcend language and break down cultural barriers worldwide. This past year, she traveled to Italy for a cultural exchange of American and Italian music. She performed an incredible 18 concerts in just three weeks, including in the Sistine Chapel. 
Similar to her work with the International Young Artists Project, Aahana has been working to combine music and medicine to give back to her community while doing something that she loves. "If we voice messages and people just chant, it sounds like this… rhythmic ensemble. We've been able to raise awareness on environmental justice through rhythm and music," she says.
A huge goal of Aahana's is the eventual combination of medicine and music. In the future, as a music therapist, she'd like to use rhythm and community to heal others. Recently she completed 120 hours of a neurology diagnostics internship that sparked an interest in pursuing a career in neurology. She is especially interested in exploring music and how it makes our brains react. As of right now, Aahana is researching inclusivity in choral curriculums. The difference that she has already begun to make in this world is truly inspiring.
AFTER ENLOE?
As a self-proclaimed "warm weather girlie," Aahana has absolutely sworn off school any further north than Virginia. As of right now, she's thinking of heading to school in-state. She's applied to Vanderbilt and Emory, as well as UNC Chapel Hill and NC State University. An important factor to her is a well-rounded education, and she wants to go to college somewhere where she can experience arts and sciences. She understands her role as the "guinea pig" of her family as the eldest daughter, and wants to keep her circle close as she explores neurology and psychology. 
Watching Aahana shine these past few years in our classes has been an honor and a privilege. From "diagnosing" zodiac signs in Seminar (she's a Taurus!) to working through new music in Chorus, Aahana has brightened days and lives all over Enloe. Aahana is full of surprises (What else can you expect from a girl who orders grilled cheese at Starbucks?) and we know that she'll bring joy to wherever she goes next.
Leave a Comment
Donate to Enloe Eagle's Eye
Your donation will support the student journalists of Enloe Magnet High School, allowing us to cover our annual website costs. We are extremely grateful for any contribution, big or small!
About the Contributor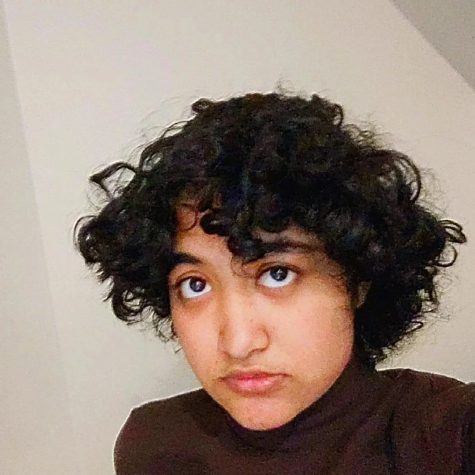 Elina Perera, Staff Writer
(They/them)

Elina Perera is a junior absolutely buzzing with excitement for their first year on the Eagle's Eye staff. They can be found either at a...