Black Cartoons to Watch This Black History Month
Before getting into the article, note that there still is a lack of black representation in motion pictures. Even when we do see a black character on our screens, they're often nothing more than a funny side character. The following shows prove that black people are more than just comedic relief. They can be doctors, superheroes, explorers, and so much more. Day by day, we see directors and producers constantly striving to break out of the eurocentric standard of entertainment. So that our children don't have to grow up not seeing themselves on TV as their grandfathers and grandmothers did. So, without further ado, here are black cartoons you should watch this black history month!
Fat Albert and the Cosby Kids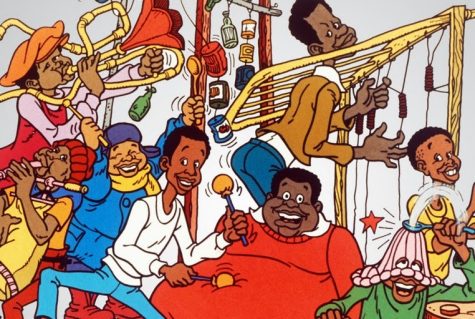 "Hey, Hey, Hey!" Fat Albert and the Cosby Kids is a cartoon show about inner-city black kids that centers around the group's leader, Fat Albert. Fat Albert is one of the older black cartoon shows, released back in 1972. It's one of those shows that will never get old, even though you do. The show teaches a variety of lessons, one in each episode. My favorite episode is "The Mainstream"; where Fat Albert has been trusted to mentor young Dennis, who is autistic. Throughout the episode, we see Albert treat Dennis with the utmost respect and treat him like any other kid in the show. He even lets the other kids embrace Dennis' awesomeness. Fat Albert definitely has earned its place as one of the most iconic cartoons. Currently, you can watch Fat Albert on Hulu.
The Boondocks
The Boondocks is a satirical adult swim created by Aaron McGruder that critiques the social climate of the Black community. The show is heavy, but McGruder writes it in a way that we all can have a laugh and still take away from each episode. Each character represents an archetypal head. Riley and Huey, the two main characters in The Boondocks, represent two main archetypes. Riley represents the appeal of popular black culture, while Huey represents the counterculture and chooses to distance himself from black popular culture. Fair warning — The Boondocks is rated for mature audiences only, but it's that way for a reason. So if you are mature enough, go ahead and watch! You can steam it either on Adult Swim or HBO Max.
Moon Girl & Devil Dinosaur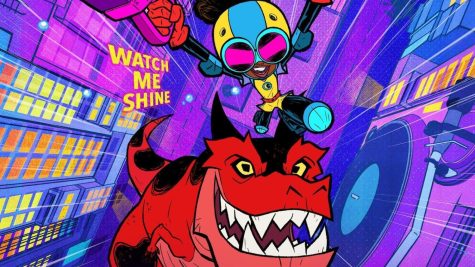 Lunella Lafayette, better known as Moon Girl, first appeared in a Marvel comic titled Moon Girl and Devil Dinosaur #1, created by writers Brian Montclare and Amy Reeder with art by Natacha Bustos. Moon Girl follows the adventures of Lafayette, a young black scientist from New York City. Lafayette is currently the smartest person in the Marvel Universe at only nine years old! Moon Girl chronicles Lunella's adventures with her telepathically connected Dinosaur, Devil, with whom she is able to switch consciousness. Moon Girl & Devil Dinosaur debuted on February 10, 2023, on Disney Channel and February 15, 2023, on Disney Plus. I think you should give the show a chance. Plus, the voice actor of Lunella Lafayette is Sophia Wylie which makes the series even more intriguing. Way to go, Moon Girl!
Doc McStuffins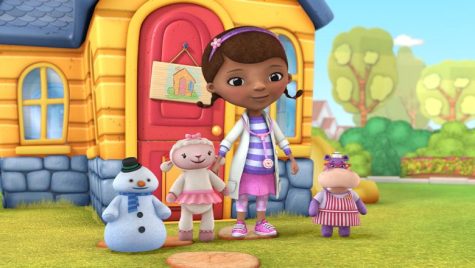 "Time for a checkup, time for a checkup!" Doc McStuffins and that very catchy song first aired on Disney Junior in the fall of 2012. Though it may not be the most conventional cartoon series to watch as a high schooler, it's fun to watch with your little siblings or to get a blast from the past. Doc Mcstuffins details the life of a young black girl, Dottie, who looks up to her mother and admires her career as a pediatrician. Doc practices her dreams on her toys, and her stethoscope allows her to create supernatural events, like bringing her dolls alive. Doc Mcstuffins is a cool show to watch, no matter the age. If you want a flash of nostalgia or want to experience Doc Mcstuffins for the first time, you can stream it on Hulu or Disney Plus!
Static Shock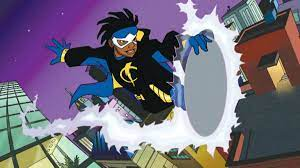 Static Shock is responsible for bringing a relatively obscure DC Comics character to newfound and widespread popularity. Premiering on September 23, 2000, the show enjoyed a successful 4-season run before its final episode aired on May 22, 2004. The show follows 14-year-old Virgil Hawkins, a high school student who receives electromagnetic abilities after exposure to a mutagen gas during a gang fight gone wrong. Donning a blue hoodie and a silver mask, Virgil takes on the moniker "Static" and dedicates himself to protecting his fictional hometown of Dakota. Having received praise for not only being a stellar show, but also for being the first show in which an African-American superhero was the titular character, Static Shock definitely deserves to be watched and enjoyed.
You can stream all episodes of Static Shock on HBO Max.
Afro Samurai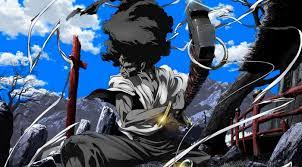 "This moment will always haunt you. You will be consumed by hatred for me. Challenge me — when you're ready to duel a god."
And so begins what may be one of the most stylish and visually stunning pieces of animated media to ever grace our television screens, the immortal Afro Samurai. Originally a manga series by Takashi Okazaki, Afro Samurai takes place in feudal Japan, where there are two highly coveted headbands that assert the wearer as the Number 2 or Number 1 samurai in the world, respectively. It is said that the Number 1 headband grants the wearer godlike powers, and while anyone can challenge the wearer of the No. 2, only the No. 2 can challenge the No. 1. When Afro's father, the holder of the No. 1 headband, is murdered in front of him as a child by a gunslinger named Justice, Afro takes up the mantle of the No. 2 and sets out to avenge his father, all while evading numerous assassins and warriors who seek to repossess his prestigious headwear. With a stellar voice cast (including Samuel L. Jackson, Mark Hamill, and Lucy Liu) and a soundtrack produced by Wu-Tang's The RZA, Afro Samurai is a quick watch that is definitely worth your time.
Afro Samurai is available to stream on Hulu.
Little Bill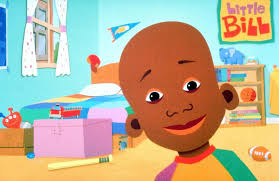 First premiering on Nickelodeon in 1994, Little Bill follows the colorful adventures of a gung-ho five year-old as he navigates life in Philadelphia. Although meant to be enjoyed by younger children, it's worth is visible to all ages. With a laid-back and grounded feel and style, Little Bill is best known for its positive representation of African-American families and its gentle — although never condescending — approach to teaching its young viewers important values and life skills. In spite of the egregious actions and legacy of its creator, Little Bill remains a quality show that has had and continues to have a positive impact on many young viewers.
Little Bill is currently available on Prime Video.
The PJ's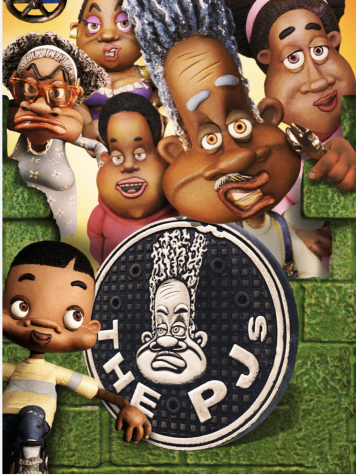 The PJ's centers around Thurgood Stubbs, voiced by comedian Eddie Murphy. He lives at the Lawrence Hilton-Jacobs housing complex with his wife, Muriel, where he is the superintendent. The adventures of the Stubbs and their pals are followed in this animated comedy, which takes a humorous look at life in a big-city housing estate. Despite the minor controversies the show has encountered during its two-year run (detractors weren't a fan of the negative portrayal of inner city life), it has maintained solid ratings and reviews due to its often provocative humor and likable characters. The PJs is available on Hulu and Tubi.
The Proud Family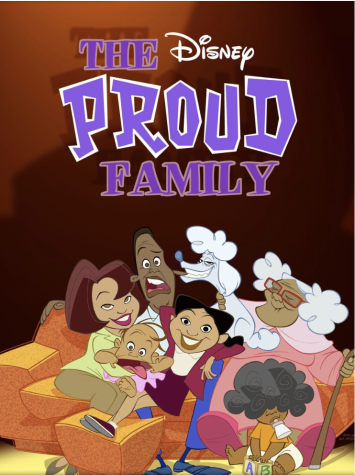 "I'm Penny Proud, I'm cute and I'm loud and I got it going on!"
The Proud Family was an iconic Disney cartoon centered around Penny Proud and her family living in the middle-class suburbs. Penny is trying to gain independence and faces typical teenage experiences in junior high. Aside from the positive depiction of the Black family dynamic, the show brought much-needed representation of various issues to the screen, like body diversity, toxic masculinity, women empowerment, and racial stereotyping and prejudice. The reboot of the original 2000's show, "Proud Family: Louder and Prouder," premiered in 2022. The new series tackles the LGBT community, racism, Fomo, and tech all in a developmentally appropriate way while still holding onto the original humorous content. You can watch all seasons of The Proud Family and The Proud Family: Louder and Prouder on Disney Plus.
Craig of the Creek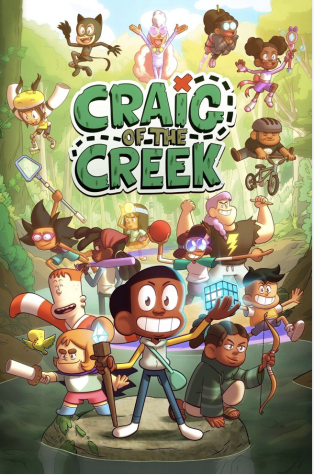 Following Craig Williams and his two pals, Kelsey Pokoly and 'JP' Merce, they explore the untamed wilderness of the Creek, which is ruled by kid tribes. The show is an essential source of animated environmental imagery for children as its main characters and plot provide the opportunity to discuss race and environmental issues. You can stream Craig of the Creek on Hulu or HBO Max!
Black History Month is an important time to celebrate the achievements and contributions of black people throughout history. One great way to honor this month is by watching cartoons that showcase black characters, stories, and culture. By watching and enjoying these cartoons, we can deepen our understanding and appreciation of black history and culture while celebrating the diverse and vibrant stories of black people.
Leave a Comment
Donate to Enloe Eagle's Eye
Your donation will support the student journalists of Enloe Magnet High School, allowing us to cover our annual website costs. We are extremely grateful for any contribution, big or small!