North Carolina Museum of Art Hosts Annual Fundraiser Art in Bloom
The North Carolina Museum of Art is once again alive and blooming. As one of the museum's most popular events, Art in Bloom is a celebration of the versatility of art throughout time. Hosted from March 15–19, the exhibit takes place in the Museum's West Building. Before visiting the exhibit this year, here are some highlights from last year's show:
Last year the 5-day fundraising event explored an international theme, with exuberant floral arrangements reflecting not only the diversity of locations represented in the art pieces themselves, but also the diversity of creative expression from each florist.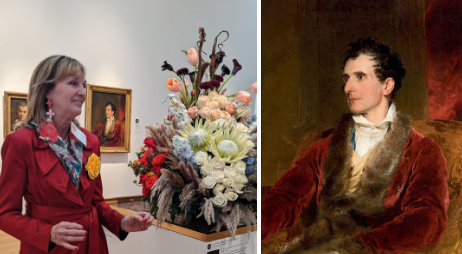 One such florist was Diane Makgill, a former NCMA docent of 15 years. Her floral design was inspired by the studio of Sir Thomas Lawrence's portrait of Antonio Canova. Makgill manipulated texture in a design that seems to leap from its vases.
In her presentation about her display, she explained that each florist is assigned their artwork randomly. On her painting last year, Makgill said, "I was really happy to get this portrait. I think the colors are beautiful, and I knew it probably had a good story." 
The base of her piece was a frame filled with pennies, which was a representation of the artist, Lawrence, often being "penniless and tortured by love," as Makgill put it. She explained, "I thought that people would be upset that I was encouraging the coin shortage problem, so I was trying to figure out how to get pennies without going to the bank, and then I realized I could get inherited pennies because everybody has some kind of coin collection […] from parents. So, I reached out to three people who had lost their parents from Covid […] and they said yes."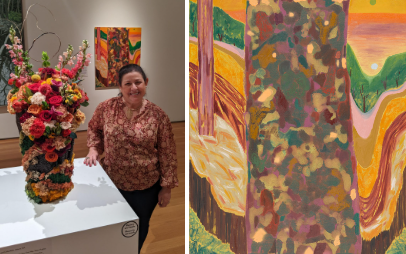 The creativity was not isolated to realist portraits; for instance, Mia Spolan's display was inspired by Shara Hughes's painting You're Getting in Your Own Way, an abstract work from 2018. In her floral design, Spolan played with color to form a twisted column of blossoms. She said when she received her painting she "felt like [she] hit the jackpot." She added that she lives in Atlanta, but she heard about Art in Bloom on Instagram and decided to participate.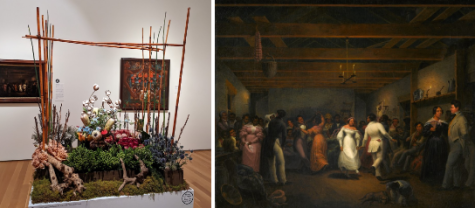 A recurring theme last year was appreciation of the frame as part of the artwork. Another design that incorporated this with a different interpretation was Lesia and Olena Zintchouk's. Their inspiration was the painting Kitchen Ball at White Sulphur Springs, Virginia by Christian Friedrich Mayr, about which they wrote, "Christian Friedrich Mayr went into great detail to show the ceiling of the room more so than the foreground. In our view, that was intentional. It was meant to give the subjects protection- encapsulate them but also separate them from the rest of the world. Our floral design is intended to include this 'capsule.'" 
Kitchen Ball is doubly framed- both by the frame surrounding the painting and by the setting of the painting itself. In this painting, Mayr implements a technique called chiaroscuro in which an artist manipulates light and shadow to show emphasis and importance within a painting. For example, in Kitchen Ball, Mayr uses candlelight to show that the newlyweds in the center of the room are the focus of the painting, but he also strategically scatters light around the top of the painting to emphasize the ceiling beams, giving the painting a sense of secrecy. 
The Zintchouks transferred this feeling over to their floral display using river cane to frame their design. The cotton in the middle of the display that seems to sway and dance like the figures was a double entendre: the white sticks out again to draw the viewer's eye, but it also brings back to mind the enslavement of the dancers.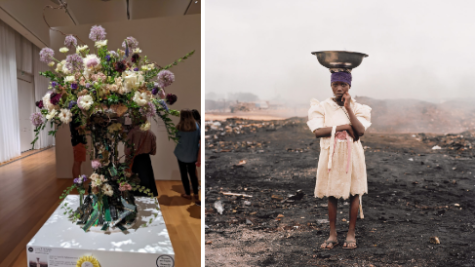 In a modern take on inequality, E.W. Fulcher's design based on Pieter Hugo's photograph Naasra Yeti, Agbogbloshie Market, Accra, Ghana won the Curator's Choice award for best display last year. Agbogbloshie is a dump site on the outskirts of Ghana's capital city where millions of pounds of outdated technology are deposited from Western countries, ostensibly in an effort to kickstart digital growth in Ghana. This waste, however, is toxic to the nearby residents and youth who resell the scraps. 
In his floral display, Fulcher explored an optimistic future; his argument seemed to be that hope can blossom from bad circumstances. He incorporated computer waste, serving as a microcosm of what would be found at Agbogbloshie, and in these scraps an echo of the city lights in the background of Hugo's photo could also be seen.
These were just four of the museum's 43 displays featured last year, each with a unique and creative style, that served as a reminder of the value of art in times of both war and peace, strife and joy.
To learn more about Art in Bloom or buy tickets to this year's exhibit, visit this link.
Leave a Comment
Donate to Enloe Eagle's Eye
Your donation will support the student journalists of Enloe Magnet High School, allowing us to cover our annual website costs. We are extremely grateful for any contribution, big or small!
About the Contributor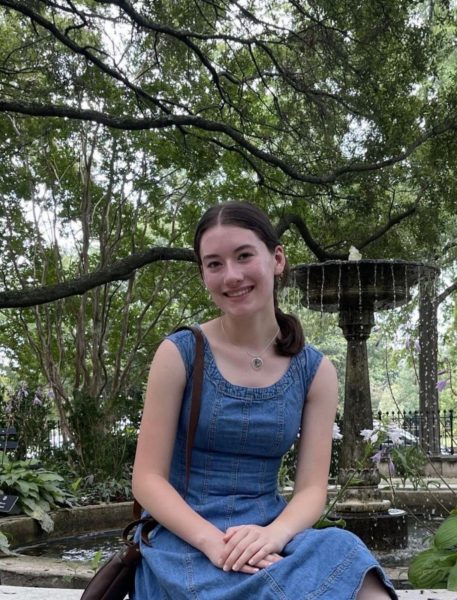 Elizabeth Sobel, News Editor
(She/her)

Elizabeth is a senior at Enloe returning to the paper as this year's News Editor! As a member of Enloe's Symphony Orchestra, she spends a...