30 Years Later, Jim Valvano Lives On
On March 27th, 1980, the NC State basketball program held a press conference to announce their new head coach. The small crowd of reporters was introduced to 34 year old Jim Valvano, a charming Italian-American from Queens, New York. They were instantly enamored by his charisma, and some even began to believe his wild promises of a national title and dethroning the gargantuan UNC basketball program. But no one, not even Valvano, could predict what the next few years had in store.
Born on March 10th, 1946, Valvano already had years of coaching experience at different schools before arriving at NC State. Previously, he'd taken Iona from the bottom tier of college basketball to a 28-4 record and the second round of the NCAA Tournament. In the process, he earned a reputation as a relentlessly optimistic extrovert, with a penchant for public speaking. Though rarely realistic, his bold speeches became legendary for their passion and energy. Along the way, he also made friends with just about everyone he met, from reporters to rival coaches. This led a number of players to join him at NC State, including Enloe alumni and future NBA Head Coach Nate McMillan. 
However, by February 1983, the Wolfpack's new head coach appeared to be all bark and no bite. The team that year wasn't bad, but their 17-10 record wasn't good enough to even make the NCAA Tournament, let alone win it. Three years in, Valvano still hadn't delivered on the ambitious promises he made when he was hired. Entering March, NC State needed to win the ACC Tournament just to secure a bid to the NCAA Tournament. In true Valvano fashion, he created a new team motto: "Survive and advance." 
However, the rest of the world wasn't buying Valvano's optimism. So when NC State barely escaped Wake Forest on a last second free throw, no one paid much attention. The next day, when they faced UNC, everyone expected Michael Jordan and the defending National Champions to end NC State's season. But UNC's last second buzzer-beater missed by an inch, and the Tar Heels fell in overtime. Still, upsets aren't that uncommon. Every dog has its day, and the world would have to settle with watching Virginia and 3-time National Player of the Year Ralph Sampson stomp State in the Finals. But the Wolfpack stunned the Cavaliers 81-78, beating them for the first time in Valvano's tenure, and punching their ticket to the NCAA Tournament. That got people's attention.
As they arrived at the big dance, Valvano's already unbridled optimism only grew. What had started as a fairy tale was slowly turning into a real Cinderella story. Still, down six with a minute to go, it took a minor miracle to get past Pepperdine in the first round. Down three with 40 seconds to go, the newly nicknamed Cardiac Pack performed another miracle to take down UNLV. They cruised past Utah, only to find themselves facing Virginia again. Down by one, the Pack's worst foul shooter Lorenzo Charles hit two free throws with seconds to spare, and NC State found themselves in the Final Four. 
When the time came to play Georgia, State delivered, and packed their bags for the National Championship. But now they faced their toughest test yet; Houston was led by Hakeem Olajuwon and Clyde Drexler, both of whom are considered all-time Top 50 NBA players. Phi Slamma Jamma, as they were known, were high-flying dunking machines who everyone expected to win. Despite jumping out to a 33-25 halftime lead, State began to slip. Fate finally started catching up to the team that had avoided it for so long. The lead crumbled, and State found themselves tied at the end of the game, as they had been so many times before. With time expiring, they launched a final, desperate shot.
The ball seemed to float forever. When it became clear that the shot wasn't going in, the world began to accept State's inevitable loss. No one expected the ball to end up in the hands of Lorenzo Charles. No one expected him to rise above the crowd and dunk it home. But then again, no one expected NC State to become National Champions.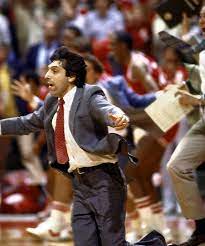 Ironically, the greatest tournament run of all time ended with a run to nowhere. As the State bench exploded in celebration, Valvano sprinted frantically around the court, looking for someone to hug. Every year, at the first practice, he had made the team use a pair of gold scissors to practice cutting down the nets when they won the National Championship. Now, he produced the same pair of scissors from his breast pocket, and fulfilled years of promises previously empty. The stars aligned, Cinderella found her slipper, and Valvano's fairy tale had its happy ending.
When he returned to Raleigh, he was hailed as a hero. "He's a legend," one Enloe student said. "He basically carried them to the title." The next few years were filled with moderate success, but after reaching the pinnacle of college basketball, Valvano seemingly lost his passion for coaching. Eventually, his lack of attention caught up to him. An NCAA investigation revealed in 1989 that State players had been selling shoes and game tickets behind Valvano's back. Though he was never found guilty of any violations, NC State placed the basketball program on probation and Valvano resigned. 
By March 1993, 10 years after the tournament run, Valvano was enjoying a successful broadcasting career. Although he had recently fallen ill, he accepted an invitation to give a speech at the inaugural ESPYs, a yearly award show for sports. Speaking through clear physical pain, he delivered his greatest speech yet. In it, he announced the creation of the Jimmy V Foundation for Cancer Research. He also coined its motto: "Don't give up, don't ever give up." But among the plethora of great moments in the speech, one stood out. 
"To me, there are three things that we should do every day. Number one is laugh. You should laugh every day. Number two is think. You should spend some time in thought. Number three, you should have your emotions move you to tears. That's a heck of a day. You do that seven days a week, you're going to have something special."
A month later, Jim Valvano passed away from cancer. He was 47. Since then, the Jimmy V Foundation has raised over $150 million dollars for cancer research. The Cinderella run and his ESPY's speech have cemented themselves in the ethos of sports. But above everything else, Jim Valvano is remembered as a coach to few, a friend to more, and an inspiration to all.
Leave a Comment
Donate to Enloe Eagle's Eye
Your donation will support the student journalists of Enloe Magnet High School, allowing us to cover our annual website costs. We are extremely grateful for any contribution, big or small!
About the Contributor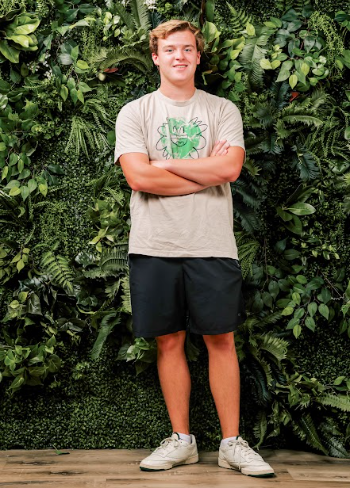 Wyatt Gessner, Editor in Chief
(He/him)

Wyatt is a senior who's super excited to return to the Eagle's Eye as Editor in Chief! He's a member of the Enloe Swim Team and will happily...