Enloe Men's Lacrosse: Their Best Season In Years
Tuesday night, March 14, 2023, the men's Varsity Lacrosse team won yet another game, making their record 4-1. This is the highest record the team has seen in three years, having only won one game a year prior. This huge breakthrough in the team's performance is the result of multiple implementations of commitment, hard work, and community. 
Ellis Charles, a junior on Varsity, credited their success to their hard work last season. 
"We had a JV [team] last year. I think that's [played] a major role […] because returning varsity players have improved," says Charles. "[Now] we have JV players who've stepped up and taken the initiative to get better." 
The current JV team remains undefeated this year.
Thomas Hall, a senior on Varsity, also mentioned the importance of having a JV team.
"When you have a JV team that can feed into varsity, it helps the program so much more," says Hall. "With that larger amount of interest, it just helps out the team, exponentially."
Mr. Stocke, the coach of these eagles, paved the way for both of the team's successes. In addition to his coaching, Enloe alumni Devon Summers and Charlie Morgan are returning players who help out at practices and games. 
As the team progresses deeper into the season, we can only see an improvement in their playing and the team's approach. With their constant communication on the field, plays are administered quickly, the ball moves fast down the field. With new talent from freshmen on varsity, such as Blake Eldridge on offense and Jed David as goalie, the team is in good hands for forthcoming seasons. 
On this particular game night, the temperature reached a painful low of 45 degrees with strong winds, leaving the climate a bit unpleasant. Nonetheless, the Eagles prevailed and continued to push our opponents and fight to a win. Not once did cheers and encouragement stop from the team sidelines, players constantly uplifting and pushing each other toward success.
Talking with Luka Ison and Charles after the game, Charles mentioned how glad he is to have Ison on the field alongside him.
"You know what we got? We got more diversity out here. Love to see it. I love to see another brother like me. I say that every day, and at the end of the game when we're shaking hands. You know, it's empowering. It's […] inspiring. It just really makes me love the game of lacrosse," says Charles.
Charles is a returning lacrosse player having played for the team since his freshman year, while Ison is playing his first year at Enloe on Varsity. 
Ison credited many things to the team's accomplishments and mentioned what it's like to be on the team, saying:
"We're just like, really locked in, and I think this year, we have a lot of leaders like Ellis and Blake, a lot of kids who stepped up," says Ison. "I think we're more connected as a team — communication is there, and playing is great, man."
Pracheth Sanka is a junior on Varsity and mentioned how the team has changed to achieve success.
"I feel like there's just a lot more energy. [There's] a lot more people who want to play lacrosse instead of feeling like they have to play. And I feel like there are a lot more people who are tenured now," says Sanka. "There are a lot more people who definitely [practiced], like over the summer and over the offseason, [and] it shows that we've [gotten] a lot better as a team."
Sanka was also a returning player, having been on the JV team last year. 
"Having a JV team, I think, was good because there's a lot of people like me who definitely would not have been playing on Varsity, but at least I got some playing time and now I understand how the game works," says Sanka. "So I feel like having a JV team, especially now, contributes to future success."
After COVID abruptly ended the team's 2020 season, the program struggled to find more athletes willing to join as Enloe reopened.  At last year's Flight School freshman orientation, Hall scavenged for new players and managed to get 50 names down of interested students. This dedication is what has brought Enloe's team to be what it is today. 
Hall is optimistic about the future of Enloe's lacrosse program.
"I have very high hopes for the program in two years. I think that we're gonna be a much more competitive team in [the CAP-6] conference," says Hall. "This year our conference [has] a really hard schedule. But, that doesn't mean we won't win any of the games. I think that we can definitely pull off some more wins and have some good competition."
"On days like this where it's freezing cold, you just gotta go out there and give it your all and be happy with what you see on the field." – Ellis Charles
Leave a Comment
Donate to Enloe Eagle's Eye
Your donation will support the student journalists of Enloe Magnet High School, allowing us to cover our annual website costs. We are extremely grateful for any contribution, big or small!
About the Contributor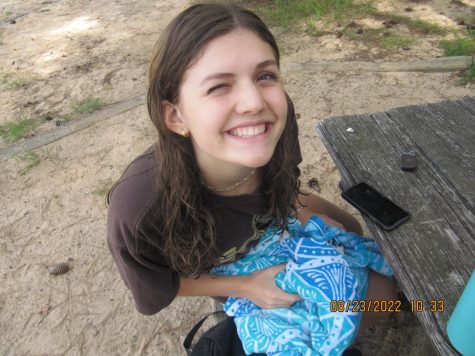 Ellie Maguire, Staff Writer
(She/her)

Ellie is a junior and is thrilled to be a part of the Enloe Eagle's Eye staff this year! When not testing how long she can hold a handstand,...