To the Finish Line: Outdoor Track at Enloe
Outdoor Track is a broad term that encompasses a variety of running events, including short sprint, long distance, hurdles, relays, throwing (such as discus), etc. The track team is a big part of Enloe's sports. Outdoor Track has teams, but individuals compete during events as opposed to the whole group, and there are a lot of students on the team at Enloe. Students rely on a variety of different skills to compete in select events, such as stamina, speed, and agility. 
To Louis Huler, co-captain of the Enloe Outdoor Track team, track is "the most raw, pure, form of sport," due to its individualistic nature. He says track is "a race against yourself," and a sport where you can see "the results of your training." This drive for self-betterment is seen across the team, and the results speak for themselves. 
Christopher Hill is on the Outdoor Track team and mainly does distance runs. He enjoys running and feels that running distance allows him to push himself. Hill shares the sentiment that track is about facing yourself and testing your limits. This unique relationship between the runner and track sets the sport apart from any other offered at Enloe.
What is Outdoor Track? 
To Huler, "Outdoor and indoor track are pretty similar. It's a series of events, short sprint racing, long distance, series events people compete at and train the whole season to get faster."
Hill describes the sport as "a number of smaller events, with each member of the team generally specializing in a few. The events [are] distance (longer distance races which rely on stamina), sprints, (shorter races which rely on speed), jumps (a mix of generally short races with hurdles, as well as high jumping), and throwing, where you throw objects and compete for the distance they are thrown. It's a sport with a lot of variety and options, for all different types of people."
How are competitions set up in Outdoor Track?
"Basically it's one event at a time in a rolling schedule, say an event starts at 3:30 then you'll have one race that leads into the next. Events are all in a row, race after race. Finish and the next race lines up. [Track meets] last maybe about 3 hours."
Hill adds, "Each track meet is split into smaller events. For example, some of the spriters might run the 100-meter, and another group might run the 200-meter race. Each event has a certain number of points up for grabs based on placements in the events. At the end of the track meet, the team with the most points wins."
What do you like about the sport?
What Huler likes about the sport is its simplicity, he says, "Obviously there are special sets of skills but track is objective, whoever crosses the finish line first wins." Compared to other sports, this simplicity can make setting goals for yourself easier, it's not about what anyone else does, it comes down to your own performance. 
Hill likes the ways you need to push yourself in the sport. He says, "I do enjoy that it pushes us to focus on improving ourselves. To get better at distance, you need to better yourself." Like Huler, Hill feels that track allows you to see the results of your hard work. "Anytime I leave a distance practice, I know I'm leaving as a better person than I entered as. I also appreciate that the diversity of events allows for all different types of people to take part as one team," says Hill. This diversity opens the door for a variety of different skill sets, and as a result, many people on the team have varying strong suits. 
How do you think Enloe is performing this season?
"This season we're looking pretty good, we have a lot of strong runners so it's possible we can win the conference this year," says Huler. The team has been hard at work to improve and it's certainly paying off in competition.
Hill makes a similar statement, saying, "This season Enloe [has performed] quite well. We've won 3/3 meets," In track, this is a fairly good score, and promising as the season progresses. 
How can Enloe students support Outdoor Track? Where and when will you be competing?
"We have at least one more home meet and invitations but those are pretty far away. Just keeping up with the team – we have a few runners at a pretty high level – and it's interesting keeping up with track." Huler also notes that conferences are usually on Wednesdays. Showing support for the track team by showing up and showing out is a great way to let them know that they are supported and this encouragement can help people to do their best at competition. The track team has an upcoming championship meet on Saturday (5/20) which will be a great chance for them to score. Though, there are other ways to support the team as well. 
Hill says, "If you really want to help our team, another option would be to contact Coach Kennedy about making a donation to help fund our team. Our team has historically been somewhat underfunded, and there isn't much left for what Kennedy and the team really want, which is to finally upgrade our track so that we can host more home meets." Outdoor Track is one of the largest sports teams at Enloe and a very diverse sport that is unlike any other. They are performing well this season and deserve your support and attention, whether it be in person or through donation. You can find the team on Instagram @enloe_track and the Enloe website.
Leave a Comment
Donate to Enloe Eagle's Eye
Your donation will support the student journalists of Enloe Magnet High School, allowing us to cover our annual website costs. We are extremely grateful for any contribution, big or small!
About the Contributor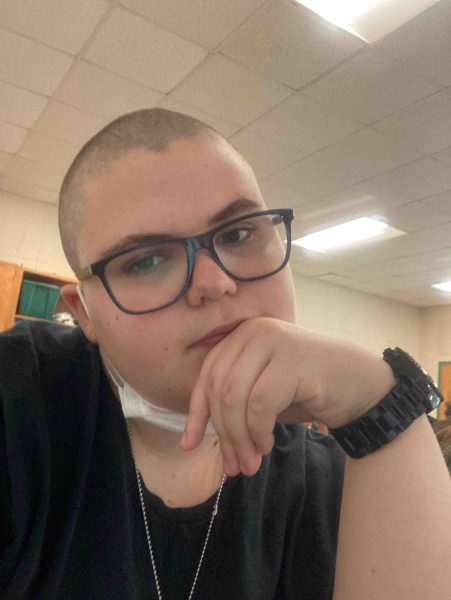 Audrey Weaver, Creative Writing Editor
(They/them)

Audrey is a senior and returning for their second year in newspaper. They enjoy writing, cooking, and listening to music. In their free...