"It's Pretty Much My Entire Life"
Inside the Immersive World of Enloe Jazz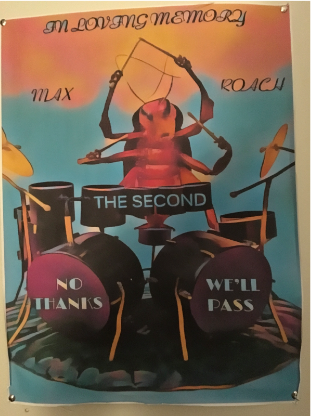 At the very end of the long hallway where the orchestra, band, and chorus students frolic in green pastures, there is a dark, cramped room that smells faintly of ancient french fries. Inside, only a piano and a ramshackle drum kit; on the walls, nothing but a faded poster that reads, "Max Roach the Second: No Thanks, We'll Pass", and a "Please Wash Hands" sign from Cici's Pizza. Everything tastes like an inside joke, and it's somehow obvious that this place isn't meant for strangers. Everything whispers, "Go away. Nothing to see here…"
So what is the Enloe jazz program? The answer may surprise you.
Luca Colonna is a senior who holds the piano seat in Enloe's Top Combo, a devoted group of six jazz musicians who rehearse, arrange, and perform improvised music, all by ear and without supervision. "The cool thing about combo is that the commitment level is up to you," he notes. "For me, it's pretty much my entire life."
Luca has been practicing piano for many hours a day since he was a sophomore, and he keeps a Spotify playlist loaded with hundreds of jazz albums he listens to nonstop. But according to him, it's nothing special. "It's just a grind, basically," he shrugs. "Every day, I just gotta put in the work, even if I don't feel like it." 
Mr. Hunter, Enloe band director and cultivator of the jazz program, points out that the student jazz culture at Enloe has kept the program thriving from within. "The avid enthusiasm these kids have for jazz is the number one thing that's kept the program so intense all these years," he says. "Even though we've built up a good big band [a traditional 20-piece jazz ensemble made up of trumpets, trombones, saxophones, and rhythm section], the student-led combos are still the core of the program."    
The big band (dubbed the "Jazz Ambassadors") may not be the program's heartbeat, but it doesn't disappoint. Last year, the Ambassadors were invited to the Swing Central competition in Savannah, Georgia. High school jazz ensembles from across the country send in recordings hoping to be selected for the contest every year, but in the end, only twelve are chosen. The Ambassadors were sure they would be one of the many who didn't make the cut. "At the time, I just thought we might as well send in a recording, even though we had no reason to get our hopes up," Mr. Hunter recalls. But in the end, Enloe's Jazz Ambassadors had every reason to get their hopes up: They came away with the third-place trophy and a thousand-dollar check. "Now we know we belong there," Mr. Hunter says, adding with a grin, "And next time, we expect first!"
This year, the Jazz Ambassadors have not only begun preparing their Swing Central application, but they've also taken on the challenge of Duke Ellington's Nutcracker Suite in collaboration with the other Enloe Arts departments, alongside applications to other jazz competitions and preparations for numerous performances throughout the state. But regardless of how successful the big band becomes, Luca assures us that kids like him — kids who love jazz with terrifying ferocity and aren't afraid to lead their own combo rehearsals — will always be the core of the program.
"When I wake up, I take a shower, and then I brush my teeth," says Luca. "Then, I think about jazz until I go to sleep."
Leave a Comment
Donate to Enloe Eagle's Eye
Your donation will support the student journalists of Enloe Magnet High School, allowing us to cover our annual website costs. We are extremely grateful for any contribution, big or small!
About the Contributor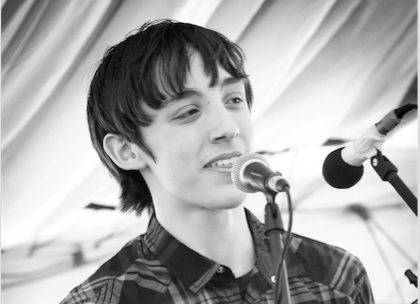 Sam Stage, Editor-in-Chief
Sam is looking forward to another awesome year for the Eagle's Eye, pandemic or not! He loves to go to concerts, festivals, and anyplace there's live...