International Baccalaureate (IB) Program Paradox
A person's interests and talents as well as a culmination of their experiences all have an impact on how they see the world, and IB is making strong efforts to hone in on these perspectives at Enloe.
Diversity is a loaded word. There is racial diversity, but there are also many other attributes that influence a person's perspective and contribute to a varied setting. As part of the IB mission, the program takes into account differences. This is exemplified in all aspects of the curriculum but especially in Theory of Knowledge (ToK), a specialized IB course that helps students understand the basis of knowledge itself as well as how to draw conclusions based on the perspectives. Developing an open-mind requires the exposure and consideration of dissenting opinions, so reaching out to a wide-variety of passionate and motivated students is essential to developing a tangible and diverse IB experience. 
This year IB Philosophy was added to Enloe's class selection in order to cater to students' different interests. Additional IB classes have also been added to Enloe's repertoire for temporary periods of time including IB Music and IB Anthropology. These additions are meant to establish a broader scope of access to students with varying interests. 
Over the years, Enloe's IB Program has significantly expanded their student population. Ms. Ellis, Enloe's IB coordinator says, "Every language we offer now at Enloe is an IB language. When I started 15 years ago, there were only 3 language options." The result: hundreds more students have IB as a viable option. 
In regards to the accessibility of the program, most Enloe students interested in the program may self-enroll, and many schools in North Carolina have no GPA requirement, meaning that no matter what the student's GPA may be, IB is an option. Though at Enloe, it is recommended that the student take a rigorous course load during their freshman and sophomore years in preparation for the demands of the program. Ms. Ellis touched on the notion that if a student had taken exclusively standard classes their first two years at Enloe, participation in IB could result in failure. So, while the IB program is accessible to the vast majority of Enloe's population, the reality is, the program is tough, and students must show they can handle it. 
Students in the program have also taken note of the important role diversity plays in the program. Anh Nguyen, an IB student in the 12th grade says, "We have a mediocre amount of diversity within the senior class, but that's not enough." The program seeks to produce global-minded students, so it is essential that a multitude of backgrounds are represented. Current IB students suspect that the lack of diversity is due to worries that the program may result in too much stress. Anna Halim in the 11th grade says, "If more people took on this opportunity, IB's community would be much more diverse and would more accurately resemble that of Enloe's."
View Comments (1)
Donate to Enloe Eagle's Eye
Your donation will support the student journalists of Enloe Magnet High School, allowing us to cover our annual website costs. We are extremely grateful for any contribution, big or small!
About the Contributor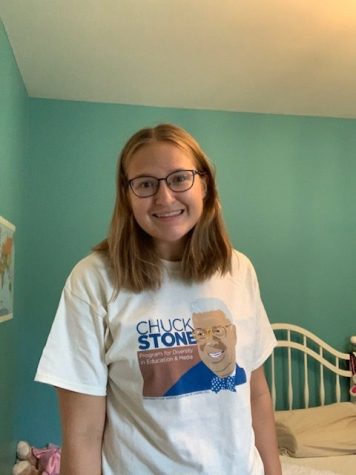 Olivia Pluska, Editor
Olivia is an avid swimmer who thoroughly enjoys obsessing over niche topics such as the Youtube series Unhhh, featuring two of her favorite drag queens....