The Magic of RuPaul's Drag Race
It would be a challenge to compare RuPaul's Drag Race, a series that is unmatched by any other on television today, to those on the various streaming services like Netflix and HBO. So, instead of comparing Drag Race to the shows we all know, I'm just going to focus on Drag Race and what the show means to me and perhaps what it could mean to you. I know what you may be thinking: how could a show that transcends all other forms of entertainment, as I've already insinuated, have the power to resonate with everybody? There's an easy answer to that, which calls into question the nature of humans, who ultimately just want to feel understood and accepted.   
RuPaul's Drag Race has been steadily dribbling into the mainstream since its inception back in 2009. By the fourth season, it was unyieldingly leaking through the cracks of popular media, and now, at season 13, the show has made significant and permanent progress breaking down rigid mainstream entertainment. The show has taken a seat in my mind as the best on television, not only for its sheer entertainment, but the unique intentions behind the show, its role in queer history, and its role in shaping the future of drag and the LGBTQ+ community, make for something incredibly authentic and special. 
The series takes the format of a reality competition show that invites around 13 drag queens from all over the country to compete for various prizes and ultimately the title "America's Next Drag Superstar." The original intention behind this show still stands today as its most important distinction and has become more and more apparent with each passing season. It brings queens out of the clubs and the bars and onto a platform that never would have existed 20 years ago, let alone become an international sensation. The Drag Race team has been relentlessly redefining and enriching that goal, with better challenges that showcase a queen's eclectic talents and a multitude of chances for the audience to get to know every queen, which is important for those that get eliminated early in the season. 
RuPaul's Drag Race is a pedestal for queer culture to stand on. At first, Drag Race performed several acts of reclamation, reclaiming what mainstream popular culture took from queer culture. Voguing, which is a form of dance, lip syncing, runways where the judges make catty remarks towards the contestants, and fashion statements that originally sprung up within the LGBTQ+ community during the 20th century, all made their way back into the hands of drag queens and other contributors to queer culture. 
The show also serves to educate its viewers with challenges that harken back to important moments of queer history. For example, the reading challenge, where the queens take turns cleverly poking fun at each other, is a reference to the documentary Paris is Burning. The film highlights the drag ball scene in New York City during the 1980s, where  "reading" was a form of throwing shade, or insult, towards a fellow queen or competitor. Reading competitors served to conjure up some friendly competition, and that tradition is carried on to this day, largely due to Drag Race.  
Drag Race is filled to the brim with dramatics, but it also has importance in honouring queer history as well as realizing what the future of drag and the LGBTQ+ community could be. In the words of New York Times journalist Jenna Wortham, Drag Race doesn't leave you with an "existential dread about the future of humanity" like many other shows, especially other reality shows, do. In fact, it does the exact opposite; it provides hope and security to anyone who's ever felt out of place, which happens to be the majority of people at some point in their lives. 
The show inspires its viewers to stay true to themselves in the face of adversity. Moreover it encourages self-love and self-confidence, two attributes that are essential to everyone's happiness and well-being. As season 7 winner Violet Chachki once said, "When you sit down to watch Drag Race, you're here to see confident people do what they do best." Afterall, confidence is the most attractive quality in anyone and anything, and that might just be why Drag Race has captured the hearts of so many (and why it will continue to capture the hearts of many more).
Leave a Comment
Donate to Enloe Eagle's Eye
Your donation will support the student journalists of Enloe Magnet High School, allowing us to cover our annual website costs. We are extremely grateful for any contribution, big or small!
About the Contributor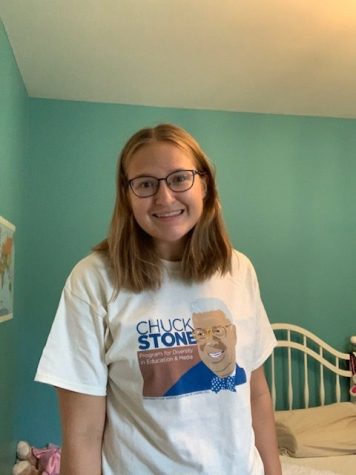 Olivia Pluska, Editor
Olivia is an avid swimmer who thoroughly enjoys obsessing over niche topics such as the Youtube series Unhhh, featuring two of her favorite drag queens....