Solar Power by Lorde: Album Review
Ella Marija Lani Yelich-O'Connor, or better known by her stage name, Lorde, is one of the most subversive and influential pop artists of the last 10 years. Her debut single, "Royals", rocked the world, topping the Billboard Hot 100 for weeks and completely changing pop music for years to come. With Melodrama, she subverted traditional song and album structures, and with the help of now star-studded producer Jack Antonoff, crafted a beautiful narrative about a lost relationship, by telling the story of one night at a party. 
Lorde's Grammy-nominated writing abilities seen on Melodrama make the contrast in her most recent album Solar Power even more of an enigma. Accompanying the release of the title track and its music video, Lorde explained that this record "is a celebration of the natural world, it's an attempt at immortalising the deep transcendent feelings I have when I'm outdoors." But the narrative on this album is confusing at times, and doesn't always land well.
My thought's on Solar Power are the same as many of Lorde's long time fans– conflicted. When it comes to instrumentals the album does not disappoint. Instead of the hard-hitting electro-pop beats of Pure Heroine and Melodrama, Lorde opts for a more acoustic sound with soft drums and lush guitars that sound relaxing and beautiful. The first issue, however, that I find with this album is the vocals. Up-close-and-personal vocals, with soaring harmonies were once Lorde's bread and butter, but when she tries to incorporate this on Solar Power they seem to get drowned out by the more percussive drums and guitars. Another main issue with this album is the lyrics. Instead of the emotional storytelling that Melodrama gave us, this album serves as more of a social commentary on social media and influencer/celebrity culture, commentary that is somewhat muddled. 
Track one, The Path, is mixed. It starts off slow and features lyrics that don't flow super well, but it has a lovely, laidback instrumental and when it picks up the beat and vocals are quite groovy. The title track (my least favorite) is painfully boring. The build takes too long, it features poorly mixed vocals with poorly written lyrics, and when the chorus comes it's sort of underwhelming. But this album is certainly not all bad. California and Fallen Fruit both have great vocals and instrumentals, with beautifully written lyrics, especially on Fallen Fruit which laments the broken, polluted earth that past generations have left for the future ones. Mood Ring is a fun, upbeat pop tune which goes hard despite "satirical" lyrics that don't really land well.  
My feelings on the rest of the tracks are just as mixed as the others I mentioned. Songs like "Stoned at the Nail Salon" and "Dominoes" fall short lyrically and vocally despite interesting instrumentals. On the other hand, "The Man with the Axe", has interesting, and very personal lyrics, but is lacking on the instrumental end. The track Big Star falls short on both ends. "Leader of A New Regime" has beautiful vocals and lyrics in which Lorde expresses hope that when civilization collapses, the survivors will build a new society and learn from the mistakes of the past. Though I do love the lyrics, the instrumental takes too long to build and the track ends short at only a minute and thirty-three seconds, right when the flourishing guitars pick up in the background. "Oceanic Feeling", while a bit long and unexciting, is still a strong ending to the record. With vivid imagery in the lyrics and a lush blend of soft synths with acoustic drums and guitars. 
There is a lot to say about this record as a whole, both good and bad. The instrumental and vocal mixing is off on a lot of the songs, many of them lack a consistent flow and memorable melody on the verses and chorus, and there are serious narrative issues with the lyrics especially when this was marketed as a concept album. The lyrical issues are disappointing because we know from her most popular song, "Royals", that Lorde is capable of making unconventional social commentary that is relatable and digestible for mainstream audiences. Going into this album we were led to believe that the songs on this album would be tied together by an overarching theme of finding peace through the beauty of nature, but that just wasn't the case. There are songs about the beauty of nature, and there are songs about finding peace, but there is a lack of a coherent narrative that ties it all together. 
I want to make it clear, despite all my gripes, that this is a good album. There are several tracks like "Fallen Fruit" and "California" that I do enjoy quite a lot for their beautiful lyrics and melodies. I think Lorde's new acoustic sound on this record was a big risk and overall it sounded amazing on the instrumental side. The many mistakes on this album are not nearly enough to write her off as a great artist, because, like every great artist, Lorde can create a work that has weaker impact than others, and I use the word "impact" because art is subjective. One of my all-time favorite albums is "Turbulent Indigo", Joni Mitchell's 1994 project. It shares many of the same issues that "Solar Power" faces and is certainly not one of Mitchell's most critically acclaimed records. While Lorde is certainly not Joni Mitchell, and Joni Mitchell is certainly not Lorde, both are incredible artists who are capable of making great records with great impact (Joni Mitchell's Blue or Lorde's Melodrama). I know that this will not be the last Lorde album we hear. I just hope that it drops sooner than this one did… 
Leave a Comment
Donate to Enloe Eagle's Eye
Your donation will support the student journalists of Enloe Magnet High School, allowing us to cover our annual website costs. We are extremely grateful for any contribution, big or small!
About the Contributor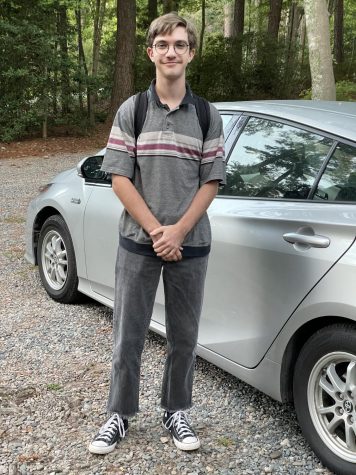 Owen Lockett, Staff Writer
(He/him)

This is Owen! He's an aspiring musician, an amateur skater, a middle child, a JBrekkie enjoyer, and a staff writer for the Eagle's Eye. Owen...