Non-Profit Recognizes Ms. Vazquez as Progressive Educator
"
We all have a role to play in building a better society, and, if my role is tied to creating and maintaining a safe space where students can talk about the issues that are plaguing our world, I will have considered it a success."
— Ms. Vasquez
Ms. Vazquez, one of Enloe's english teachers who is unconditionally loved by students and staff alike, was recently showcased as "Anti-racist Educator Spotlight" by the Durham based nonprofit, We Are. We Are, which stands for Working to Extend Anti-Racist Education, seeks to push for anti-racist methods of teaching in schools and provides anti-racism training for educators, children, and families. They also hold summer camps for elementary school students, where they are taught about how racism impacts different communities and how they can actively resist racism in their own communities. 
We Are puts out a monthly call for educator spotlight nominations, so Ms. Stout, another teacher at Enloe who was previously involved with the organization, saw that they were looking for an anti-racist educator of Latinx descent for Hispanic Heritage Month and immediately thought of Ms. Vazquez. In her submission she described Ms. Vazquez as one of the most attentive listeners she's ever met: "She makes our most marginalized students feel heard, validated, and loved, and she isn't afraid to go to bat for them when necessary." 
Ms. Vazquez also always makes sure to include a diverse selection of literature for her students to read for class, representing people of all backgrounds and having class discussions about themes including race, gender, classism, xenophobia, and general human rights. One example of this is having her students discuss with each other about racial discrimination in different communities and relating it to "A Raisin in the Sun," a play by Lorraine Hansbury that she teaches in her classes. She allows students to form their own opinions on the themes found throughout the texts they read and give them the opportunity to make connections, or simply discuss these topics with others, without any pressure from Ms. Vazquez, herself. 
Ms. Vazquez also demonstrates strong leadership in staff discussions about racism at Enloe. She was the leader of the Non-Black Person of Color (NBPOC) caucus and was one of the founding members of Enloe Educators for Black Lives, an educator discussion and advocacy group that was created in 2020.  During the caucus, she assisted in conversations with other NBPOC staff members about their roles in creating a more inclusive environment for students while stripping the school of any anti-Black actions/comments. She also talked about Blackness in the Latinx community, which is rarely discussed in conversations about racism.
I personally had Ms. Vazquez as my 9th grade English teacher and she is truly one of the most empathetic and caring teachers I have ever met. She will take the time to listen to her students, even if it cuts into her own time and really does make her students feel so welcome. She not only is an active listener, but also provides feedback and engages in conversation with students who visit her to talk about their lives. Moreover, she never hesitates to speak up when hurtful comments are made in her classroom. She is never silent on issues such as racism in the classroom and has zero tolerance for any student displaying hate on others. I can't think of a better teacher at Enloe to be recognized for an Educator Spotlight than Ms. Vazquez. If you ever see her in the hallway, you should definitely give her a wave or stop by her classroom to say, "Hello." 
"
I think the most important thing that I want people to take from this is that my role as a teacher–a teacher of color, for that matter–does not excuse me from acknowledging the biases I have and the beliefs I hold. I teach students from so many different backgrounds, and I would hate for any of them to not feel seen and treasured when they are inside my classroom. Who they are and who I am work in tandem to create our classroom environment, and I think there's something beautiful in that."
— Ms. Vazquez
Leave a Comment
Donate to Enloe Eagle's Eye
Your donation will support the student journalists of Enloe Magnet High School, allowing us to cover our annual website costs. We are extremely grateful for any contribution, big or small!
About the Contributor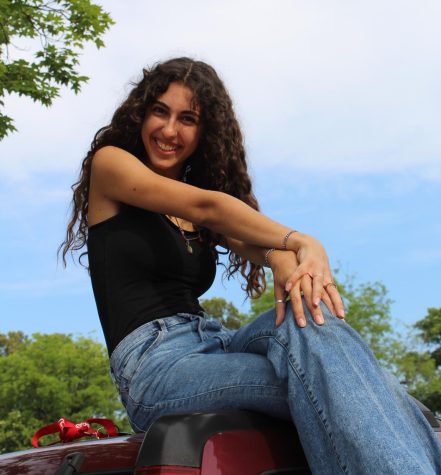 Dae Borg, Executive Editor
(She/her)

Dae Borg is a senior who has a love for the Earth, wildlife, the arts, and meeting new people. She enjoys writing about global environmental...