David-Chuku Agwu: Right on Track
As a kid, David-Chuku (DC) Agwu had always enjoyed running around the playground, racing friends. Now a senior at Enloe, he excitedly told me his experience as a fourth year track star.
Originally a soccer player, DC decided to try something new his freshman year and join the track team. While he had always been athletic, he hadn't fully appreciated the act of running until he joined. "There's something about it. Even though the workouts suck sometimes, and hurt a lot, it makes you feel alive," he said.
 Later, he went out of his comfort zone and started running long distance. "The first time I did [cross country], I found it really ridiculous because I'm a sprinter from track. In the middle of my first cross country race, I was told to kick (to go faster near the end of the race) at a distance, which was my longest event I've ever done– a 400m. So I was like, 'What am I doing here? This is crazy!'" He didn't necessarily jump at the first chance to join cross country, though. "For cross country, to be honest, I heard about it my freshman year and I thought, 'Those guys are weird.' So I didn't join at first," he laughed.
 "Those guys" turned into his closest friends and role models, mentioning former Enloe captains Matthew Denoncourt and Denmark Bartley. "There's a lot of bonding when you're running with the same people for hours on end. You're running for seventy minutes. You're not gonna just run and not say anything." Along with the memories of daily practice, DC fondly recalled Senior Night, where he, alongside other seniors, raced in onesies and watched the underclassmen put on a talent show. Off the track field, the team takes up their friendly competitiveness in games like Ultimate Frisbee and paintball.
While DC loves his teammates, he also expressed his appreciation for running alone. "There's something peaceful about [it], that serenity, especially when you're locked in," he explains. "Sometimes when I listen to music while I'm running, I get so deep into my thoughts, I'm like, 'Oh, I'm already here?'… One time, I was on an extra long run; I actually got lost. While I was trying to find my way back, I found an opening on a trail. I was like, 'I've never seen this part.' I accidentally ran a half marathon!"
One of the sources of motivation DC takes to push on while running is a little unconventional. "My number one motivation is kinda weird; it's anime characters. They do the impossible, which I know a lot doesn't happen in real life, but it's still really inspirational." I asked him if he listened to theme music while running to imagine he was in the shows, and he reluctantly cracked a smile, ".. Maybe."
After Enloe, DC hopes to run in college as well. It's clear how much he dedicates to the sport and team, even from the short time I spent talking to him. Whether it's racing to anime themes or making a guest appearance on the 'Loe Down as Mr. Hot Chocolate, Agwu never fails to make a mark. Best of luck to DC and his running career!
Leave a Comment
Donate to Enloe Eagle's Eye
Your donation will support the student journalists of Enloe Magnet High School, allowing us to cover our annual website costs. We are extremely grateful for any contribution, big or small!
About the Contributor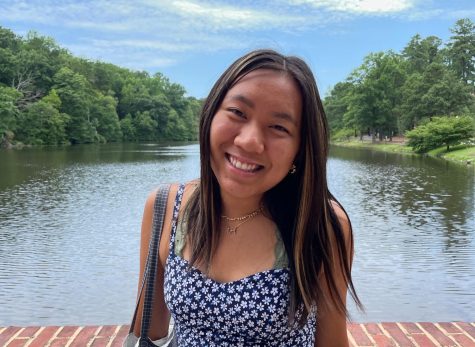 Charlene Wu, Co-Editor in Chief
Charlene's pass-times include: evaluating her Google Calendar color scheme, baking Tres Leches, and parking badly. Ask her, "How was your day?" and she'll...