The Enloe Marching Band: An "Outside The Bachs" Approach
When you think of marching band, you probably picture lines of uniform-clad musicians in parades and at football games, playing the national anthem and stand tunes. But did you know that marching band is a competitive performing art? Starting in August and ending in November, the Enloe Marching Band learns and memorizes an eight-to-twelve-minute show and up to 100 "dots," or exact locations on a football field, along with coordinated choreography.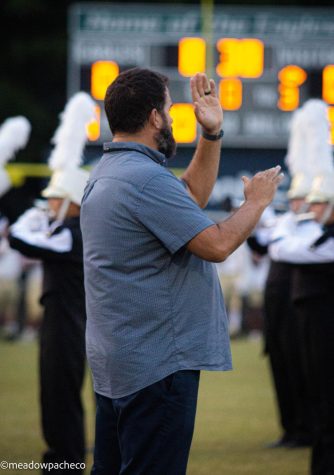 Coming back to their first competition season in two years, the marching band performed "Outside The Bachs," an eight-minute show that revolved around the music of Bach. It delved into genres and styles that baroque music isn't normally associated with, such as the trombone section performing a soli (group solo) over a trap beat while the band was playing Toccata and Fugue in D minor. This season was very different than most, as over half of the band had never marched before due to the missed season. "With the group of people we had, having so many rookies, it was pretty ambitious, but as time went on, as we were getting better and better and better, it all came together… It was so exciting to come back and do it all again. It brought back so many memories," said Woodwind Captain Kate Olsen.
This season presented a few unique challenges for the band; since there was no season last year, over half of the band had never marched before and no one in student leadership had prior experience in their positions. "It's great, especially that our upperclassmen were able to just jump in there and go 'well, I'm not sure how this is supposed to go, but I'm just going to jump in and help.' It was a great attitude, I'd say it's an attitude of humility," said Mr. Hunter, Enloe's band director. Although it was certainly difficult at the beginning of the season, the marching band persevered until things finally fell into place, "once they [the rookies] started really applyingthemselves, it was magic, it was awesome," said Olsen.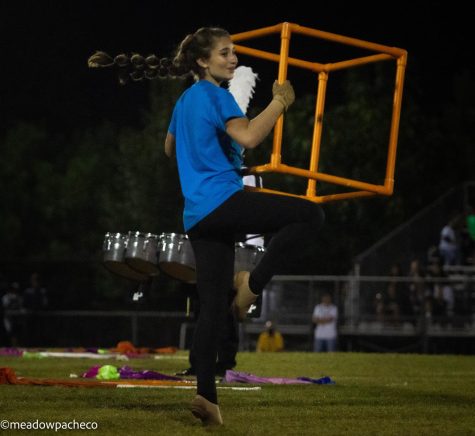 The marching band competed in four competitions this season and broke the school record for the highest-scoring performance, which previously was broken with their show, "The Caged Bird Sings" in 2019. The band broke this record with their preliminary performance at the Capital City Expo at Sanderson High, where they scored 90.8 out of 100 possible points. Marching bands are scored in the categories of music performance, visual performance, percussion, colorguard, and overall effect. Obviously, performing well in all of these categories is not an easy task. On the importance of competing, Olsen exclaimed, "I think competing is like icing on the cake, we spend all of our time working towards these competitions, but all the memories are in that process, in the getting there."
The band's 2019 show centered around the poem, I Know Why the Caged Bird Sings by Maya Angelou. The musical selection included songs and pieces that resonated with the poem, referenced birds and flight, and conveyed a sense of freedom. This show started a new precedent for shows in the band, as it was the first modern show that the band performed, consisting of multiple pieces centered around a theme, as opposed to arrangements of one classical piece played while marching. "I think it's so cool that we have the ability to do such wildly different things with the same, or similar groups of people," said Olsen.
One year before The Caged Bird Sings was Scheherazade, which featured themes of the four movements of Scheherazade, a symphonic suite based on One Thousand and One Nights and composed by Russian composer Nikolai Rimsky-Korsakov in 1888. On the comparison between Scheherazade and other shows, Mr. Hunter said, "Scheherazade was mostly music and the visual package was good, but not as integrated as this year's show and The Caged Bird, those were very integrated shows."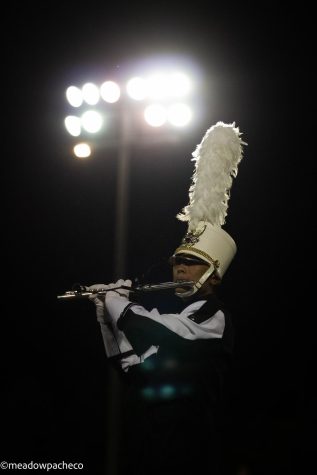 While missing a competition season in 2020 was clearly devastating for the band, the leadership team took advantage of this unfortunate situation by deciding early on what new expectations and systems could be put in place, as the majority of the band never had a season or only one season. The biggest change that leadership focused on was concerning the manner in which the band presented themselves at football games. "Football games were completely different, it was like a whole different band, the way we drove home the point of discipline and professionalism when we're performing in front of the school. Because we weren't there to be the main focus like we are for competitions, we were just there to support the school, and bringing a professional attitude and a level of maturity that we don't always show when we don't even have to be there technically, I think it really changed the dynamic of the band" said Olsen.
Riding off the success of their last season, the marching band is sure to see another incredible season ahead of itself, which you could be a part of. For those who are interested in joining the band, there is an option to receive recruitment updates in the 2022 audition form in Google Classroom, as well as interest meetings that can be found at @enloebands on Instagram. In the wise words of Woodwind Captain Kate Olsen, "Join marching band, it's awesome."
Leave a Comment
Donate to Enloe Eagle's Eye
Your donation will support the student journalists of Enloe Magnet High School, allowing us to cover our annual website costs. We are extremely grateful for any contribution, big or small!
About the Contributor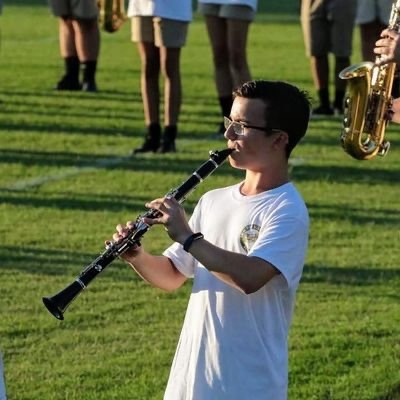 Matthew Burkhart, News Editor
(He/him)

Matthew is a senior and is very excited to be the news editor this year! He loves writing about political issues and local news. Outside of...