An Open Letter to Enloe Voters: Why You Matter in the 2022 Midterms
Back when I was an over-eager C&C civics student, I used to go around to my fellow students and ask if they voted or were going to vote. I stopped because I kept getting the same answer. Freshman, sophomore, junior, senior, it didn't make a difference; all I ever heard was 'no'. Why? Because almost everyone I spoke to was convinced their vote didn't matter. 
I wish I could say that my miniature survey was the exception to the rule, an inaccurate microcosm of a generation clamoring for change. But they aren't in the minority. In the 2020 election, only half of voters aged 18-29 voted. And that was considered a high turnout. The fact of the matter is that young people don't vote. Be it because of bureaucratic inconsistencies in registration, a lack of communication, or some form of political under-education, young generations have consistently not shown up to the polls in elections. Normally, I and many others would let it go, accept that half of a generation has given up, and trust that others will pick up their slack. But we can not do that in the 2022 midterms because this year, there is far too much to lose. 
It has become a bit of a tradition for the President's party to lose Congress in the midterms, usually because the opposing party can stir up opposition to the current administration for votes. Unfortunately, much of the progress Biden and his administration have made (a key example being the infrastructure bill), has been due to having control over Congress. Without control of Congress, Biden will likely struggle to get any more of his agenda passed, and what he has already accomplished is at risk of being undone. So at this point, the congressional elections this year have the power to dictate how the government functions for the next two years.
 And it's not just the national government we need to be concerned with. Now that important issues like abortion rights have been turned over to the states, state legislator elections have become extremely important. In North Carolina, Republicans are attempting to gain enough seats for a supermajority, a majority large enough to override Democratic Governor Roy Cooper's veto. This could alter the fate of several partisan issues in North Carolina, especially abortion access. 
Regardless of whether you agree with me politically or not, your vote is the only way you have a say in these issues, in your government. This is the only chance you have as a citizen to actually do something based on your beliefs. So in other words, if these issues matter to you, then your vote matters. I know you may feel small, like you are just one small drop-in-the-bucket vote out of thousands, but plenty of decisions have come down to small margins. Besides, you have to remember that you are not the only one who feels this way. What seems to you as one person thinking their vote doesn't matter is really dozens, if not hundreds, of young people telling themselves that they can not make a difference when those hundreds of people together could sway entire elections.
I promise you that these are not just empty words. If I could vote, I would be out there right now, marching to the nearest polling station to have as much impact on my government as I possibly could. But I can't. I can't yet use my civic power to influence the government I live under. But you can. You can take the step. You can vote. So don't just hope things will get better. Don't just talk about making change. Make it. Vote. 
To find a polling location near you, click here. 
For more information on the election, the candidates, and how to vote see this article.
Sources
Baker, Peter. "Biden's Agenda Hangs in the Balance if Republicans Take Congress." The New York Times, 30 October 2022, https://www.nytimes.com/2022/10/29/us/politics/bidens-agenda-midterms-congress.html. Accessed 30 October 2022.
Northam, Mitchell. "2022 midterm elections in North Carolina: Breaking down NC General Assembly races." WUNC, 4 October 2022, https://www.wunc.org/politics/2022-10-04/2022-midterm-elections-north-carolina-breaking-nc-general-assembly-races. Accessed 30 October 2022.
ROBERTSON, GARY D., and GEOFF MULVIHILL. "Abortion access could hinge on state election results." The Portland Press Herald, 30 October 2022, https://www.pressherald.com/2022/10/30/abortion-access-could-hinge-on-state-election-results/. Accessed 30 October 2022.
"2020 General Election Turnout." NCSBE, https://www.ncsbe.gov/results-data/voter-turnout/2020-general-election-turnout. Accessed 30 October 2022.
"Why So Many Young People Don't Vote – And How to Change That." Frank Batten School of Leadership and Public Policy, 20 February 2020, https://batten.virginia.edu/about/news/why-so-many-young-people-dont-vote-and-how-change. Accessed 30 October 2022.
Leave a Comment
Donate to Enloe Eagle's Eye
Your donation will support the student journalists of Enloe Magnet High School, allowing us to cover our annual website costs. We are extremely grateful for any contribution, big or small!
About the Contributor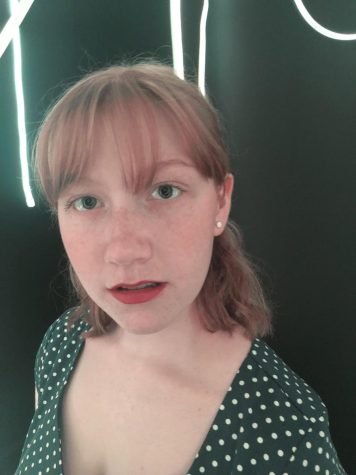 Sam Heyl, Opinion and Creative Writing Editor
(She/her)

Sam Heyl is a senior excited for her second year on the Eagle's Eye! She lives and breathes animation and any/all creative writing. When she's...