Senior Spotlight: Anisha Roy
Anisha Roy is a student at Enloe High school who is a dancer, a part of the Public Speech and Debate team , a student in MBSA, an NHS member, a HOSA leader, a friend, and much more. Anisha is the definition of a kid achieving professional level goals. She works actively to help her community as she works on a project  called EnloeInvenTeam to help provide menstrual care kits to those who need them. Anisha is the most open-hearted person ever, and she never shies away from making everyone in the room feel more comfortable; she makes you proud to be who you are. Did I make an article that captures the entirety of Anisha's awesomeness? No, it's impossible. The only way to get a sense of how phenomenal Anisha is to meet and talk to her.
Anisha's Impact.
The club that Anisha admires the most is Public Speech and Debate, where she's the Vice President. Anisha works specifically in the Lincoln-Douglas Debates, which Anisha tells me is a "one-on-one style of debate where the topics talked about are political, applied with a philosophical framework to evaluate topics through a specific line of evidence versus shooting evidence at each other". Anisha has won several awards, being a quarter-finalist at a Tarheel Forensic League and breaking into multiple quarter-finals at different nationals allowing her to go to New York City and be on the Harvard Speakers List. Anisha has been a part of Public Speech and Debate throughout her four years of high school. I asked Anisha about her progress through the years, to which she responded, "Starting, I didn't compete as much as I wanted to. I competed twice during freshman year. But in my sophomore year and junior year, I got really into it. Even outside of debate, I learned how important it is to be inclusive". 
I had the pleasure of interviewing Anisha and here are some of the takeaways:   
How do you feel knowing it's your last year at Enloe High School?
"It's nostalgic because high school went by way too quickly because of quarantine and everything. I'm going to miss being a child, being a teenager. I'm nervous about being on my own next year; once I turn 18, I can vote, register in a hotel, and travel by myself. I'm also excited to see my work in the past four years. All my efforts and experiences will lead to something cool in the future." 
What do you think your younger self will think of you now?
"My younger self would think I'm in a different place than I expected to be towards the end of high school. I would appreciate how I try to keep a positive attitude about things so that I can grow. For example, how I approach situations where I don't do well."
Pretend I'm an incoming freshman. What advice would you give me?
"Don't seek out opportunities or wait for them to be handed to you. Just make your own. There are so many things in the world out there that you're capable of doing. You have to tap into it and see what you can do. Having a B on one test isn't the end of your career; there's so much more that matters than just studying."
Your  goal in life.
"I wanna go into the medical field. It's important to me that I do research and work clinically or work directly with people, because that way, I'm sure that whatever I'm trying to develop in the medical world applies to the communities that need it most. 
Anisha is an outstanding performer, not only when it comes to school but her as a person. It's my first year meeting Anisha, and I'm open enough to share anything with her. She is a hard worker, and though she makes it look effortless, it's tiring work. However, I know that Anisha can rise above the challenges presented to her, whether now or in the future. Anisha's passion and tenacity champ all struggles. I wish her luck on her journey beyond high school, although I know we know she doesn't need it.
Leave a Comment
Donate to Enloe Eagle's Eye
Your donation will support the student journalists of Enloe Magnet High School, allowing us to cover our annual website costs. We are extremely grateful for any contribution, big or small!
About the Contributor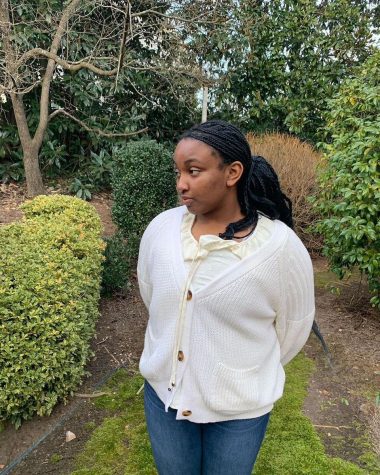 Vivian Njoroge, Graphic Designer and Publicist
(She/her)

Vivian is a junior this year and it's her second year on the Eagle's Eye Staff. Her favorite things to do are creating graphics for her friends...