From Enloe to the Oscars: An Interview with Rafiq Bhatia
During his musical beginnings as an Enloe student, artist Rafiq Bhatia of the experimental rock band Son Lux could have scarcely imagined the momentum with which his life and career have accelerated. With the group nominated at the 2023 Academy Awards for the film score of Everything, Everywhere, All at Once (EEAAO), the rhythms of Bhatia's band now make up the fabric of Oscar history. 
Raised in Raleigh, N.C. as a first-generation East African Indian, Bhatia grew up listening to genres ranging from rap to Ginan acappella renditions. He has released three solo albums throughout his career including Yes It Will, Strata and Breaking English. In 2014, he met with drummer Ian Chang to create Son Lux before expanding into a trio with fellow artist Ryan Lott. Since 2015, the Academy Award and BAFTA-nominated band has toured six recordings, continuously drawing inspiration from hip-hop and soul artists to create a uniquely intimate sound.
These accolades have culminated in their career taking a turn after the group was selected to record the musical score for the 2023 Oscar-sweeping film EEAAO, directed by Daniel Kwan and Daniel Scheinert. It features collaborations with Mitski, Randy Newman, Moses Sumney, and other widely-celebrated artists.
In an interview with members of The Eagle's Eye staff, Bhatia shares how his experiences at Enloe and beyond have shaped his musical career and the unique sound that Son Lux brings to the EEAAO score:
This interview has been edited for length and clarity.
How did your time at Enloe impact your experience with music and life in general? What did Enloe mean to you? 
"It's difficult to express this answer succinctly because Enloe had such a big impact on me and my time at Enloe really was formative in so many ways. I met friends and collaborators there that I still work with to this day; some of them [Jackson Hill and Chris Pattishall] were involved in the score for this film. I learned how to play the guitar while I was at Enloe. My fascination with improvised music and jazz began while I was at Enloe. There were all these musical firsts and important moments that took place while I was in your shoes, basically.
There were also a lot of things that are less apparently connected to the technical aspects of my job that came from being a student at Enloe. Things like critical thinking, curiosity of the intellect, recognizing and appreciating difference- expressing hybridity, in a personal sense- and embodying many different aspects of yourself that may feel like many different universes sometimes. I don't know what higher praise or deeper thanks I could give to the school, to the faculty and staff, to my peers who were there with me because it really was life-changing. I can't imagine what my life would be like if I hadn't happened to be zoned into Enloe. I probably wouldn't be doing what I'm doing right now."
In terms of your involvement with Everything Everywhere All at Once (EEAAO), how do you feel like music can uniquely shape and impact films? What is that relationship like?
"Music has the power to totally upend or re-contextualize your perception of or your engagement with what you're seeing on screen; it really is like a secret weapon in a filmmaker's arsenal. In a film like EEAAO, it had a very specific task, which was to help the viewer keep track of what universe you're in. This was something that 'The Daniels', the directors of the film, recognized before they even called us. 
They needed many, many different universes of sound that almost seem like they're not related to each other at first, like flipping channels on a TV. As composers, we needed to reconcile all of [the different universes] sonically into something that coheres as the story does and helps deliver the emotional punch of the story."
 Lastly, what does this Oscar nomination mean to you and what is next? What can we expect from you guys?
"It means a great deal. First of all, I wasn't aware of this until it happened, but you're nominated by the branch of the [Academy of Motion Picture Arts and Sciences] that represents the work that you do. So it was our peers in music and sound who nominated us, and that's a huge vote of confidence coming from folks that do work like we do and understand what that work is. 
When I was Enloe, I never thought that making music was a viable career path. I never thought that this was something that was available to me, and part of the reason why is because I never saw anybody that looked like me doing this or getting recognized for it. It's [recognition and representation] been very few and far between. So it's also just a cool thing to imagine that there might be people out there who are thinking about this, or for whom this might be a door opening or like a path being illuminated just a little bit more. To me, it's a life-changing thing and I'm sure that it's going to mean that I get to do more things that are really fulfilling, but it makes me emotional to think about what it might mean for somebody else."
Leave a Comment
Donate to Enloe Eagle's Eye
Your donation will support the student journalists of Enloe Magnet High School, allowing us to cover our annual website costs. We are extremely grateful for any contribution, big or small!
About the Contributors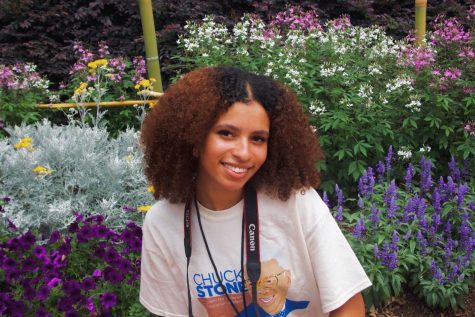 Ava Wharton, Staff Writer
(She/her)
Ava is a first-year member of the Eagle's Eye staff! When she's not reading obsessively, doing yoga, or decoding Jordan Peele films, you might...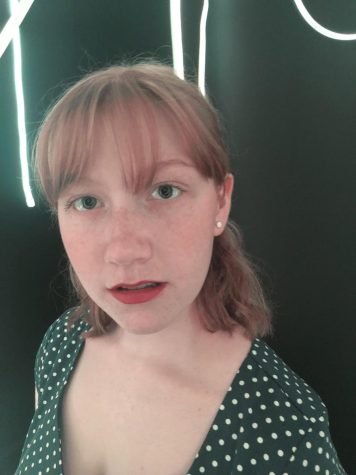 Sam Heyl, Opinion and Creative Writing Editor
(She/her)

Sam Heyl is a senior excited for her second year on the Eagle's Eye! She lives and breathes animation and any/all creative writing. When she's...