Reliving the Good Old Days
Now I'm what some might consider a saver of sentimental things. To others, I'm just a hoarder. But cue Simple Plan's "I'm Just a Kid" blasting through your MP3 player, because the time is now to travel back in time to the days where TikTok was just a song, and what brought the most anxiety was waiting to see if Perry the Platypus could find some way to make Dr. Doofenshmirtz's newest –inator self-destruct. Back to the good old days where safety seemed to be your last concern as you bolted through your front door on the boiling hot cement with bare feet in the middle of summer with no adult supervision. Need to find ways to rediscover your inner child? Look no further! Here's ten ways to rediscover life as a youngeon, and give your imagination a use that isn't just imagining life where we thought the Cats movie would be the worst thing to happen all year. 
1. Rewatch every DCOM ever made
With the help of newbie streaming service Disney+, the world is your oyster when it comes to Disney Channel Original Movies. Even with a seven-day free trial, that gives you 168 hours of watching time. And with a rough average of each DCOM being 90 minutes long, that's 112 movies you can watch before you have to create another email for another free trial, just to watch even more. 
2. Play your D.S. (That you stole from your older sibling because their stuff was somehow always better than yours)
Feel the wind not blowing in your hair as you race the tracks in the ultimately superior MarioKart (better than any mere app) where a circle imprinted itself onto your hand after every race, or enter a chat room completely for yourself so you can color the entire box black just to erase some of it so it looked like white font on a black background. Either way, have a blast on the completely-covered-in-old-stickers D.S. while your older sibling screams from downstairs that he's lost it. 
3. Play your recorder
No achievement has yet to dare feel as amazing as receiving a black belt in Recorder Karate for playing "Ode to Joy", so rip out that cheap piece of plastic that probably cost you way more than it should've, and play until your parents realize it's you playing and not your cat dying of loneliness.
4. Channel your inner Picasso with sidewalk chart
We all have different ways of expressing ourselves through chalk art. Whether you were the kind of person to create a full-fledged portrait in the middle of your driveway like Mason from Wizards of Waverly Place, gut-wrenched when your parents "ran over" it with the car leaving the house, or simply drew a straight line back and forth until it made "fairy powder" and you blew it away only for the wind to blow it right back into your face, you deserve to let out all your negative emotions. The sidewalk/driveway/middle of the street is your canvas!
5. Grab your crayons and scribble to your heart's content in your nearest coloring book
Don't like the outdoors? Don't want chalk up and down your arms, legs, face, and on your clothes? Grab a coloring book! Or print out some coloring images online, and remember that the lines are but a mere suggestion. There are no bad artists, just people with no imagination.
6. Plug in your iPod Touch 1st Generation, blast One Direction, and hold a concert for your stuffed animals and pets
Even though many artists may have stopped going on tour and having concerts doesn't mean they have to stop happening. Close your eyes, and picture yourself anywhere in the world that isn't your bedroom, surrounded by people who aren't blood-related to you, and scream out for the world to hear. And your neighbors will surely love it (and you) as well.
7. Cut off the circulation to your hand with your Rainbow Loom
Fishtail and Starburst and Gumdrop, oh my! Use careful precision not to snap any bands after spending 2.5 hours on a bracelet you'll never wear because you didn't measure it properly and it'll only fit on your pinky finger. But don't let that stop you from creating enough where the ratio of skin to rubber band bracelets is a solid 1:1. 
8. Preserve the times we're in with a paper bag scrapbook
Grab some paper bags, fold them in half, hole punch at the creases, pull a ribbon through and bam! Homemade scrapbook. The options for use are endless, so fill it with your pen-pal letters, Google Meets selfies with your friends that they didn't know you were taking, or diary entries that read, "today was just like yesterday." Remember this time of historical importance by creating your own scrapbook. You'll know it will come out well when you finally find that one color that looks good with brown that isn't black or white. 
9. Play "Dress Up" with every article of clothing you own
All your Amazon orders must be put to use! Strut down the runway that is all around your room, striking a pose right behind the door, hoping a family member will not come in and break your nose. Pair unlikely colors together, mix patterns, wear socks with sandals, the sky is your limit! Don't forget to set your self-timer phone camera to flash so you can feel just like your everyday celebrity. 
10. Take a nice, long, wonderful nap
Whoever said that naps were only for babies and toddlers were terribly mistaken. The times being what they are, sleeping the days away may not be the worst thing. Since you can't escape your house, why not escape reality? Even just for a little bit.
Leave a Comment
Donate to Enloe Eagle's Eye
Your donation will support the student journalists of Enloe Magnet High School, allowing us to cover our annual website costs. We are extremely grateful for any contribution, big or small!
About the Contributor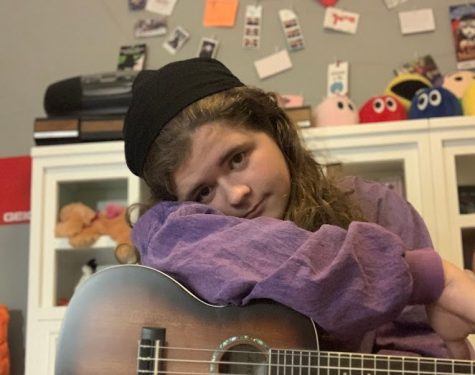 Gwen O'Connor, Co-Editor in Chief
(She/her)

Gwen is over-the-moon to be back in school for her senior year, and to be Co-Editor in Chief of the Eagle's Eye! Her favorite topics to write...