What the Olympics Have Taught Us About Athletes' Mental Health
Viewers are shown the magnificent feats of the human body as top athletes from around the world gather to compete at the Olympic games. Yet as we marvel from the comfort of our living rooms, what we don't see are the surmounting levels of practice, pressure, and stress behind the scenes. Each Olympian carrying a winning medal is also carrying their mental health, an aspect of sports not often discussed alongside each headline of their record-breaking talents. 
The pressures of being an athlete are already considerable given the time, emotional, and physical commitment sports require. Athletes for Hope, a non-profit organization dedicated to supporting athletes, reports that roughly 35% of professional athletes face mental health struggles such as "stress, eating disorders, burnout, or depression and anxiety." Key aggravators of mental health issues among professional athletes are "social media scrutiny and ongoing competitive pressure to perform" — factors that are exacerbated during the Olympic games due to immense media coverage. 
The topic didn't receive worldwide attention until the 2021 Olympics Games when USA gymnast Simone Biles pulled out from the individual all-around competition for mental health reasons. Biles faced significant backlash from US conservative media sources, being called "selfish" and "a shame to the country." One US talk show host said, "Simone Biles just showed the rest of the nation that when things get tough, you shatter into a million pieces." Yet the majority of American media showed support for Biles and noted the important mental health conversation. Simone later explained that she was experiencing the "twisties", a temporary condition in which the gymnast feels disoriented and out of sync with their body. Simone's prioritization of her mental health sent an important message to Olympic athletes, a topic that was recurrent throughout the 2022 Olympic Games.
Mikaela Shiffrin, an American two-time Olympic gold-medalist skier, made headlines during the 2022 Olympics as she stumbled on the slopes resulting in "Did Not Finish" for three of her events. Shiffrin expressed her confusion, stating, "I was just skiing, and it still didn't work. I don't have a really good explanation for it." Cognitive scientist Sian Beilock commented that most Olympic athletes "rely almost entirely on physical memory and repetition, rather than conscious thinking." When under extreme pressure, these athletes can face an "out-of-body experience" of "choking out" where they don't feel in sync with their bodies. What's more, Shiffrin reported feeling relaxed and focused before performing. Even when these athletes are feeling mentally well, the immense pressure of the Olympics can cause a disconnect between what they want their bodies to do, and what actually happens. 
Russian figure skater Kamila Valieva also appeared in the 2022 Olympics headlines after she tested positive for banned performance-enhancing drugs, and faced immense global criticism for still being allowed to compete. Her free skate following the scandal was filled with stumbles and falls, notably uncharacteristic for the skater. NBC skating commentators Tara Lipinski and Johnny Weir, who were adamant that Kamila should not compete, noted her pained expression and crying following her free skate: "I can't imagine how tough this has been on Kamila [..] she's the one now dealing with the consequences and she's just 15." Eteri Tutberidze, one of Valieva's coaches, hit her with harsh words following her performance, saying, "Why did you stop fighting? Explain it to me, why? You let go after that axel." 
The issue with many understandings of Olympic athletes and their mental health is the lack thereof. Tutberidze's reaction to Valieva's falls is built upon the false assumption that if she had simply "tried harder", she wouldn't have fallen. But as we have seen with athletes like Mikaela Shiffrin and Simone Biles, sometimes mental health can overpower what they want their bodies to do, no matter how hard they try. As put best by Simone Biles, "physical health is mental health", and it would do good for audiences, coaches, and athletes alike to keep this ideal central to the Olympic games. A more widespread understanding of this relationship is imperative to the well-being of athletes. We spend so much time putting these athletes on a pedestal — it's time we see that despite their extraordinary talents, they are still ordinarily human, and should be treated as such.
Leave a Comment
Donate to Enloe Eagle's Eye
Your donation will support the student journalists of Enloe Magnet High School, allowing us to cover our annual website costs. We are extremely grateful for any contribution, big or small!
About the Contributor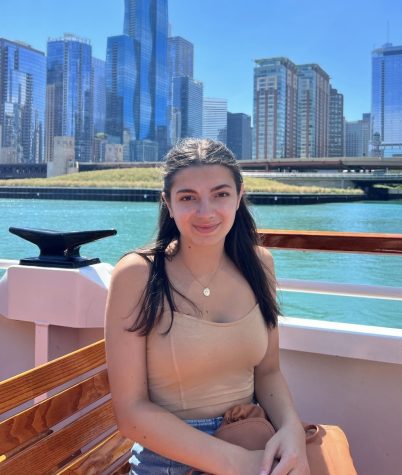 Olivia Metelo, News Editor
(She/her)

Olivia is a senior and is so excited to be the News editor for the Eagle's Eye this year! She's very passionate about politics and current...