Enloe Skateboarding Spotlight
Do a kickflip! 
Skater or not, you've probably been affected in some way by the prolific culture of skateboarding. But despite the prevalence of this culture, many are often intimidated by the in-group, gatekeep-y stereotypes of skaters. Enloe's very own skate club is challenging that convention by building a fun and welcoming community.
"The purpose of Enloe Skate Club […] is to bring the skating community together, especially at Enloe," says Adrian Mangano, a junior and founding member of Enloe Skateboard Club. "Then also there's a broader outreach to Raleigh."
Club meetings are held in Room 603 on the first Thursday of each month which serve as a space for students to organize events and discuss skating and the broader culture surrounding it. They also hold occasional off-campus events for volunteer and recreational purposes. 
Adrian highlighted an example of the club's community outreach in collaboration with local organization Skate Raleigh: " Unfortunately, there is not yet an official skate park in Raleigh, so much of the skating community's efforts have been focused on bringing one to the city. They've been working to create a skatepark in Raleigh, so Enloe Skate Club has kind of been working with volunteering hours through that." 
The club was recently featured in a WRAL segment highlighting their community engagement efforts. "I thought we were featured pretty well in the interview; it kind of showed what skate club is about and WRAL is really good outreach to people. It helps out a lot," says Mangano. 
Though they were featured for their volunteering and outreach efforts, Adrien also wanted to reiterate that the club is primarily for Enloe students to come together to learn about, discuss, and practice skating. "They kind of focused on the fact that we're helping out a lot [in the broader community] where it's more an Enloe thing." says Max Culbreth, another club member. "But we do [certainly] help other communities."
Something else they wanted to reiterate is that the club is intended to be as open and welcoming as possible, in contrast with the common stereotype of skaters as a very insular community of gatekeepers. "I think as we expand the skate club, we [will] get more people, it'll be a lot better," says Max. "It's nice to meet new people and skate."
Adrian adds, "We could always use more people, it's a very inclusive open club for everyone, and we're constantly adding more to it, tweaking stuff, and making it better."
In the interview I asked if you had to know how to skate to join, to which they all replied "No!" 
"Half the people don't skate," said Max
"Yeah, and obviously people will learn," Adrian added. 
They mentioned that skating is not just about the actual art and practice but also about the broader culture around it. The club hopes to bring people together who are interested in that culture, while helping them to learn and hone their skills along the way. 
To close out our interview, I asked the boys what their favorite memory from skating was. Lucas Sollecito spoke up, "One time, I ran over a kid who got in my way."
"Maybe don't include that," the others said.
Leave a Comment
Donate to Enloe Eagle's Eye
Your donation will support the student journalists of Enloe Magnet High School, allowing us to cover our annual website costs. We are extremely grateful for any contribution, big or small!
About the Contributor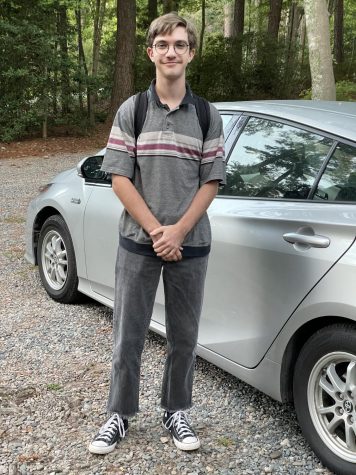 Owen Lockett, Staff Writer
(He/him)

This is Owen! He's an aspiring musician, an amateur skater, a middle child, a JBrekkie enjoyer, and a staff writer for the Eagle's Eye. Owen...