Video Inspires Tank Top Protest, Hundreds of Enloe Students Participate
Here's a fact: If you have ever been accused of violating your school's dress code, you're 83% likely to be a girl. On Wednesday, September 8th, a video began to circulate around social media of an Enloe student getting confronted by an administrator about her clothing. The post went viral throughout Wake County, receiving almost 6,000 likes on Instagram. In the video recorded by one of her friends, the girl that was confronted is seen wearing a one strap tank top, jeans, and sandals. The comments were filled with people apologizing and disagreeing with the way the administrator handled the situation. The girl who posted the video was contacted by the Eagle's Eye but did not respond to our message.
Both Mrs. Parrish and Dr. Jordan want to make it very clear that no punishment regarding the dress code has been given to any students.. When asked about her opinion on dress codes in general, Mrs. Parrish said, "Our focus as an admin team has not been what you're wearing. We understand that students have their own fashion… As far as our focus, what we want for the students at Enloe is we want you to be safe, we want you to be in class, we want you to be learning and we want to prepare you for life." Both administrators said that they thought the protest on Friday was handled very well, with the student body's point still being made. 
If you spend any time watching Netflix or scrolling through social media, you've probably already heard of people protesting against their school's dress code. Shows and movies like Moxie and Grand Army both feature main characters who challenge dress code. Just last week, Sophia Trevino, an 8th grader from Georgia, was penalized on her first day of school for a rip in her jeans. She and her friends started wearing shirts that said "Dress Codes are Sexist, Racist, Classist," and the movement immediately gained national attention. Demonstrations like these are gaining popularity among teenagers, and they seem to be making a significant change in many schools. 
When Liona Stebbins, a sophomore at Enloe, came across the rapidly circulating video, she immediately felt sympathy for the girl who posted it. "I really felt like the action the administration took and the language they used was unjustified considering how the girl acted and what she was wearing. I was filled with fury and wanted to do something productive with my anger," Liona said during an  interview. Liona, like many other girls she knows, has been dress coded many times over the years. These infractions started in elementary school and have been going on ever since. 
The video greatly impacted Liona. That afternoon, she decided she wanted to organize something in protest of the dress code. The picture she posted on Instagram was simple: a pink background with text describing her irritation toward the targeting of the girl for the way her body looked and what she wanted to do about it. "If her body wasn't [as curvy] they wouldn't [have] dress-coded her, they're playing pick and choose with enforcing dress code. Everyone wear a tank top on Friday 9/10 to protest the sexist dress code." 
Over the next 48 hours, the post gained a considerable amount of attention. It has received more than 1,000 likes and an outpour of support from people experiencing the same frustration. Liona did not expect so much support from her peers. She even got encouraging messages from people who didn't go to Enloe. "I've even inspired people at other schools to do the same thing, which is really motivating." However, Liona did receive some negative comments "mostly from men who are stubborn and sexist." She believes that the reason for the opposition to her message is "they've never experienced being pulled out of class for what they're wearing and missing out on lessons. They have no idea what that feels like… they don't totally understand the emotional part that this is being driven by."
When asked how people can show solidarity to people who are unfairly approached by teachers because of their clothing, Liona urges people to say something in the moment it's happening. If you aren't comfortable with that, reaching out to the person who was confronted and expressing your support can do wonders. 
On Friday, students started the morning off with posting their tank top pictures under the hashtag #EHSresist. Many students could be found wearing tank tops, crop tops, the color red (the color of revolution, as Liona put it), or had hearts and stars drawn on their hands. The hearts and stars were a reference to the movie Moxie, one of Liona's inspirations. Backpack tags were made by Aliya Hosfelt, another Enloe student who felt the same need for change. Students of all genders showed off skin. Seamus Scranton, an Enloe sophomore, borrowed his sister's spaghetti strap tank top to participate. "The dress code bias and who it affects is not a positive influence on the students." he said. 
The Wake County dress code policy promises that "This policy is to be applied fairly and consistently without regard to race, gender, or other inherent traits or characteristics." Many students believe that the school system has done a subpar job when it comes to sustaining this. Elizabeth Ryan, an Enloe student and protest participant expressed that "primarily, dress code tends to outcast female students and make them feel ashamed of their bodies rather than proud of expressing themselves. It also tends to lean more towards people of color and larger girls which I think is… not particularly great" 
Lots of people said that they felt proud and happy to see so many people come together for one cause. Sophomore Stella Knott exclaimed that "I'm so glad that we're doing this protest and I'm glad that the school accepted that it was happening." Kaela Gottlieb, another participating student, said "I feel like it's definitely bringing our class as a whole together around a common cause and problem that we're facing." Many students said they felt proud of their generation and the way they bring change to their community. As Liona put it, "I'm really excited about the change that this is going to implement on Enloe for a really long time. Because of the message we're sending to administrators and teachers I think this is going to have a lasting impact on how teachers view what their students wear".
Sources: https://www.wcpss.net/domain/50
https://boardpolicyonline.com/bl/?b=wake_new&s=622447 
https://www.nytimes.com/2021/09/04/us/politics/mask-dress-code-protest.html 
https://www.firstcoastnews.com/article/entertainment/television/programs/gmj/public-records-disproportionate-dress-code-violations-female-students-st-johns-county-schools/77-a2bd2163-f28d-427b-9815-7e9b8b5c8cd1  
View Comments (1)
Donate to Enloe Eagle's Eye
Your donation will support the student journalists of Enloe Magnet High School, allowing us to cover our annual website costs. We are extremely grateful for any contribution, big or small!
About the Contributor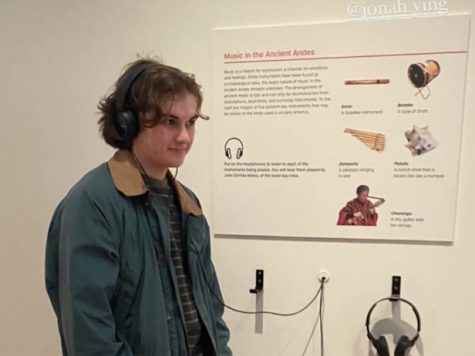 Jonah Yinger, Arts and Entertainment Editor
(He/him)

Jonah is relieved to be back on the Eagle's Eye after his summer corralling second graders. He is a junior and this is his second year on the...