Dante Mobley: Athlete of the Week
Friend, activist, leader, student athlete—these are all words that can be used to describe Enloe senior Dante Mobley. When it was time to select our very first Eagle's Eye Athlete of the Week, our team of sports journalists quickly agreed that Dante was the right person for the job.
Throughout Dante's four years as an Enloe student, having the opportunity to be a member of the soccer program has been one of the most fulfilling, rewarding experiences of their life. During their freshman year, Dante was a member of Enloe's Junior Varsity soccer team, and for the past three seasons, Dante has been a member of the varsity squad. The student athlete Dante was as a freshman is not the same student athlete they are now. Over the course of their four years at Enloe, Dante has grown into someone that they are proud of today, much like the Enloe soccer program.
When asked how the Enloe soccer program has evolved over the course of Dante's four years, they said, "I think the biggest change I've seen in the program is how much stronger the team camaraderie is now compared to when I was an underclassman. I feel like this year's team especially has been a really special environment. The spirit is there. The friendships are there. It's just been a really nice experience."
We all know that Enloe is a diverse school. There are students in every class from different cultural backgrounds, with different sexual orientations and religious beliefs. This is what makes Enloe such an amazing school and community to be a part of, according to Dante. We asked them how the soccer team makes it a priority to be inclusive of all players, and they spoke from the heart: "To be completely honest with you all, I did not feel like the Enloe soccer program was where it should have been regarding the acceptance of all players during my years as an underclassman. And that was hard. That was really hard. But, 2020 really changed us. Every single one of us. Now, the soccer program has really evolved to a place where I don't feel ostracized as being openly gay. I have a place on the soccer team. The team knows that I have so much to contribute both on and off the field. And that's really special. That's a really good feeling to have. The soccer team has really stepped up in being a part of the inclusive Enloe community. And I am really proud that I got to witness this take place right before my eyes."
Dante Mobley is so much more than an athlete. Dante Mobley is a star student. Dante Mobley is an activist who fights for social equality. Dante Mobley is the Enloe senior class president. But above all, Dante Mobley is a human being. They are stressed about college applications coming sooner than they would like to accept. They (occasionally) procrastinate AP English readings. They can't help but have weekly mental breakdowns in the senior lot while blasting Taylor Swift break up songs. When asked about managing being an Enloe student as well as an Enloe athlete, this is what they had to say: "It's definitely difficult, you know. There are quite a few late nights. But at the end of the day, It's all worth it. It's a really good feeling knowing that you are a part of a team, a family, something bigger than yourself. And that is exactly what the soccer team tries to embody."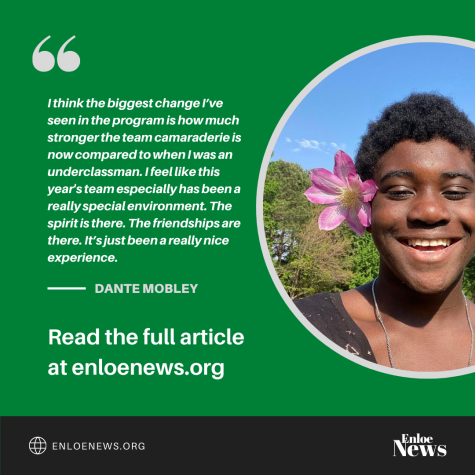 If you follow Dante on social media, you know that they fight for what they believe in. Dante Mobley is an activist. They marched in solidarity with other Enloe students during the George Floyd protests. They demanded that their voice and others were heard during the climate change protests. And earlier this month, Dante was a leader in the Enloe student-led protest regarding dress codes. We wanted to know how Dante's activism, their inability to remain silent on the issues they are passionate about, coincides with their role on the varsity soccer team and as an engaged Enloe student. They said: "For the longest time, I feel like there's been a way that things are usually traditionally done regarding school and school sports. And I guess my existence sort of seeks to disrupt that. I feel like my willingness to stay true to my authentic self has created an environment that is accepting of all different types of student athletes here at Enloe."
Dante Mobley has spent the past four years changing the culture of the Enloe soccer program and being a leader for the Enloe student body, but they are now a senior in high school. They have one year left. One last chance to leave their mark on a school that has helped them to become the vibrant, loving, charismatic person they are today. When we asked Dante what they wanted to achieve this year, their last year of high school, they said: "I know this might sound cliche, but I couldn't care less. I just really want this last year to be memorable for everybody. I want to make sure that no one feels left behind. We are living in incredibly hard times right now. And I know that it's easy for students to feel like they're no longer wanted. It's easy for students to feel like they're no longer needed. I want to make sure that students always have a space to decompress and stay involved in the Enloe community. This school that we all go to has so much to offer each and every one of our students, and it's my job to make sure that no student gets left behind." Seniors, that's your class president talking right there. 
When asked specifically about their goals for the soccer team this year, Dante said, "I think we have the potential to really be something this year. Something more than just a group of guys who play soccer after school. I think that we can really take the Enloe soccer program to the next level this year. And I'm really excited for what's to come."
Dante Mobley is your Eagle's Eye student athlete of the week. Next time you see Dante in the halls, dap them up. Tell them you read this article. Ask them about it. Learn more about who they are. Share a little about who you are. Oh, and make sure to pull up to the nest next Monday as Dante and the varsity squad take on Sanderson.
To Dante – Thank you so much for helping us get this new segment of Eagles Eye sports up and running. We really could not have done this without you. Thank you for being real. Thank you for being vulnerable. Thank you for being you. 
Leave a Comment
Donate to Enloe Eagle's Eye
Your donation will support the student journalists of Enloe Magnet High School, allowing us to cover our annual website costs. We are extremely grateful for any contribution, big or small!
About the Contributor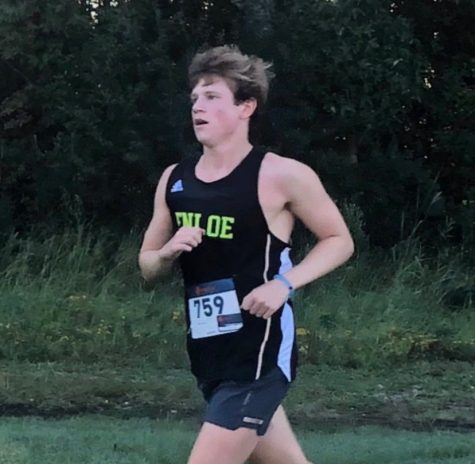 Jesse Gordon, Sports Editor
Jesse Gordon is currently a senior here at Enloe. When not writing, he enjoys watching the NBA and the NFL, along with collegiate sports. Jesse is extremely...