A Guide to the Best Halloween Programs on Streaming Services
The season of fall has always been one of opening up the windows, and letting the brisk, cold air into your bedroom while you cover yourself up with your favorite sweatpants and blanket. And while some sweatpants and a blanket have been your everyday wardrobe for the last six months, now you have an excuse: the Halloweens season. Each year, the platform of streaming services increases its portfolio of watchable programs, and now those listings are filled to the brim with Halloween, or Halloween-inspired movies and televisions, some services pulling out all the stops to offer customers a treat this year, since we're all so tired of the tricks. 
Since its release in November of 2019, this will be the first Halloween season with Disney+ as an available streaming service. With iconic films such as the Halloweentown series, Girl vs. Monster, and Twitches making an appearance on the platform, viewers can dive back into the days when those movies graced the small screen for the first time on Disney Channel. For those with more…blockbuster expectations, Disney+ also has the truly classic Hocus Pocus, the Nightmare Before Christmas, and Haunted Mansion, for a family-friendly adventure. What Disney+ is missing, however, is a guide to the Halloween-themed episodes from their multitude of shows that crossed their channel. With holiday events such as Monstober, What the What?, and the Whodunit? weeks, Disney channel is bursting to the brim with those episodes that would only rerun once a year, and there is no easy way to find those episodes without searching them up yourself. Disney+ gets a solid 8/10 for their Halloween portfolio. 
Those with Hulu accounts most likely already know that it's not the hotspot for the biggest cinematic classics throughout the years, but there are a numerous amount of mediocre Halloween-themed movies to kick you into the Halloween spirit. A few standouts include A Quiet Place, the Cabin in the Woods, Pet Sematary, Child's Play, and Children of the Corn. With a whole category on their homepage cutely-named "Huluween", Hulu is missing out on the classic Halloween movies, and focuses more with quantity over quality. But what they lack in movie selections, they make up for just the smallest bit with their average television selections. With the reality baking show, Halloween Baking Championship, and American Horror Story, Sabrina the Teenage Witch, and Scream Queens, also including the masterpieces that are the Halloween Heist episodes in Brooklyn Nine-Nine, Hulu has just enough to get you in the spooky spirit, but won't keep you there very long. Hulu gets a stable 4/10. 
Amazon Prime will always be the copycat that thinks it stands among the other streaming services on this list, but sadly, falls short. Not only does it force customers to pay for movies on a service they already pay monthly for, but also doesn't even offer much content worth paying for. Disclaimer: Many of the selections mentioned hereafter are not included with a Prime membership. After relentlessly searching for 15 minutes, since there is no "Halloween" category, I managed to find the Halloween (Michael Myers) series, Hocus Pocus, Corpse Bride, Addams Family, Beetlejuice, Casper, Blair Witch Project, E.T., and Happy Halloween, Scooby-Doo!. Many of these films mentioned are available for free with other streaming services, making Amazon Prime less than exciting for Halloween-watching adventures. Amazon gets a 3/10, less than Hulu, for the fact that while their content may be better, paying customers have to pay more, and the movies are near impossible to find. 
The last two need no further introduction, as they are quite well-known as the holy (or more ghouly) grail of quality content: Netflix and HBOMax. HBOMax does not meet up to the standards of what one might consider a "classic Halloween" movie, but does have many with thrilling, or even scary, themes, including Annabelle Comes Home, It: Chapter 2, Ready or Not, the Conjuring 2, Final Destination 5, Piranha, Night of the Living Dead, the Aliens series, and the Jaws series. HBOMax does fall short on containing the originals to many movies with sequels, such as having The Conjuring 2 without the first one, along with the four previous Final Destination movies. And has little to no television content. I was slightly disappointed with the HBOMax selections I managed to find, but the movies they have are some of my favorites, so they get a 6/10. 
Netflix rarely fails to disappoint, and it certainly didn't now. Before even scrolling all the way down, I managed to find numerous Halloween-themed titles to watch on any small screen with a subscription. These titles include, but are not limited to, The Addams Family, Goosebumps 2, Insidious, Hush, Sinister, Cult of Chucky, Poltergeist, and It Comes at Night. Not only that, but Netflix also is the clear standout for bingeable Halloween-esque television, with American Horror Story, Chilling Adventures of Sabrina, Stranger Things, the Haunting of Hill House, The Vampire Diaries (and all spinoffs), and A Series of Unfortunate Events. Netflix gets a very solid 9/10, because it is missing two masterpieces: Ghostbusters, and It's the Great Pumpkin, Charlie Brown!. 
Just because you may have spent the last six months lounging around in holiday-themed pajamas doesn't make this upcoming spooky season any less significant and enjoyable. Whether you dive into the whimsical side of the creepy holiday, enjoying Twitches and Halloweentown, or full-fledged fearing for your life, choosing instead to venture with American Horror Story and It, there's always something to float your boat. After all, we all float down here.
Leave a Comment
Donate to Enloe Eagle's Eye
Your donation will support the student journalists of Enloe Magnet High School, allowing us to cover our annual website costs. We are extremely grateful for any contribution, big or small!
About the Contributor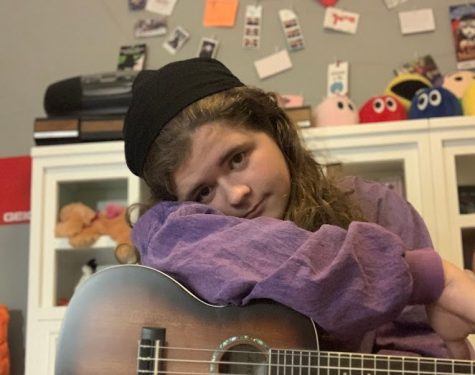 Gwen O'Connor, Co-Editor in Chief
(She/her)

Gwen is over-the-moon to be back in school for her senior year, and to be Co-Editor in Chief of the Eagle's Eye! Her favorite topics to write...