Little Guy Takes On the Big Apple
If you're anything like me, a trip to New York City is awfully enticing. My interest peaks when you compare it to inconsistent black ice warnings and that special Yuletide surge in advertisements for Baptist Churches, both integral parts of the North Carolina Winter Experience. When my family got the opportunity to spend Winter break in NYC, I was eager to get out of the Bible Belt on my first real vacation in just under two years. 
 After enduring the numerous hurdles of air travel, including a TSA officer who flirted with my mom and a flight with not one snack in sight, I finally made it to NYC all in one piece. On our first night, we marched down to the Stardust Diner. College-age theatre kids flock to this restaurant after they have somehow obtained the means to travel to Broadway and get rejected. Instead, they dance on the tables of a crowded diner every night, much like Rachel Berry in season four of Glee. I don't know how places like this would stay in business if the world was full of curmudgeons like me, so I assume some people thoroughly enjoy this place. After stuffing my face with food served to me by someone whose life goal is to be the next Matthew Morrison, I made my timely escape to St. Patrick's Cathedral. Don't get me wrong, I'm not religious, but the architecture in traditional chapels just about makes me think I'll see the pearly gates one day. You can't possibly have too many gargoyles. 
The next morning, we hopped on the subway with our next stop in mind. The Stonewall Inn was my most anticipated destination on our entire trip. We took a seat across the street at the Gay Liberation Monument while we waited for the bar to open. Statues of two queer couples gabbing surrounded by plaques explaining the importance of the Stonewall uprising and the gay liberation movement sit in the center of the park. I relaxed here with my dad for a stretch and took in the ambiance while the old gays across the way slow danced to the Jackson 5. 
Once we were allowed in, a rush of misplaced nostalgia came over me. I was only permitted to be in the bar for a few minutes before the day-drinkers entered, so I tried to take in as much of my surroundings as possible. The walls were covered in pride flags for almost every identity you could think of, along with framed snapshots of protests in the early years of the LGBTQ rights movement. With only one window to provide sunlight, fairy lights illuminated the inn and its dark wooden furniture. My favorites were a newspaper clip from 1969 that read Homo Nest Raided, Queen Bees Stinging Mad as well as an original police barricade sign.
That same night, my family boarded a charter bus to Brooklyn. Our destination: the Dyker Heights Christmas light tour. This expedition was really convenient as we got to see many of the notable New York City landmarks without having to get our lazy tuchuses off the Greyhound. The drawback of taking this avenue of transportation was the soundtrack. If the CIA ever wanted to get something out of me, playing Justin Bieber's Under the Mistletoe album would do the trick in the blink of an eye. Once I was out of that moving metal box that was stuffy with 2010's pop, I realized that Dyker Heights wasn't really worth what we paid. Freezing my buns off and watching the incessant blinking of thousands of colorful light bulbs was definitely something I could save for when I was back at home. 
The next day was Met day and I had been aching to live out my Ferris Bueller dreams of intently staring at art like a snoot since vacation day one. The Metropolitan Museum of Art was so huge, I don't think I could get through it all in a normal workweek, so my dad and I took the morning to look at the surrealism, instruments, American, and 19th century European exhibits. I'm a huge Van Gogh and Gustav Klimt freak, so seeing their art in person was truly amazing. 
Central Park is arguably one of the most pleasant places in the city. The mixture of the sweet aroma of Nuts 4 Nuts and the natural playgrounds that fulfill my inner child's fascination for climbable rock formations do something to me. We made our way South from the Met, indulging in artery-clogging amounts of toasted nuts and soda.
Unfortunately, I couldn't fit all of my NY adventures into one reasonably-sized piece of writing, but I tried to include my favorite and most memorable moments. What I failed to include was my dad catching COVID and giving it to half of my family! I would definitely recommend this fabulous trip to all my vacationers out there, but maybe not during the holiday surge of a global pandemic. Wear your N-95s and get vaxxed, Eagle Scholars!
Leave a Comment
Donate to Enloe Eagle's Eye
Your donation will support the student journalists of Enloe Magnet High School, allowing us to cover our annual website costs. We are extremely grateful for any contribution, big or small!
About the Contributor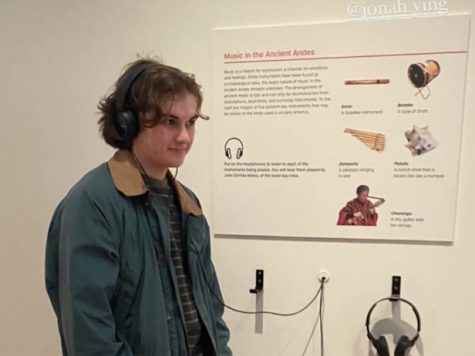 Jonah Yinger, Arts and Entertainment Editor
(He/him)

Jonah is relieved to be back on the Eagle's Eye after his summer corralling second graders. He is a junior and this is his second year on the...