The Best Places to Eat Before Charity Ball
Everyone knows Charity Ball is a chaotic night, and what better way to kick it off than with some overpriced food downtown? Whether you want a quick bite with friends or a fancy candlelit dinner with that special someone, downtown Raleigh has plenty of yummy spots only a quick walk from Marbles Kids Museum. Here is a full breakdown of some of the best places downtown to grub.
Casual
Morgan Street Food Hall (15 min walk)
Similar to a food court, Morgan Street Food Hall offers over 20 different local restaurants, from Cousins Maine Lobster, to Curry in a Hurry, to Ilya's Southern Kitchen, there's a restaurant for everyone. The food hall introduces the newer concept of 'cross-ordering'; the idea of ordering from various places and eating all in a shared space. This place is perfect for a larger party with an array of food allergies and preferences.
Transfer Co. Food Hall (10 min walk)
Transfer Co. Food Hall has a few less restaurants than Morgan Street Food Hall, but they provide more seating, especially on their second floor. They have 9 vendors including Bul Box, Che Empanadas, and Dank Burrito just to name a few.
MOFU Shoppe (4 min walk)
Another great 'sharing plate' location, MOFU is well known for their dumplings, which you can order by the basket. The owners refer to their food as "reimagined renditions of Asian Classics", making MOFU the perfect place to share some dumplings with friends.  Also if you're trying to not pay for the meal, picking off your friends' plate is the move. 
Square Burger (2 min walk)
This outdoor stand is ideal for a fast and easy food option before Charity Ball. If you're running late, Square Burger can offer you burgers, hot dogs, salads, and more just across the street from Marbles Kids Museum. An all American classic!
McDonald's (12 min walk)
Sometimes you just need what only the golden arches can provide. Although a little farther from Marbles, there is the classic McDonald's if a McFlurry or Big Mac is what you need before your big night.
Weaver Street Market (13 min walk)
A more abstract choice, but for those who hate sitting down in restaurants and want to curate their own meal, Weaver Street Market is the perfect choice. This cute little food market offers the typical organic grocery store items as well as having a prepared food section. Maybe a bag of hot cheetos is the only fuel you need, and if so, Weaver Street Market might just be the place for you. 
Fancier
Tonbo Ramen (4 min walk)
A dimly lit restaurant with a sleek black interior, perfect for those pre-CB pictures…also really good ramen as long as you don't let the broth splosh on your regal garb. 
Caffe Luna (1 min walk)
Another great photo op with floor-to-ceiling windows complimented by some fancy Italian dishes. Also with it being located across the street from Marbles, so you can watch the chaos unfold from afar.
Sitti (3 min walk)
Serving authentic Lebanese-style dishes, Sitti is a fancy yet communal location for a noble dinner. Yet, not for the picky eaters, I'm afraid.
Beasley's Chicken + Honey (5 min walk)
Excellent spot to have one of the trendiest foods, chicken & waffles, as well as some other Southern Classics such as chicken pot pie and Nashville-style hot wings.
Vic's Italian (5 min walk)
A nicer and affordable Italian option, complemented by the strung lights along the exterior street. At Vic's you can order a whole pie or pasta plate, but an honorable mention would be their garlic rolls, as they are definitely worth it, but maybe not if you have a date (bad breath, duh).
Gravy (4 min walk)
Gravy serves Italian-American at both beautiful interior and exterior tables. And yes, they do in fact, serve gravy.
Fanciest
ORO ( 6 min walk)
If you're really looking to treat your beau to a special dinner, ORO offers signature appetizers, entrees, and desserts, all encapsulated in a sleek, white, and classy atmosphere. 
Death and Taxes (6 min walk)
Judging by their name one could assume this is meant for more of the middle-aged crowd; however, Death and Taxes can cater to all your elegant and refined cuisine needs. Serving contemporary American-styled dishes, they offer what can only be described as a '"fancy" price (expensive, I mean expensive).
Poole's Diner (14 min walk)
Eating here will make you feel SO swanky and SO cool. With a 1945 retro style and very cool circular tables, Poole's serves what they call inventive comfort food at a similarly inventive price.
Leave a Comment
Donate to Enloe Eagle's Eye
Your donation will support the student journalists of Enloe Magnet High School, allowing us to cover our annual website costs. We are extremely grateful for any contribution, big or small!
About the Contributor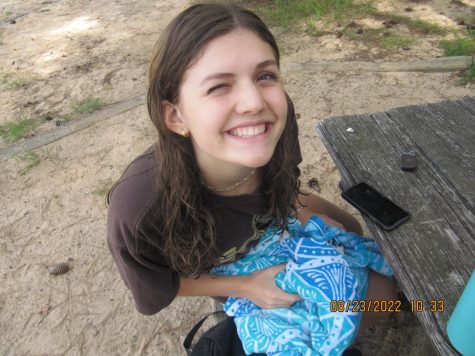 Ellie Maguire, Staff Writer
(She/her)

Ellie is a junior and is thrilled to be a part of the Enloe Eagle's Eye staff this year! When not testing how long she can hold a handstand,...