The Most Disrespected Athlete: Serena Williams
Serena Williams is one of the most influential athletes in the world. She is an Olympic champion and the current record holder for the most Grand Slam Singles Titles. Serena is as much of a champ off the court as on it, with the founding of her charity organization, The Serena Williams Fund, that helps disadvantaged people achieve their goals, which was once seen as a lost cause. Serena Williams continues to be a model for young athletes, even here at Enloe. Yet, throughout Serena's achievements, she is one of the most disrespected and undervalued athletes due to the racism she faces, such as double standards, attacks on her character, and more. When speaking with Time Magazine about her 2001 tournament, Serena emphasized how "The undercurrent of racism was painful, confusing and unfair. In a game I loved with all my heart, at one of my most cherished tournaments, I suddenly felt unwelcome, alone, and afraid."
Regardless of a great play-through by Serena or her charity work, her body is always the topic of discussion in the media. Matthew Norman is an award-winning writer for The Telegraph and in a commentary about Serena Williams, Norman wrote, "Generally, I'm all for chunky sports stars … but tennis requires a mobility Serena cannot hope to achieve while lugging around breasts that are registered to vote in a different US state from the rest of her." This sentiment about explicit racial stereotypes is not as uncommon in the sports industry as one might think. Jason Whitlock is an American sports journalist and when writing about Serena Williams, he said that "With a reduction in glut, a little less butt and a smidgen more guts, Serena Williams would easily be as big as Michael Jackson, dwarf Tiger Woods, and take a run at Rosa Parks." Like, is he making a song, or is he body shaming? (I think it's the second option).
 These are just small pieces of the comments Serena Williams gets in a day, but the ill-mannered comments never stopped Serena. When speaking with Time Magazine about her tournament in 2001, in Indian Wells, California, she said, "As a black tennis player, I looked different. I sounded different. I dressed differently. I served differently. But when I stepped onto the court, I could compete with anyone."
Serena continues to be the stepping stone for POC in sports, even influencing some of her competitors, such as Naomi Osaka, a four-time Grand Slam champion and the first Asian to hold the top ranking in singles. When talking to CBS Morning News, Osaka said, "I have this huge respect for her. It's someone that I've, you know, looked up to her for my entire life. So I still feel a bit shocked whenever she reaches out. And, I don't know. I don't say hi to her or anything because I get so nervous." Serena has made her presence felt in Naomi's life, and also in some of the lives here at Enloe. A current Enloe tennis player said that "She sets the standard for tennis, and her mentality is inspiring." 
Serena has been through horrible attacks on her name and is in constant battle with the media. However, the love and support from her fans keeps her constantly motivated. So as Serena becomes one of the greatest tennis players, she continues to be the stepping stone for POC in sports. The next time you play a sport(or in general), and you feel discouraged, just remember what Serena says, "A champion is defined not by their wins, but by how they can recover when they fall".
Art by Chunk Styles/Graphic
Leave a Comment
Donate to Enloe Eagle's Eye
Your donation will support the student journalists of Enloe Magnet High School, allowing us to cover our annual website costs. We are extremely grateful for any contribution, big or small!
About the Contributor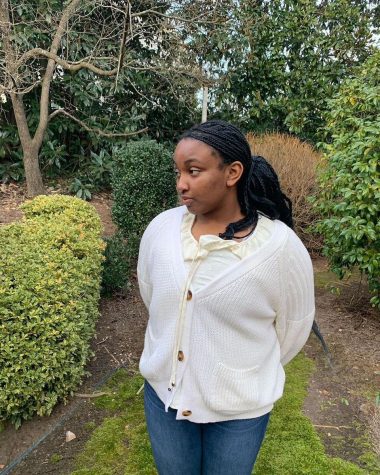 Vivian Njoroge, Graphic Designer and Publicist
(She/her)

Vivian is a junior this year and it's her second year on the Eagle's Eye Staff. Her favorite things to do are creating graphics for her friends...