Crossfire: What is the Power of the Runway?
The Power of the Runway 
If you are interested in fashion, you are probably familiar with The Devil Wears Prada, a pivotal fashion film of our time. A momentous monologue in this movie is the speech Meryl Streep's character gives on the topic of the color cerulean blue. 
For those of you who may not be familiar with this crucial moment, Streep details the importance and complexities of runway to wearable fashion; in the context of the evolution of cerulean blue.  Similarly to Anne Hathaway, the protagonist of the film, many people do not think the lavish world of high fashion applies to them. 
In The Devil Wears Prada, Hathaway's character scoffs at high fashion designers as they seem frivolous and clothes are simply material to her, Meryl Streep's character replies with an invigorating monologue about the effects of the fashion industry: "You think [high fashion] has nothing to do with you. You go to your closet and you select out, that sweater, […] But what you don't know is that that sweater is not just blue,[…] it's actually cerulean. You're also blithely unaware of the fact that in 2002, Oscar de la Renta did a collection of cerulean gowns. […]And then cerulean quickly showed up in the collections of eight different designers. Then it filtered down through the department stores and then trickled on down into some tragic "casual corner"[…] However, that blue represents millions of dollars and countless jobs  and so it's sort of comical how you think that you've made a choice that exempts you from the fashion industry when, in fact, you're wearing the sweater that was selected for you by the people in this room."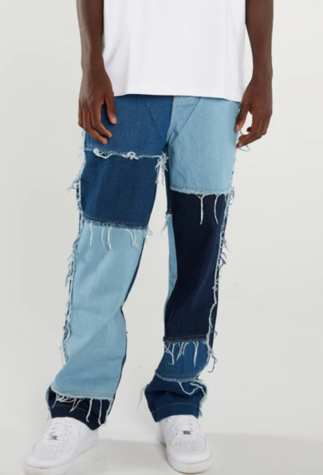 While this outfit pictured to the right may not seem accessible or desirable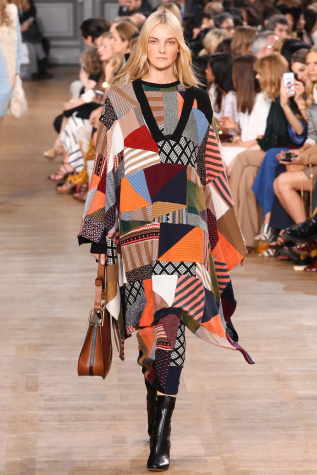 to the common consumer, it provides inspiration to retail designers who produce accessible goods for the common consumer. Runway and high fashion garments represent greater trends to be present in the upcoming season. The 5,000 dollar Oscar de la Renta patchwork dress may not be for the average consumer, but the Jaded London patchwork jeans are an interpolation of the original runway trend. These Jaded London jeans sell at a much lower price point and market the same trend to a different consumer base.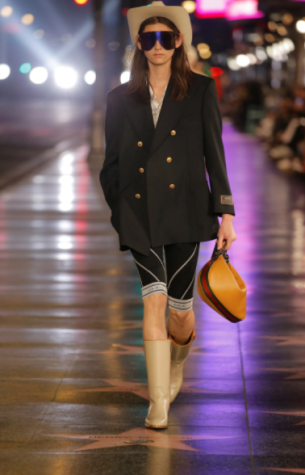 Merely looking at the Gucci Spring Summer 2022 Show, you can see the transition of trends from the runway to contemporary casual fashion. Pictured to the left, one can see Gucci's interpretation of luxury western wear. This look signaled a trend cycle of western wear in other collections, department stores, and a revitalization of the American fascination with Old West attire. Not to say that Gucci invented western wear, or even western wear in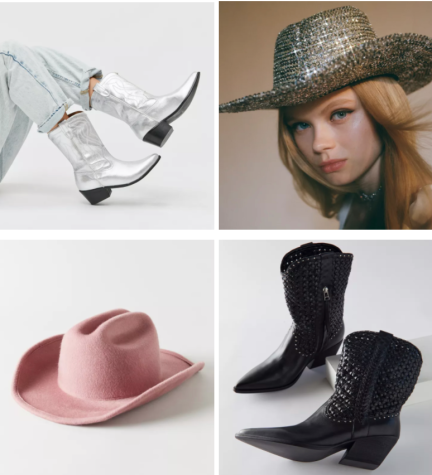 the 2020s, but this collection has, and will have, influence on the upcoming revitalization of the style. Urban Outfitters and many other retailers on the opposite end of fashion are taking note of this trend, with pieces like the ones pictured on the right. 
The chain reaction of trend production from high fashion to lower end is not designers "ripping off" one another: that is not the point. Ideally, department stores and lower end retailers will take inspiration from high fashion runways to create a cohesive trend season. This reaction shapes what is modern fashion and modern trend cycles. 
  The frivolousness, distance, and uselessness many people associate with high fashion is often misplaced. Runway and high fashion shows are an over exaggerated template for the upcoming season. Even though only celebrities will be wearing the high fashion garments, the general public trends find influence and benefit from the creation of such garments. In the words of Meryl Streep, a powerful fashion executive, "The truth is there is no one who can do what I do."
Culture is the Force Behind Fashion 
The belief that all of fashion can be determined by the ideas of designers and executives discredits what is at the heart of fashion, and that is self expression. The idea that fashion originates at the top is a vast oversimplification of the trend cycles that are heavily influenced by not only designers, but contemporary culture. To say that culture is absent from fashion is elitist and exclusive. 
Culture is the driving force of fashion. Hip-hop culture and the coinciding fashion is a prime example of culture's influence on fashion. To contrast with the elitist world of high fashion, hip-hop fashion places importance on a more relaxed street style that originated from African and breakdancing culture. Hip-hop fashion has no roots in runway or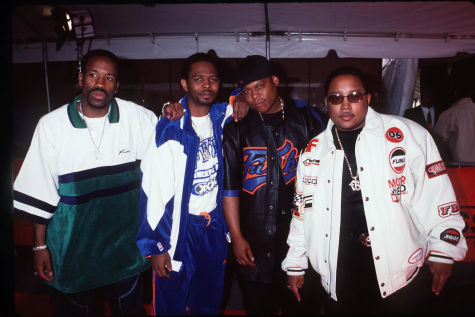 luxury fashion; it is a movement entirely based in pop culture. Stemming from black culture, music, and a pre-existing style, this movement primarily referenced cultural fashion rather than that of runway fashion. Hip-hop has been through a major evolution, integrating ideas from high fashion into its culture, but it remains a culturally influenced style. To credit this style to the work of high fashion designers would be ignorant, demeaning to the power of self expression, and demeaning to the power of black culture. 
Fashion also has an element of timelessness that is void of influence from the production of high fashion. While trend cycles are forever changing, there are garments that will never go out of style and these garments do not need the influence of high fashion designers. Timeless staples such as a flannel, a quality knit sweater, and a well fit pair of jeans will never go out of style. While the rise, cut, and style of jeans may change, a good pair of jeans have been in style for the past 110 years and will continue to be fashionable for many more years to come. Not all consumers buy into the current trends, and they do not have to. Not all of fashion is renovated each season; timeless pieces exist that do not waver in value by their proximity to the influence of runway ideals. 
The effect runway fashion has could in theory become obsolete as we do not need them, nor traditional celebrities, for influence in the age of social media when anyone can influence the public perception of what is fashionable. Internet influencers have more power over the public consciousness surrounding fashion than the high fashion industry, as the young generation is alert to their influence. To sculpt the contemporary style one must be in tune to all sources of influence as to stay informed of the trend style, staying especially aware of influencers and cultural waves. 
Culture and self expression are at the heart of fashion; these concepts paired with function and an element of timelessness, form the emergence of trend cycles. 
Leave a Comment
Donate to Enloe Eagle's Eye
Your donation will support the student journalists of Enloe Magnet High School, allowing us to cover our annual website costs. We are extremely grateful for any contribution, big or small!
About the Contributor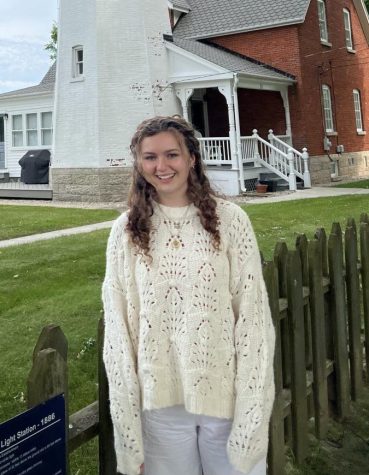 Malinn Welch, Arts and Entertainment Editor
(She/her)

Malinn is a senior and excited to return to the Eagle's Eye as an A&E editor! She is passionate about fashion, sewing, and clothes in...