Pinterest: The Better Social Media
Every now and again, a saying circles around about Pinterest being the better social media because it's "social media without the social." Not only do I agree with the statement, but it's true.
Every social media has its pros and cons, but often some cons are the same. Most commonly talked about is access to the internet and what may come up on someone's social media. Respectfully, ain't nothing we can do about that babe. Social media and the internet are a large part of life now, so the best way to handle the media you see is to cater it to you. Pinterest is exactly that—a platform where every pin is specifically catered to boards you create and/or follow. Although you are allowed to follow people, you're not seeing their lives and their bodies, but the pins they save on their boards. On top of that, Pinterest doesn't show you who is saving what pin through your feed. If you want to see what specific people you're following are saving, you can view their profiles. 
Most people create boards based on their interests, motivations, inspirations, aesthetics, and anything else that brings them joy. My favorite boards are called, "my style but inflation," my fashion board, "i'm not a poet… but i love poetry," my quotes/poems board, and "in love with my future," my board for motivation, inspiration, and future plans. You can upload your own pictures and videos onto your boards as well. 
The layout of Pinterest is another reason for its superiority. You open the app or website and your screen is full of (again, completely curated) photos. Click on them and you can view websites, comments, and other pins like the one you clicked on. No need for an explore page when the entire app is its own explore page. There is a watch feature on Pinterest as well where you can scroll through videos posted, although I prefer to stick with browsing images. You can search for anything you're interested in, and based on your searches Pinterest will give you boards or people you can follow. Within your own profile and boards, you can name your boards, pin certain pictures as the main photo for your board, organize the pins inside in a certain layout, make notes, and of course, make certain boards private or public. You can collaborate with other users on one board and have multiple profiles. Inspiration is at your fingertips with Pinterest. 
83% of people who responded to a survey said they use Pinterest. Here are some of our peers' thoughts on the matter:
Sophomore: "best app ever in the whole universe love it 100/10"
Senior: "I use it all the time for aesthetic pictures, references for drawing, reaction memes, and animal crossing island inspo haha!"
Junior: "SO GOOOD"
Senior: "I love it! Great for outfit inspo and pictures of hot guys"
Senior: "best app"
Pinterest may not be the most social of social media platforms, but it is the better one.
Leave a Comment
Donate to Enloe Eagle's Eye
Your donation will support the student journalists of Enloe Magnet High School, allowing us to cover our annual website costs. We are extremely grateful for any contribution, big or small!
About the Contributor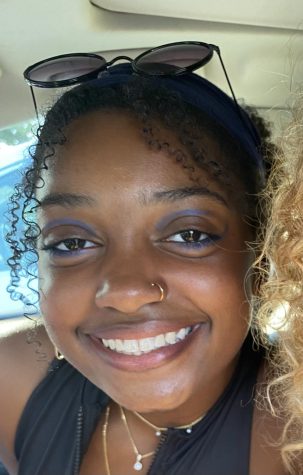 Sophia Stewart, Opinion Editor
(she/her)

Sophia is a senior looking forward to being the Opinion editor for Eagle's Eye. She spends a lot of her time dancing and reading. When she...