Building A Community Within A Community
A Place at the Table is a safe haven for everyone in downtown Raleigh. This cozy cafe opened in 2018 as a nonprofit eatery located on Hargett Street. It's aptly-made name reveals the hospitable and nourishing environment they strive to cultivate. The restaurant's mission is to serve everyone regardless of means and to serve them well. Whenever a customer orders, they can either pay the suggested price, half the suggested price, volunteer, or use a token paid for by a fellow customer. "You can come in and buy [a token]. You can give it to a friend at school or really anyone. It's a meal for you that someone has already paid for," says Maggie Kane, the founder and executive director of a Place at the Table. The organization's goal in using this pay-what-you-can system is to build a community among Raleigh residents. Kane says, "There's a reason why community is first in our mission statement. We're trying to build community — we're trying to gain relationships and bring people together. Whether they're eating together or volunteering together, it's just a community spot for all." Recently, I volunteered at a Place at the Table, and as I sat down to eat my meal at the end of my shift, I was overwhelmed with a sense of belonging. During the breakfast shift, conversation was abuzz, volunteers were busy running food to customers, and the bacon and sausage was sizzling on the grill. 
A Place at the Table is one out of sixty cafes in the country that serve their community regardless of means. The organization One World Everybody Eats provides the framework for pay-what-you-can cafes across the US. The cafes are all independently run, though each of them uses the same payment model. As of right now, there are two of these cafes in North Carolina. The second one, located in Boone, is called F.A.R.M. cafe. Recently, Enloe's Food Ark has picked up some volunteer shifts at A Place at the Table. Volunteers are essential to maintain the cafe throughout the day. Between forty to sixty volunteers help wash dishes, work the cash registers, and serve food to customers each day, and in return, each receives a free meal. Some volunteers come in regularly. Kane says, "Every Saturday morning, we have the same two people who are always there in the cafe. We have a huge list of people who have weekly shifts." These volunteer opportunities do much more than simply build community, they engage the community. Through their work, volunteers gain a greater understanding of what the organization does. 
A Place at the Table is of service to all community members. Kane says, "simply coming in for a good meal helps so much." The food at A Place at the Table is undoubtedly worth five stars. Their breakfast menu consists of homemade poptarts, an assortment of waffles, quiches, toasts, and much more. No matter the circumstances, A Place at the Table invites everyone to enjoy a delicious meal with the company of others.
Leave a Comment
Donate to Enloe Eagle's Eye
Your donation will support the student journalists of Enloe Magnet High School, allowing us to cover our annual website costs. We are extremely grateful for any contribution, big or small!
About the Contributor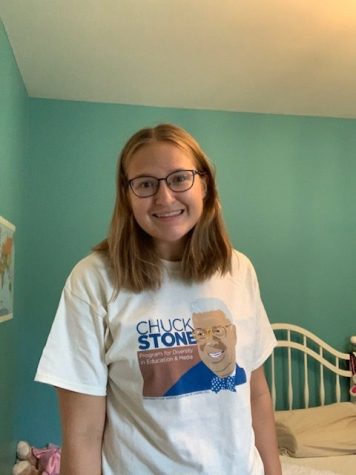 Olivia Pluska, Editor
Olivia is an avid swimmer who thoroughly enjoys obsessing over niche topics such as the Youtube series Unhhh, featuring two of her favorite drag queens....