Survival of the Fittest
'Tis the season, ladies and gentlemen. Temperatures are dropping, holidays are coming, and high schoolers across Raleigh are popping out with their best sweater weather fits. 
Enloe has long posted its best fits through the Instagram account amassing over 300 followers, @enloefits.
"People at Enloe put a lot of time, effort, and money into how they dress, and I thought that I could channel that passion into a school-wide platform through @enloefits," senior Joey Marmaud, founder and co-director of the Enloe Fits account says. 
However, Enloe Fits is not the only Instagram account eagerly representing the most advanced fashionistas of their student body. Just two weeks ago, a new fashion critic was born some miles away, @rchsfits. "I think Charter likes to insert themselves into other schools' platforms because they lack originality, a student body that's larger than 20 people, and socio-economic diversity," Joseph says. But RCHS Fits claims they started their infamous page as a parody of Enloe Fits after seeing their most notable fit, Diadora.
This tension between the two accounts has officially started a "fit off" on Instagram to declare once and for all which school has the best fashion sense. Broughton High School has also entered the running with @broughtonfits.
"Currently, Broughton Fits has formed an alliance with Charter Fits. However, I remain supportive of the entire fits community of Raleigh," Cullen Allen, senior at Broughton High School and founder of @broughtonfits says. 
Obviously, each school claims their culture supports the best fits. "Within Enloe fits we've found a lot of conformity. At Raleigh Charter a lot of the students try to dress outside of the box and find meaning in their personal expression of clothing," Charter says. However, Joey says, "I know we objectively dress better." When will Raleigh finally come to a conclusion on which educational facility has won the fit off? All account owners agree the final round of the fit off will occur at this year's Charity Ball where every attendant will be presenting their most glamorous, charitable gear.
As Miranda Priestly famously concluded, "That's all."
Leave a Comment
Donate to Enloe Eagle's Eye
Your donation will support the student journalists of Enloe Magnet High School, allowing us to cover our annual website costs. We are extremely grateful for any contribution, big or small!
About the Writer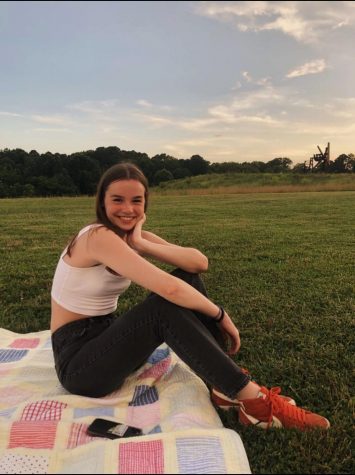 Abby Pender, Editor
Abby Pender, self-proclaimed "city girl", is trekking her way through life one bagel roll and thrift find at a time. She can often be found nae-naeing...